China seeks to assure G20 over its economy
 Markets are in bullish mood, with stocks and government bond yields higher, as G20 finance ministers meet to discuss the global economy in Shanghai.
Chinese finance minister Lou Jiwei said the country could tackle the pressures it is currently facing.
Separately, Bank of England governor Mark Carney said he was concerned by moves by some central banks to use negative rates to try to boost growth.
The G20 includes finance ministers from the world's biggest economies. Based on gross domestic product, the G20 covers 86% of the world's economy, accounts for two-thirds of the world's population and 75% of global trade.
"China will strike a balance between growth, restructuring and risk management," Mr Zhou said.
"While the reform direction is clear… the pace will vary, but the reform will be set to continue and the direction is not changed."
But Wolfgang Schaeuble, Germany's finance minister, stressed there is little capacity for more fiscal and monetary stimulus and that structural reforms were needed to encourage activity.
Instead, investor optimism is being fed by a Wall Street rebound that sees it recover some closely watched technical milestones.
In addition, by closing above 1,950 the S&P 500 has breached resistance at the top of a two month trading range.
Bulls will hope that level now provides support and the S&P can push higher, and futures indicate the index may indeed add 1.5 points at Friday's open.
European and Asian bourses are tracking the Wall Street bounce. The Stoxx 600 index is up 1.6 per cent and London's FTSE 100 is advancing 1.2 per cent on strong resources groups after the FTSE Asia Pacific index added 0.7 per cent.
On the Chinese mainland, the Shanghai Composite recovered 1 per cent after it slid more than 6 per cent on Thursday. Hong Kong's Hang Seng rose 2.5 per cent.
In Japan, an early gain of more than 2 per cent for the exporter-sensitive Nikkei 225 was cut to 0.3 per cent by the close as the yen swung into positive territory, now up 0.1 per cent at Y112.87 per dollar.Since the Bank of Japan caught markets off guard on January 29 with its decision to adopt negative interest rates, the yen has rallied by 5 per cent. That is partly due to the currency's haven appeal in times of market stress and growing expectations the Federal Reserve may delay tightening US monetary policy, which has in turn undercut the dollar.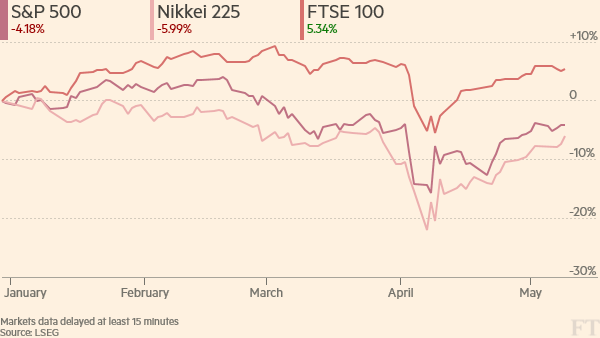 Government bond yields have been falling in response to easier central bank policy, but they are ticking higher on Friday as demand wanes for the perceived safety of such fixed income assets.
The 10-year US Treasury yield, which moves inversely to the price, is up 3 basis points to 1.73 per cent, while equivalent maturity German Bunds are adding 1bp to 0.15 per cent and Japanese government bonds are holding near a record low of minus 0.06 per cent.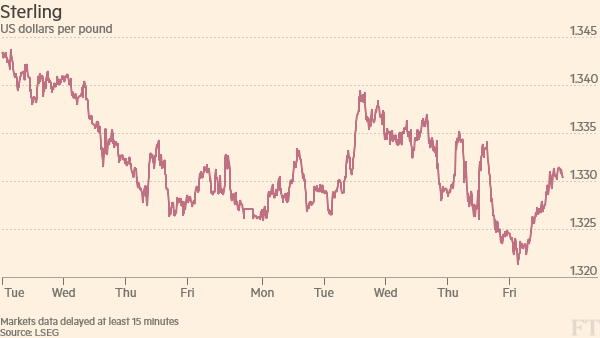 In other currency action, the dollar index is adding 0.1 per cent to 97.35 as the euro trades flat at $1.1021.
A forex focus this week has been sterling, which slumped below $1.39 for the first time since 2009 on rising odds that Britain could vote, at a June 23 referendum, to leave the EU. On Friday, the UK currency is recovering 0.2 to $1.3986.
The uncertain atmosphere in markets of late has buoyed gold, but it is seeing some profit-taking with a $2 dip to $1,232 an ounce.
Royal Bank of Scotland reported its eighth consecutive annual loss after taking a £6.5bn hit from conduct, litigation and restructuring costs, dealing another blow to government plans to sell off the state-backed lender
Despite Ross McEwan saying he was pleased with Royal Bank of Scotland's annual results despite posting a near-£2bn annual loss, investors appear to have a different opinion, sending the bank's shares tumbling 8% in early trading.
As RBS notes: "We continue to deal with a range of uncertainties."
So why have RBS shares tumbled so sharply this morning? Connor Campbell of Spreadex says investors are none too impressed with the £3.6bn it has revealed in continuing litigation fees and fines. The bank also warned that it could still see "substantial incremental provisions" over the next 12 months.
Despite the falls the FTSE 100 is 1.2% higher at 6,086 points in early trading.