Equities Started March with Strong Rise, Aussie Lifted by GDP
Moodys downgrades China outlook to negative
US equities staged a strong rally on the first day on March
DJIA closed up 348.58 pts, or 2.11%, at 16865.08.
S&P 500 also rose 46.12 pts, or 2.39% to close at 1978.35.
Asian equities follow with Nikkei trading up 650 pts or 4%, Hong Kong HSI up 520 pts or 2.6%, China SSE up 60 pts, or 2.2%.
Crude oil is relatively steady, though, and continues to struggle around 34 handle, lacking momentum to push through 35.
Gold is also bounded in recent range between 1200/50.
In the currency markets, Aussie is leading the way higher on risk appetite and lifted additionally by stronger than expected GDP data.
Canadian dollar's rally carries more significant technical implications as USD/CAD broke 1.3456 key support. Meanwhile, Euro remains the weakest one on expectation of further ECB easing.
The more upbeat mood has curtailed buying of supposed haven assets such as government bonds and gold.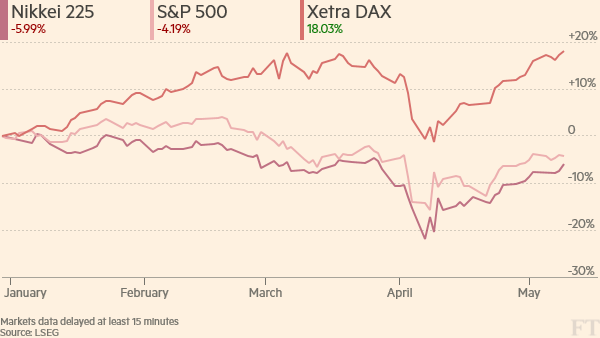 After last month hitting a one-year high of $1,260 an ounce during pronounced broader market angst, the yellow metal is down $3 on the day to $1,229.
Benchmark 10-year Treasury yields, which at one point during February 11 touched just 1.53 per cent, are up 1 basis point to three-week highs of 1.84 per cent.
The policy-sensitive 2-year US bond is yielding 0.85 per cent, up 27 basis points from the lows of three weeks ago as the market increases the probability of the Federal Reserve raising interest rates at its June meeting from virtually nil in mid February to 38 per cent now.
The return of risk appetite is firstly seen as a result of stabilization of oil prices after producers joined to freeze productions.
Secondly, there are expectations of more easing from global central banks. PBoC lowered the so called bank reserve requirement ratio this week and is expected to do more ahead. (China Watch: PBOC Moves RRR Lower, Further Step To Inject Liquidity And Add Monetary Easing).
ECB is widely expected to reconsider the stimulus measures in the regular meeting next week March 10. There is high chance that ECB would announce new easing. There are also speculations that BoJ would expand easing in March meeting too. Meanwhile, there is practically no chance for Fed to raise interest rate in March and markets are only pricing in 34% of hike in June.
Moodys downgrades China outlook to negative:
The key drivers of the outlook revision are:
1. The ongoing and prospective weakening of fiscal metrics, as reflected in rising government debt and in large and rising contingent liabilities on the government balance sheet.
2. A continuing fall in reserve buffers due to capital outflows, which highlight policy, currency and growth risks.
3. Uncertainty about the authorities' capacity to implement reforms — given the scale of reform challenges — to address imbalances in the economy.