Shares jump after Fed cuts rate expectations

Asia jumps

dollar on defensive

Introduction: Bank of England interest rate decision today
decides whether to leave interest rates at 0.5% yet again

Swiss central bank leaves rates on hold

Norway cuts interest rates and hints it could go negative

European Stocks tumbling negative after being Up
Shares are rallying in Europe, and across Asia, after the US Federal Reserve was surprisingly dovish at last night's policy meeting.
Asian shares gained across the board on Thursday as risk appetite revived after the Federal Reserve reduced the number of interest rate hikes expected this year, while the dollar nursed substantial losses.
MSCI's broadest index of Asia-Pacific shares outside Japan  climbed to a two-month high as  South Korea's Kospi .KS11 rose 0.9 percent 
The jump in the yen meant Japan's Nikkei .N225 lost out though, as it closed down 0.2 percent.
China's Shanghai Composite index has closed 1.2% higher. Australia gained almost 1%.
World growth concerns, particularly regarding China, have rattled markets through much of this year, and this was seen to have influenced the Fed's shift in position as it cited the "global risks" facing the U.S. economy.
The dollar index slipped to a one-month low of 95.038 .DXY as European trading settled, and the euro was eyeing $1.13  for the first time since mid-January as the dollar also slid below 112 yen 
Commodity-linked currencies rose strongly as products such as oil and iron ore soared after the Fed's decision.
U.S. crude oil rose to a three-month peak of $39.54 a barrel CLc1 after surging nearly 6 percent overnight. Brent LCOc1 was up 95 cents at $41.27 a barrel. 
Three-month copper on the London Metal Exchange  traded up 1.5 percent at $5,065 a tonne. A weaker greenback tends to favor commodities traded in dollars by making them cheaper for non-U.S. buyers.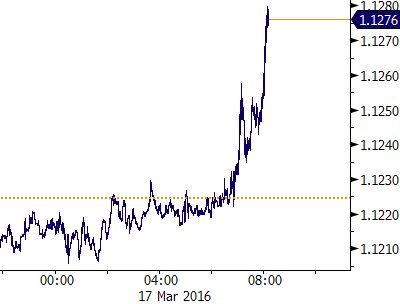 The dollar is continuing to weaken this morning, driving the euro up to a five-week high of $1.1279.
The pound has also risen against the US dollar, to $1.429. Brexit fears are taking a back seat today.
And India's rupee has also strengthened IRPUSD 66.8
Bank of England interest rate decision today
Britain's era of record low interest rates will continue into its eighth year today, as the Bank of England meets to set monetary policy.
In a busy period for central bankers, it's the BoE's turn to consider how to tackle the weak growth and low inflation that is bedevilling the global economy.
Almost certainly leave interest rates at 0.5%.
The Swiss National Bank has just left interest rates unchanged atminus 0.75%, and warned that the country faces deeper negative inflation too.
The SNB also struck a downbeat tone, saying: "The global economic outlook has deteriorated slightly in recent months and the situation on international financial markets remains volatile."
Norway's central bank has just cut interest rates from 0.75% to 0.5%, and issued its own warning about the economic outlook.
Governor Øystein Olsen says:"G rowth prospects for the Norwegian economy have weakened somewhat and inflation is expected to moderate further out. The Board has therefore decided to lower the key policy rate"
And with wage growth weak, and unemployment expected to rise, Olsen says that rates could be cut again: "The current outlook for the Norwegian economy suggests that the key policy rate may be reduced further in the course of the year."
The Nordes Bank even hints that it could even cut interest rates below zero:"Should the Norwegian economy be exposed to new major shocks, the Executive Board will not exclude the possibility that the key policy rate may turn negative."
Now:
The Eurofirst 300 is down 0.5 per cent
The French CAC 40 has shed 0.36 per cent
The German Dax has fallen 0.6 per cent after hitting two month highs
Italy's FTSE MIB is down 0.4 per cent