Mood sours as oil skids, China stocks slip
China's stocks sank the most in almost two months, pushing a gauge of volatility up from its lowest level this year as turnover surged.
All the air was sucked out of Asian shares on Wednesday as oil prices took a fresh spill on news Kuwaiti oil workers ended a three-day strike, leaving markets suddenly directionless.
Oil again led the way by reversing much of Tuesday's sharp gains. Brent crude LCOc1 shed $1.12 to $42.91 a barrel, while U.S. crude oil CLc1 sank $1.09 to $39.99.
"In the near term we are going to see more downward pressure than upward," said IHS analyst Victor Shum.
China concerns also resurfaced as Shanghai stocks slid 3.8 percent .SSEC, with every sector from financials to telecoms in the red.
Some cited comments from an influential central bank economist that future monetary policy would avoid encouraging companies to take on more debt and consider the impact of leverage on asset prices.
Wei Wei, an analyst at Huaxi Securities Co. in Shanghai, says the slump is triggering concern that the panic seen at the start of the year, when the equity gauge sank 23 percent in the space of a month, could return.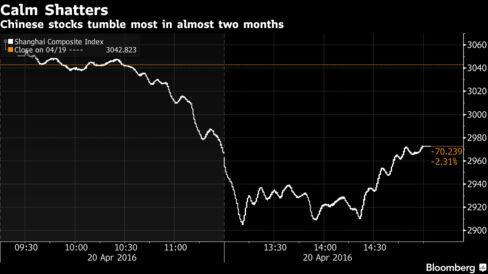 The retreat dulled risk appetites and dragged MSCI's broadest index of Asia-Pacific shares outside Japan  down 0.7 percent. It had started at its highest level since early November.
Japan's Nikkei  clung to a 0.2 percent gain thanks to the recent pullback in the yen, but was running into profit taking above the 17,000 barrier.
The dollar index, which last week touched a seven-month low of 93.63 amid a more dovish tone on possible interest rate rises from the Federal Reserve, is up 0.2 per cent on the day at 94.12.
A stronger greenback tends to weigh on dollar denominated commodities, and that is the case in the new session, with base metal prices broadly lower.
And it is delivering additional downward pressure on oil prices, which are floundering after Kuwaiti oil workers ended their strike, adding to fears of a global supply glut.
It could be a difficult year for many oil producers, according to Fitch Ratings, which estimates the aggregate earnings of seven major oil companies in the Europe, Middle East and Africa region will fall by 22 per cent in 2016.
A stronger yen contributed to the drop in export values and import prices, according to Capital Economics analysts.
They were upbeat on the prospects for global growth this year and next, which should "provide some support to export volumes" in Japan. "For now though, the slump in export values is lowering firms' revenues and profits and may undermine their willingness to expand capacity and lift wages," they warned.
Such a gloomy corporate prognosis is encouraging investors to think the Bank of Japan may deliver additional monetary easing at its policy meeting next week.
The 10-year Japanese government bond yield (which moves inversely to price) fell to a record low of -0.129 per cent, and yields are generally lower across the sovereign debt sector amid cautious trading in so-called riskier assets.
The yield on 10-year Treasuries is down two basis points to 1.76 per cent and equivalent maturity Bunds are off 3bp to 0.15 per cent ahead of the European Central Bank's policy decision on Thursday.
The U.S. dollar steadied on the yen at 108.87 JPY=, while the euro idled at $1.1366 EUR=.
Traders said much now depends on the outcome of the European Central Bank (ECB) policy meeting on Thursday.
In March, ECB chief Mario Draghi unleashed an aggressive package but muted its impact by suggesting there would be no further cuts, giving the euro an unwelcome boost.
"Outside of some verbal discomfort at the euro's strength and reiteration that the ECB stands ready to take further action if necessary, it is difficult to see what he can do," analysts at ANZ wrote in a note to clients.
"The risks of a further squeeze higher in EUR/USD are significant," they added.
Gold is down $2 to $1,248 an ounce.