Markets shaky at start, loosing strenght

European stocks hover near 3-week low

Asian Stocks slide
European and US equity gauges are holding near three-week lows as the dollar inches off a multimonth trough amid a calmer tone in forex.
Wariness about global economic growth leaves Treasury yields at their lowest since mid-April, meanwhile gold is retreating further from the $1,300-an-ounce mark.
After a mostly soft Asian performance, the pan-European Stoxx 600 equity index is recovering off just 0.1 per cent as US index futures suggest the S&P 500 will open at 2,060, losing 3 points.
The European and Wall Street stock barometers had a tough Tuesday, falling 1.7 per cent and 0.9 per cent respectively to close at their weakest since April 12.
Traders cited a number of causes for the retreat. These included: volatility in forex as a surging yen and weaker dollar highlighted fears that central banks had lost the ability to influence currencies; and global growth worries following disappointing manufacturing surveys from China and the UK.
There was also fretting that renewed declines for commodity prices would exacerbate deflationary pressures; and all this amid a lacklustre corporate earnings season, notably for European banks.
Asian shares dropped for a sixth day as anxiety over the health of the global economy unnerved investors and crude oil traded below $44 a barrel. European stocks fluctuated after companies including Siemens AG and Societe Generale SA reported earnings.
Australia's benchmark had its biggest loss in a month as BHP Billiton Ltd. plunged by the most since 2008 in Sydney.
Indonesia's sank to a two-month low after data showed its gross domestic product grew less than economists forecast.  4.9 percent for the first quarter, less than the 5.1 pc expected.
Russia's ruble slid more than 2 percent in its first trading session of the week after oil tumbled by about 5 percent in the last two days.
A gauge of dollar strength rose, extending Tuesday's bounce from the weakest level in almost a year, after Federal Reserve officials flagged the possibility of an interest-rate hike in June.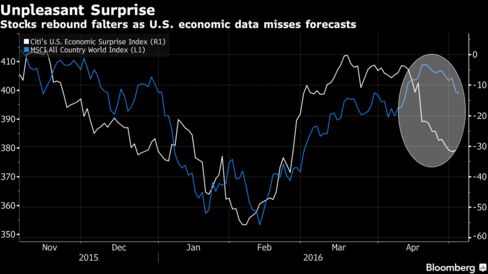 The Stoxx Europe 600 Index was down 0.2 percent as of 8:22 a.m. London time, after earlier gaining 0.1 percent.
Siemens, Europe's largest engineering company, rose 1.1 percent and Societe Generale climbed 3.5 percent after both reported better earnings than analysts forecast. Anheuser-Busch InBev NV — the world's largest brewer — slid 2.9 percent after reporting sales and profit growth that missed estimates.
Futures on the S&P 500 were little changed, after the U.S. benchmark lost 0.9 percent in the last session.
"The continued narrative is that the global economy is not very strong, even if the U.S. is the best of the bunch," said Joe Bell, a Cincinnati-based senior equity analyst at Schaeffer's Investment Research Inc. "We've had such a strong run-up over the last few months that we're in a bit of a consolidation phase."
Crude oil advanced 0.6 percent to $43.90 a barrel, after losing more than 2 percent in each of the last two sessions. U.S. inventories increased by 1.3 million barrels last week, the American Petroleum Institute was said to report Tuesday. Government data Wednesday is forecast to show supplies rose by 750,000 barrels.
Gold fell as much as 0.6 percent to $1,278.99 an ounce, reflecting the dollar's rebound. The metal reached $1,303.82 on Monday, the highest intraday level since January 2015.
Zinc and lead dropped by about 0.6 percent in London, while copper fell 0.1 percent.
Bonds : The yield on Australia's 10-year government bonds fell four basis points to a three-week low of 2.43 percent, after the rate on similar-maturity U.S. Treasuries slid eight basis points on Tuesday to 1.80 percent. The latter was little changed on Wednesday.