May 17 Japanese stocks rose on Tuesday after investor appetites were increased by a strong performance on Wall Street, higher oil prices and a weaker yen.
Markets shrug off gloomy Japan Inc results
The Nikkei share average climbed 1.1 percent to end the day at 16,652.80.
The U.S. dollar strengthened and ended the Tokyo trading day above 109 yen, boosting the profit outlook for Japan's exporters. Home appliance and electronics exporter Panasonic Corp ended the day 1.7 percent higher.
Japan-based suppliers of parts for Apple Inc's iPhone were higher after the tech giant's stock soared on an investment from Warren Buffett's Berkshire Hathaway.
Japan Display Inc shares ended the day 2.5 percent higher while Minebea Co rose 2.6 percent.
Cosmetics maker Shiseido Co gained 2.1 percent after Daiwa Securities raised its rating for the stock to "outperform" from "neutral".
Sony Financial Holdings bucked the day's strength and tumbled 4.9 percent after the insurance company reported its net profit for the year ended March 2016 fell 20 percent from a year earlier.
The broader Topix rose 1.1 percent to end the day at 1,335.85 with all but one of its 33 subindexes in positive territory.
The JPX-Nikkei Index 400 climbed 1 percent to 12,086.52.
Oil prices continued their march toward $50 a barrel in Asia on Tuesday, providing support for regional stock markets and commodity-sensitive currencies. Brent crude, the international benchmark, was up 0.5 per cent at $49.24 a barrel today, and threatening to break through the $50 mark for the first time since last November. West Texas Intermediate, the US marker, was up 1 per cent at $48.20.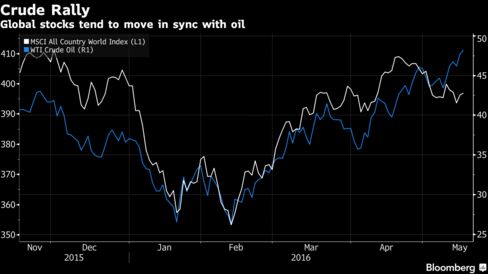 In the US, Warren Buffett's Berkshire Hathaway took a $1bn stake in Apple, sending shares up 3,71 per cent by the close and pushing the S&P 500 to its first close in the green in four days. The benchmark index closed at 2,066.66, up 0.98 per cent. Oil prices had hit a 7-month high in the US session after Goldman Sachs – the most bearish of the leading commodity banks – offered a more positive assessment of the market.
There are inflation data from both sides of the Atlantic today. At 9.30am, UK April consumer price inflation is expected to fall back to 0.4 per cent from a 15-month high of 0.5 per cent in March. IHS analysts predict the lower figure due to an unwinding of significant increases in March that were the consequence of the earlier Easter this year, in particular, air fares. However, this is expected to have been partly countered by some upward pressure from increased petrol prices and also possibly a firming in food prices. March ONS house price data comes out at the same time.
In the US, at 1330 BST, the April consumer price index is expected to show a 0.4 per cent rise in the headline index and and a 0.2 per cent increase in the core index. At the same time, April housing starts are expected to increase to a 1,125,000 unit seasonally adjusted annual rate from a previous 1,089,000. April industrial production is predicted to rise 0.3 per cent month-on-month after contracting 0.6 per cent in March.
Markets at 0930 am
Asian markets
Nikkei 225 up +186.40 (+1.13%) at 16,653
Topix up +14.20 (+1.07%) at 1,336
Hang Seng up +125.86 (+0.63%) at 20,010
US markets
S&P 500 up +20.05 (+0.98%) at 2,067
DJIA up +175.39 (+1.00%) at 17,711
Nasdaq up +57.78 (+1.22%) at 4,775
European markets
Eurofirst 300 down -0.59 (-0.04%) at 1,315
FTSE100 up +12.90 (+0.21%) at 6,151
CAC 40 unchanged 0.00 (0.00%) at 4,312
Dax down -9,952.90 (-100.00%) at 0.00
Currencies
€/$ 1.13 (1.13)
$/¥ 109.29 (108.97)
£/$ 1.45 (1.44)
€/£ 0.7812 (0.7855)
Commodities ($)
Brent Crude (ICE) up +0.40 at 49.37
Light Crude (Nymex) up +0.63 at 48.35
100 Oz Gold (Comex) unchanged 0.00 at 1,273
Copper (Comex) up +0.01 at 2.10
10-year government bond yields (%)
US 1.75%
UK 1.39%
Germany 0.16%
Markets shrug off gloomy Japan Inc results:
Why Monday's modest reaction may not be a good thing
Last Friday, 347 Japanese companies served up their full-year results — and, together, they represented a dense cluster of pain. Their numbers were cumulatively horrible: the quarter from January to March delivered the worst plunge in corporate profits of the Abenomics era, and the outlook foretells only tougher times and a stronger yen.
On the face of it, Monday's tiny 0.11 per cent upward tick in the Topix index was soothing. A move that modest after such a concentrated pummelling from corporate micro-shocks suggests the market had already done its job and priced everything in.
In the next few weeks, and possibly months, there is due to be a steady intensification of the Abenomics stimulus push.
Possibly as early as Wednesday, the government may also announce a supplementary budget — a stimulus package that economists have been arguing will be worth between ¥5tn and ¥7tn ($45bn and $64bn), but which could well be closer to ¥10tn, and could even go as high as ¥12tn. Disappointing these expectations will be obviously toxic for sentiment.
But no matter how much stimulus the package contains, there is now a risk that the market again simply shrugs and says "whatever" — leaving Japanese stocks stuck exactly where they are: more than 14 per cent down since January, making the country the worst-performing developed equity market this year.
As Nicholas Smith of CLSA puts it: "What is terrifying is that they pull out the stops, push out the sales tax, deliver a ¥10tn stimulus, and the market just sighs and says 'yeah, we knew that'."
From FT, Reuters, Bloomberg News