Across the Atlantic, Thursday's ADP job report failed to send a clear signal ahead of today's NFP as the private sector added 173k jobs in May, matching expectation.
Previous month's reading was revised higher from 156k to 166k.
This afternoon's Non-Farm payrolls are expect to come in at 160k, stable compared to March. In our opinion, a very strong reading will be required to convince the market to keep faith in a June rate hike.
Markets expect U.S. employment data due at 1230 GMT to show a non-farm payroll increase of about 164,000 and 0.2 percent rise in average wage earnings in May.
Indeed, the US economic data released over the last few days, especially from the manufacturing sector, which is very sensitive to variations of the greenback, were all but supportive of a June rate hike. We therefore anticipate that the USD will start adjusting the downside against most G10 currency and especially the yen and the euro.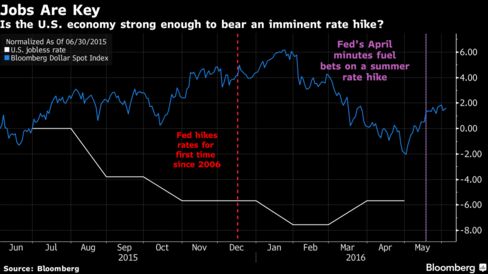 World shares advanced toward their highest level in a month on Friday, although investor wariness over rising prospects of a near-term Federal Reserve rate hike subdued activity as traders awaited U.S. jobs data later in the day.
European shares followed Asia higher, with the STOXX Europe 600 up 0.5 percent, boosted by a rebound in commododity-related shares as oil and copper prices both rallied.
After a positive in most Asia-Pacific session the S&P 500 futures contract suggests the index will add just half a point to 2,105.8, leaving the Wall Street barometer at its best level since November.
Futures markets are currently pricing in a 22 per cent chance that the Federal Reserve will raise interest rates by 25 basis points at its meeting this month, the figure rising to 55 per cent for action at the July gathering, which would come after the "Brexit" decision is known.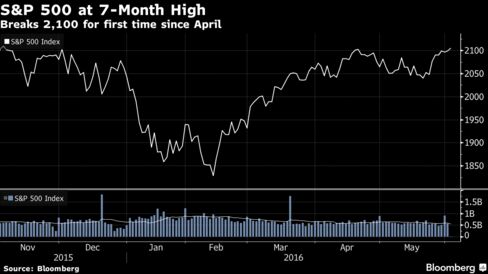 The dollar index, which tracks the greenback against a basket of six major peers, edged down 0.1 percent to 95.509.
The euro was little changed at $1.1146 on Friday, after sliding from this week's high of $1.1219 touched early on Thursday.
Against the yen, it last stood at 121.26 after falling to a three-year low of 121.01 yen in the previous session, with investors left underwhelmed by a European Central Bank meeting on Thursday.
Across Asia, gauges are being watched closely, As the FT puts it:
Other service sector news across the region was mixed. The purchasing managers' index reading for Australia showed its services sector expanded in May after two months of contraction, while the pace of growth in China slowed, with its services PMI sliding 0.6 of a point to 51.2.
Zhengsheng Zhong, director of macroeconomic analysis at CEBM Group, said the Chinese services PMI, along with a softer manufacturing reading earlier this week, underscored worsening conditions in both sectors.
"Underlying structural changes are still going on, with the manufacturing sector shrinking and services expanding. The government needs to continue to push forward stabilising measures to help the economy recover," Mr Zhong said.
But Asian bourses were relatively chipper, following Wall Street's overnight lead. Australia's S&P/ASX 200 gained 0.8 per cent, Hong Kong's Hang Seng was up 0.4 per cent, while on the Chinese mainland the Shanghai Composite rose 0.4 per cent.