Euro Steady
Dollar Retreats  
US stocks gain
US stocks advanced toward all time highs as metals price jumped amid rising producer prices in China.  The dollar and Treasuries were little changed and as Donald Trump is to anounce , in a press conference, what it could be his policy preferences, the post-election asset move has come to a halt.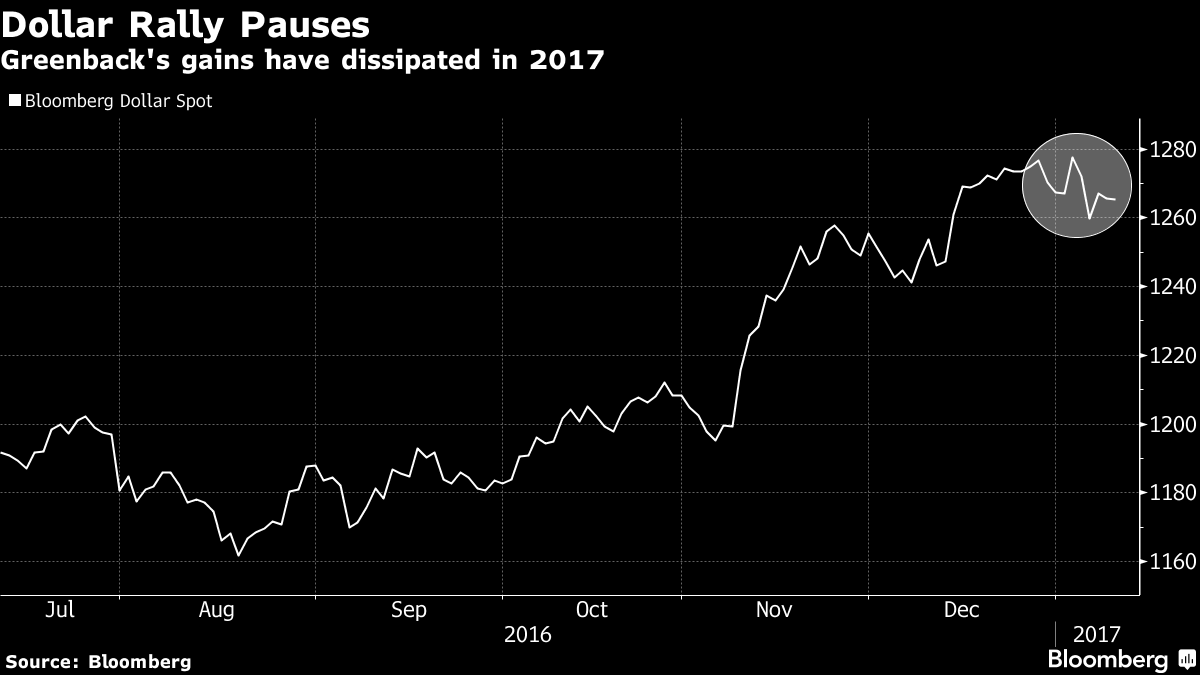 As Bloomberg puts it :
Caution crept into financial markets as the euphoria over Trump's perceived pro-growth policies faded with Congress holding cabinet confirmation hearings and the president-elect preparing to face the media for the first time since July. The pound has been hit by angst over the implications of Brexit and the Turkish lira extended its retreat to record lows on speculation the nation's central bank won't raise interest rates.
"Traders are wary ahead of a media briefing," said Naeem Aslam, chief market analyst in London at Think Markets U.K. Ltd. They "want to play safe and the yellow metal provides them this safety."
Stocks
The S&P 500 advanced 0.2 percent to 2,274.25 at 11:14 a.m. in New York, after Friday closing at a record. The Dow climbed last week within 0.37 point of 20,000 before fading.

The Europe Stoxx 600 Index edged higher, while the FTSE 100 Index headed for an 11th straight gain in its longest rally since 2011. The index has closed at all-time highs for eight straight days; a ninth would be a record.

Mining shares on the Stoxx Europe 600 Index gained 2.8 percent to the highest level since Dec. 13.
Currencies
The Bloomberg Dollar Spot Index slipped less than 0.1 percent, with the greenback lower by 0.3 percent to 115.66 yen. The euro weakened 0.1 percent to $1.058.
The pound is reaffirming its grip as the worst-performing Group-of-10 currency, touching its lowest level since Oct. 25 before rebounding to trade little changed at 1.2166 per dollar.
Commodities
West Texas Intermediate crude added 0.3 percent at $52.11 a barrel after sinking 3.8 percent last session as an increase in U.S. drilling offset signs that OPEC members are sticking to planned output cuts.
Steel and iron ore futures surged to their daily limit in China amid more signs the government intends to squeeze excess capacity, and after the country's factory-gate inflation reached the highest in five years.
Gold futures advanced 0.2 percent to $1,187.60 an ounce, with demand forecast to rise ahead of Chinese New Year.
Bonds
The Treasuries yield curve steepened, with shorter-dated bonds outperforming, before a $24 billion auction of three-year notes.
Yields on 10-year Treasury notes rose one basis points to 2.38 percent.
Bonds in core European countries were little changed, with the yield on 10-year bunds at 0.28 percent.