Dollar Higher pre Trump Press Conference
Oil gains on OPEC cut
Turkish Lira plunges
Futures Flat
US stocks were little changed ahead Trump press conference on Wednesday  where he is expected to give more insight into his plans to boost economic growth.
Surging commodities stocks sent Asian stocks higher. Oil rebounds from the lowest level in a month.
While Trump´s call for tax cutting and boost on infrastructures spending have set an optimistic stocks path and sent shares and dollar higher,  his protectionist statements and a series of off-the-cuff Tweets have kept many investors from adding to risky positions. Trump has signaled China as a currency manipulator from the beginning in his tenure and has promised to apply huge tariffs on imports from China.   Paul Ryan and top members of Trump's transition team are discussing a controversial plan to tax imports. Economists have warned that protectionist measures could stifle international trade and hurt global growth. That brings Trump's press conference into sharp focus.
At 11 am in NY Trump will meet the press . While there isn't a great deal known about the event, investors are looking to get a clearer picture on trade, currencies, tax plans, fiscal stimulus and the new administration's relationship to the Fed.
Today's Markets
In Asia, Japan +0.3%. Hong Kong +0.8%. China -0.8%. India +0.9%.
In Europe, at midday, London +0.1%. Paris +0.1%. Frankfurt +0.3%.
Futures at 6:20, Dow +0.1%. S&P flat. Nasdaq +0.1%. Crude +0.7% to $51.17. Gold +0.4% to $1189.70.
Ten-year Treasury Yield flat at 2.38%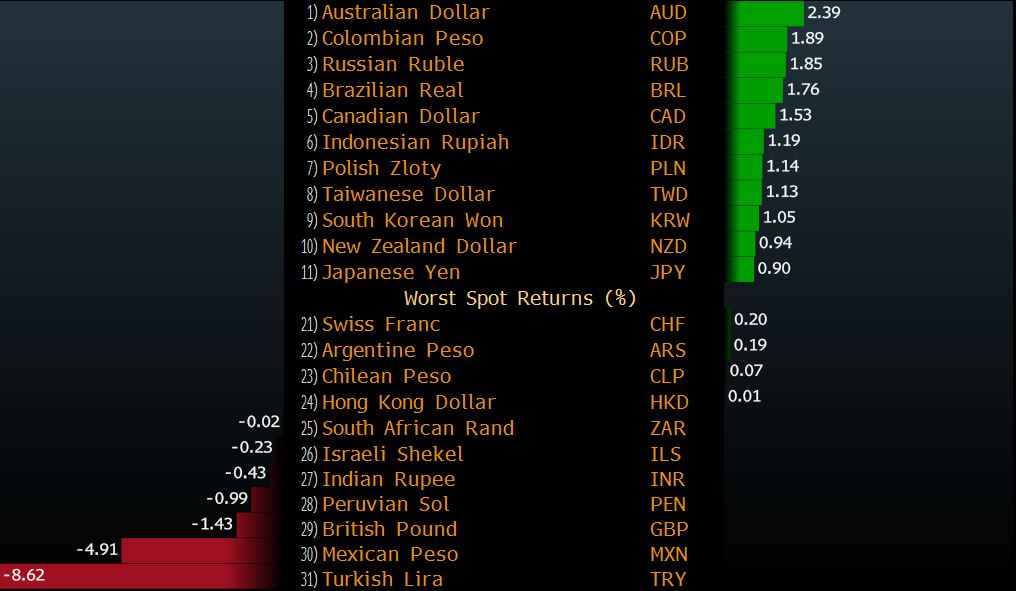 Turkey's political quagmire has been exacerbated by central bank inaction and higher-than-expected inflation to make the lira the worst-performing currency of 2017.
As developed-market yields rise, investors are demanding relatively higher returns to hold lira-denominated assets. Yet rather than raising rates to bolster the currency, the central bank slashed its top lending rate by a total of 250 basis points since March before raising its overnight lending rate by 25 basis points and the one-week repurchase rate by 50 points.
Economy
The world economy is expected to expand 2.7% this year, recovering from a post-crisis low in 2016, thanks to rising commodity prices and Donald Trump's stimulus, the World Bank said in its latest Global Economics Prospects report. However, this growth could be hit by a significant slowdown in investment in emerging markets and political uncertainty in major economies, including the U.S.
The Kremlin said it has no compromising material on Donald Trump or Hillary Clinton and dubbed an unsubstantiated dossier which said it did as "total nonsense." Spokesman Dmitry Peskov further called the allegations "pulp fiction" and said the report had been dreamt up to further damage U.S.-Russia relations.
Italy "will not need" the support of the European Stability Mechanism, Economy Minister Pier Carlo Padoan told La Repubblica, when asked about the possibility that Rome tapped the eurozone bailout fund. He also confirmed that Italy will inject €6.6B of public money into Monte dei Paschi (OTCPK:BMDPY) after the bank's failure to complete a capital boosting plan.
After months without one, Iceland finally has a new government. The catch? The new coalition of the Independence, Reform and Bright Future parties will give parliament a chance to debate whether to hold a referendum on EU membership. Iceland began EU accession talks in 2010, while the country was still reeling from the 2008 financial crash.
Saudi Arabia plans to follow its record-breaking debut on global debt markets with an Islamic bond issue. The sale, which could come as early as February, will help the kingdom finance its budget deficit and invest in economic diversification away from oil. Last year, the country set a record for developing countries with its first sovereign bond sale, attracting $67B in investor bids for a $17.5B issue.
There will be "trouble for equity markets" if the yield on the 10-year U.S. Treasury note moves beyond 3%, warned Jeffrey Gundlach, while another bond king stated 2.6% was the key level to watch. According to Bill Gross, the number is much more important than Dow 20K, the price of oil or dollar strength, as it would signal a bear bond market. The 10-year yield last stood at 2.38%.
Stocks