Brexit details to be known by Theresa May: Markets in waiting mode
Dollar weakens: to the beat of Trump´s: Wall Street Journal story cited President-elect Donald Trump as saying "the dollar was already too strong".
Saudi's plan early exit :Saudi Arabia says the agreed OPEC cuts can end by mid-year
Markets slip Overnight
World Economic Forum Davos:Chinese President Xi Jinping, his country's first head of state to address the meeting.
Theresa May is expected to set out her vision for a hard Brexit in a speech this morning. The dollar is weakening against all its G10 peers, and Saudi Arabia says that OPEC production cuts can end in June.
May will outline plans for Britain to pull out of the European Union. She will say that she has no interest in "anything that leaves us half-in, half-out," according to extracts released by her office. The pound, which weakened following press reports about the speech over the weekend, was trading at $1.2174 by 5:00 a.m. ET, a level close to Friday's close. Inflation data released this morning showed consumer-price growth increased to 1.6 percent in December, the highest level in over two years, and ahead of economists' expectations for a 1.4 percent increase.
The greenback fell against most major currencies after Donald Trump told the Wall Street Journal its value is too high in part because China holds down its currency. U.K. and European equities retreated a second day before a speech by May, in which she is expected to say Britain is likely to pull out of the EU's single market for goods and services and seek a completely new trading relationship with the bloc.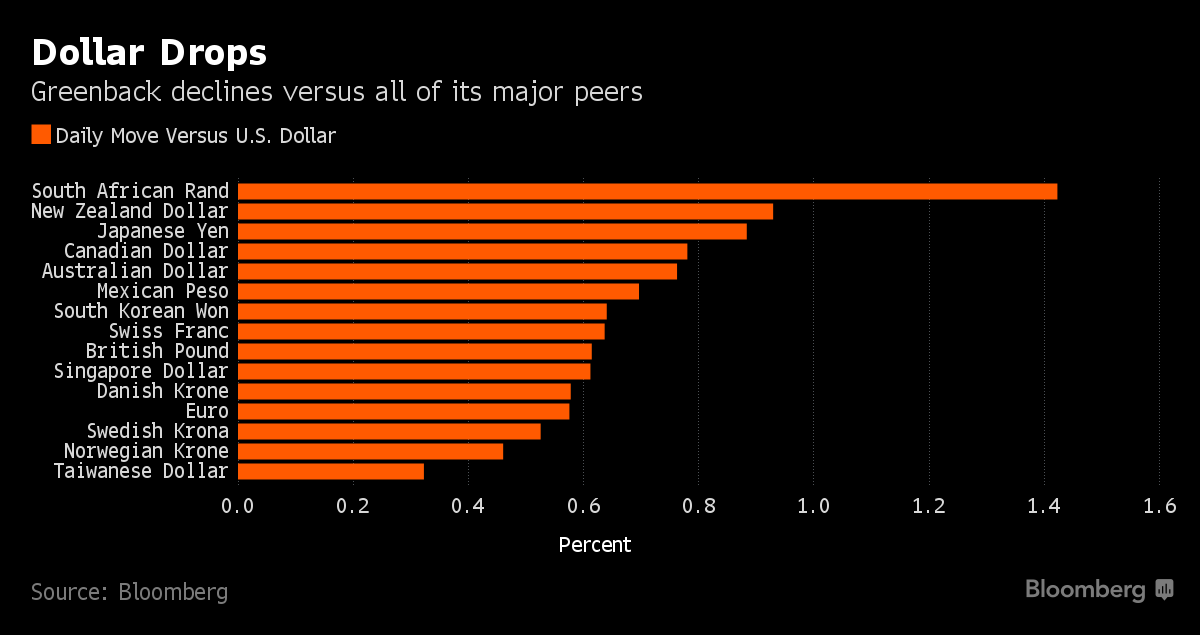 Investors are seeking clarity on his policies after campaign pledges on tax cuts and government spending helped lift stocks and the dollar and were deemed positive for economic growth.
The twin themes of Brexit and Trump are set for significant developments this week after dominating markets this year and last. The comments from Trump, who will be inaugurated Friday, have left traders guessing at his meaning, while May's speech is likely to give the clearest view yet of the U.K.'s exit strategy.
Global Macro Risks  at a glance:
Stocks
The Stoxx Europe 600 Index retreated 0.5 percent, with automakers among the biggest decliners for a second day. The FTSE 100 Index slipped 0.3 percent.
Futures on the S&P 500 Index slid 0.5 percent. U.S. markets were closed Monday for a holiday.
Bonds
The yield on 10-year Treasuries dropped six basis points to 2.33 percent, after falling two basis points last week. The securities were shut worldwide on Monday for Martin Luther King Day.
European bonds rose, with the 10-year bund yield narrowing four basis points to 0.28 percent.
Commodities
Gold climbed 1.1 percent to $1,215.51 per ounce, extending its winning streak to seven days, the longest since November. Spot gold prices are at the highest since Nov. 22.
Crude oil added 1.8 percent to $53.29 a barrel.
Bloomberg's commodity index rose for a fifth day, heading to the highest close since July 1.