Uncertainty over Trump´s policies weight on markets
Markets want more details other than America first
Yen climbs as traders react to Trump's first days in office
Shanghai, Taiwan equities advance, while Japan's Topix falls
Dollar weakens broadly as another week starts. EUR/USD and USD/CHF extend recent near term move with EUR/USD hitting as high as 1.0749 so far.
Some analysts attribute the selloff in the greenback to uncertainty over US president Donald Trump's policies.
Trump reiterated over the weekend that he's going to withdraw from the Trans-Pacific Partnership trade pact. However, nothing has been said regarding what pushed the markets higher since election. That is, expansive policies with lower taxes and higher infrastructure spending. Dollar will be weakening until it is known the direction this new strong America is taking.
Q4 GDP report from UK and US will be the main focus of the week ahead.
Dollar and Sterling are so far the weakest major currencies this month, for different reasons. Dollar is weighed down by uncertainties on Trump's policies while Sterling is pressured by concern of hard Brexit. Traders will likely look pass the GDP data from both countries and stay cautious. Eurozone PMIs and German Ifo will also catch some attentions. Meanwhile, Australian CPI will also be closely watched. Aussie is so far the strongest major currency this month and would look into inflation reading for additional strength.
Here are some highlights for the week ahead:
Monday: Japan all industry index; Canada wholesale sales; Eurozone consumer confidence
Tuesday: Eurozone PMIs; UK public sector net borrowing; US existing home sales
Wednesday: Japan trade balance; Australia CPI; Swiss UBS consumption; German Ifo; US house price index
Thursday: New Zealand CPI; Swiss trade balance; German Gfk consumer sentiment; UK GDP; US jobless claims, trade balance, wholesale inventories, new home sales, leading indicators
Friday: Japan CPI; Australia PPI, import prices; Eurozone M3 money supply; US GDP, durable goods
The Stoxx Europe 600 Index was at its lowest level this year, while U.S. futures slid after the underlying gauge rose Friday. The U.S. currency fell against its major peers and gold added to a four-week advance. Copper paced gains among industrial metals as the new U.S. president reiterated plans to rebuild infrastructure. Shares in mainland China and Taiwan climbed, while Japan's Topix index fell as the yen strengthened, as Trump began to work as US President.
His pro-growth campaign and pronouncements helped drive a rally in equities since November,while dollar surged and bonds were dumped. Some of those trades have been unwind this months a in vestors assess wheter prices were pushed too high too fast.
Investors and money managers wiil be dissecting earnings from companies like Alphabet , Samsung, Alibaba, all reporting results this week.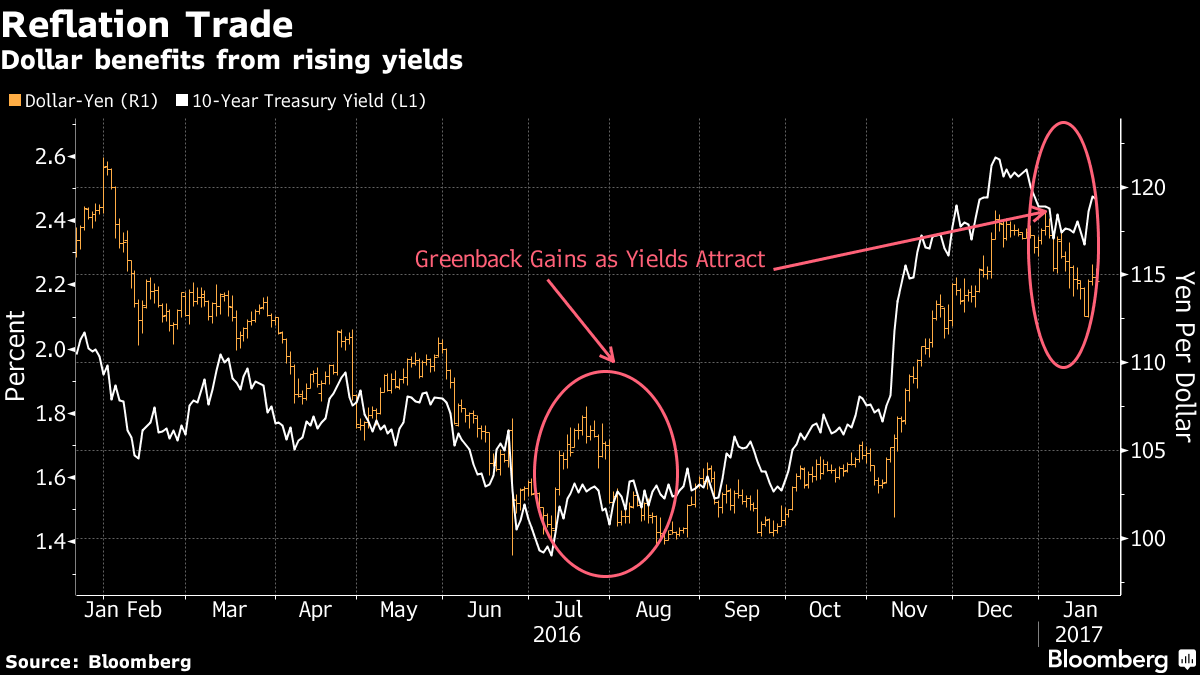 Main moves in markets:
Currencies The Bloomberg Dollar Spot Index slid 0.5 percent as of 8:23 a.m. in London. It has fallen for four straight weeks, its longest retreat since February. The dollar lost 0.4 percent against the South African rand and 0.8 percent versus the Mexican peso.
The euro climbed 0.4 percent to $1.074.
The yen rose 1 percent to 113.52 per dollar.
Commodities Gold rose 0.3 percent to $1,213.17 an ounce. The metal has increased in 10 of the past 11 sessions.
Copper futures jumped 1 percent in London and aluminum increased 0.7 percent to the highest since May 2015. Lead and zinc both rose more than 1 percent.
Iron ore dropped 2.6 percent, bringing its four-day decline to 5.4 percent. Iron ore is headed for a sharp decline as higher-grade supplies from Brazil and Australia increase, according to Citigroup Inc.
West-Texas Intermediate crude oil was down 0.6 percent at $52.90.
Stocks The Stoxx Europe 600 Index was down 0.6 percent, at the lowest since Dec. 29. Contracts on the S&P 500 Index fell 0.3 percent after the gauge added 0.3 percent on Friday.
The Shanghai Composite rose 0.4 percent, while the Hang Seng Index added 0.1 percent, paring an intraday gain of 0.8 percent.
Taiwan's Taiex Index climbed 1 percent to the highest level since June 2015.
Japan's Topix Index lost 1.2 percent, its first decline in four days, led by exporters.
India's S&P BSE Sensex was steady after Friday's 1 percent drop.
Bonds 10-year Treasury yields declined 3 basis points to 2.435 percent.
The yield on 10-year Australian government bonds lost 3 basis points to 2.76 percent.