Asian Stocks Close Mixed On Tuesday
European bourses firm as dollar steadies
Trump pulls U.S. out of Pacific trade deal, loosening Asia ties
Dollar wallows near seven-week lows on fading Trump trade
Nikkei falls on Trump's protectionism; banks lead losses. Bank shares shed 2.3 percent, posting the biggest fall among the Tokyo Stock Exchange's 33 industry subindexes, while exporters also were knocked by the yen's rise to near two-month highs.
The Shanghai Composite finished up 6 points, or 0.2%, to 3,143 on Tuesday. Across Asia, stocks ended mixed as the dollar remained soft after President Donald Trump withdrew the US from the Trans Pacific Partnership. The Nikkei 225 fell 103 points, or 0.6%, amid a stronger yen; while the Hang Seng advanced 51 points, or 0.2%; the S&P/ASX 200 gained 39 points, or 0.7%; and the Kospi closed near the flat line for a second straight session.
Dollar recovers mildly today but stays in red across the board for the week so far.  Treasury yields tumbled sharply overnight with 10 year yield closing at 2.403, down -0.064.
But stocks were just a touch lower with DJIA lost -0.14% to close at 19799.85
Markets continue to reaction to US president Donald Trump's initial actions. It's reported that Trump promised business leaders to reduce tax with business regulations cut by 75%, or more.  Regarding corporate tax, Trump noted that his administration is going to be "cutting taxes massively for both the middle class and for companies, and get it down to We're trying to get it 15 to 20%, from 35%.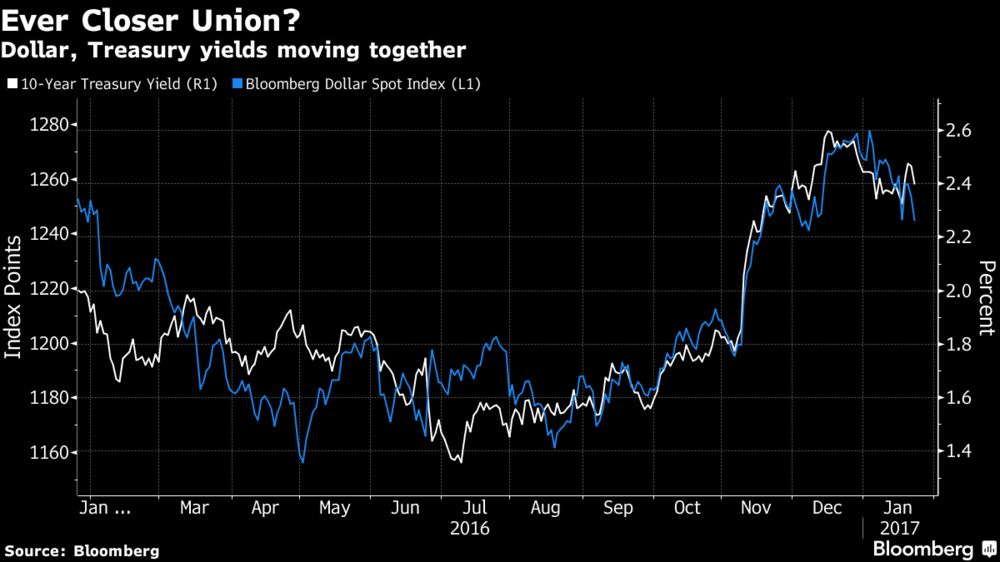 Meanwhile, Trump also signed an executive order yesterday to remove US from the Trans-Pacific Partnership. He is also expected to renegotiate" the North American Free Trade Agreement (NAFTA) with Canada and Mexico. It was reported that the Canadian government "will consider bilateral trade measures during renegotiation of the NAFTA a sign it could potentially move ahead at least in part without Mexico". Trump will also be meeting UK's Prime Minister Theresa May on Friday. Trade policy is expected to be a major discussion topic as May indicated her plan of a hard Brexit last week.
Australia is leading a push to salvage a Pacific trade deal after U.S. President Donald Trump formally withdrew as a signatory to the 12-nation accord. Prime Minister Malcolm Turnbull said he discussed the deal on Monday night with Japanese counterpart Shinzo Abe, and held talks with the leaders of New Zealand and Singapore. Steven Ciobo, Australia's trade minister, told ABC Radio on Tuesday a Trans-Pacific Partnership without the U.S. was "very much a live option."  JApan  Trade minister Hiroshige Seko said that Japan will "continue to explain to the U.S. about the strategic and economic merits of the TPP."
European Shares Gain On Tuesday : 
The DAX 30 gained 15 points, or 0.3%, to 11,561 around 9:50 AM London time on Tuesday.
In Europe, stocks also traded in the green after UK Supreme Court ruled the British government must hold a parliamentary vote before triggering Article 50 to leave the EU. The FTSE 100 rose 5 points, or 0.1%; the CAC 40 went up 7 points, or 0.1%; the IBEX 35 increased 38 points, or 0.4%; and the FTSE MIB advanced 179 points, or 0.9%.
Pound Falls Further After UK Supreme Court Decision
The pound dropped as much as 0.6% to $1.2457 around 09:50 AM London time on Tuesday after the UK Supreme Court ruled that the government must hold a parliamentary vote before triggering Article 50.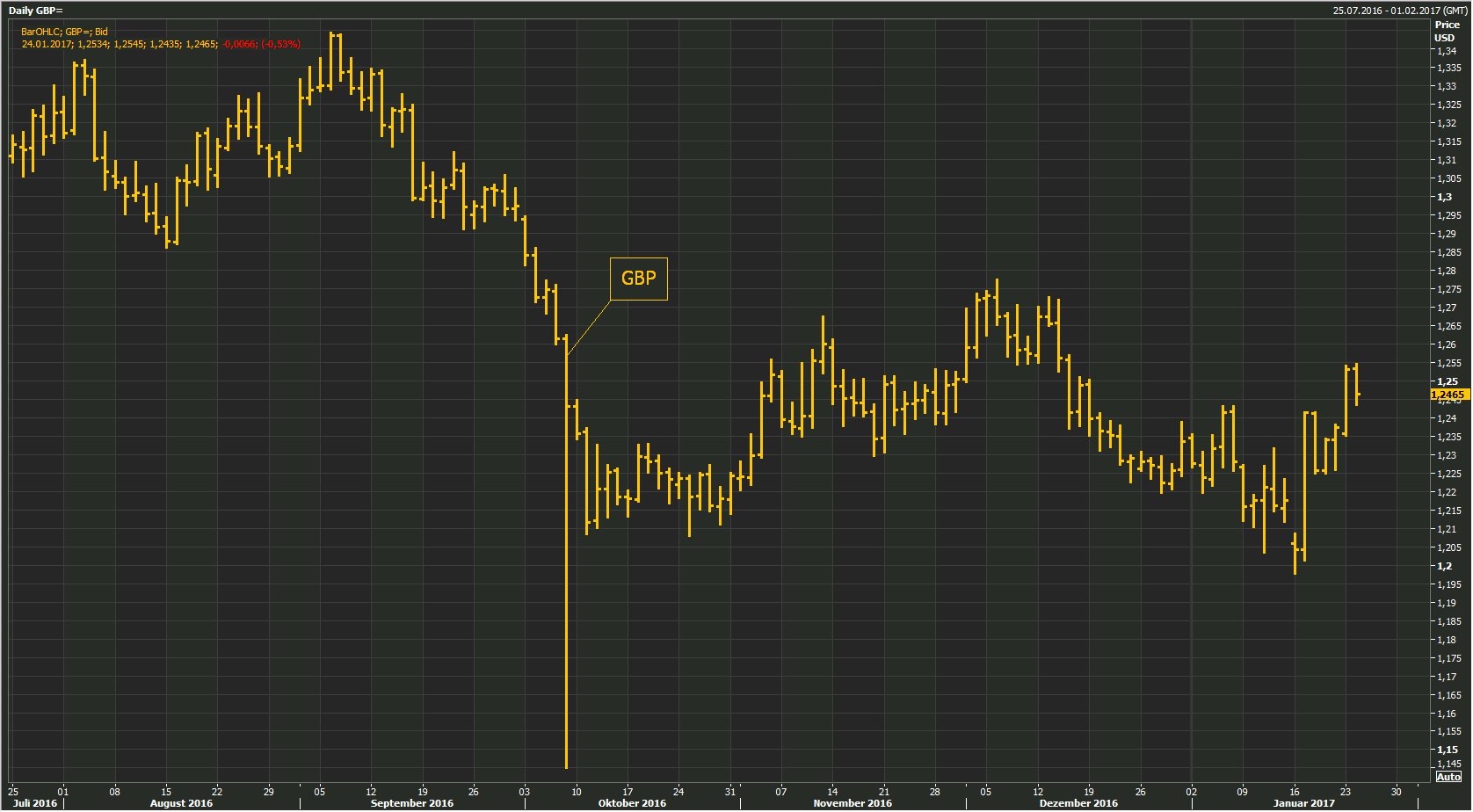 The pound dropped as much as 0.6% to $1.2457 around 09:50
Euro Area Manufacturing PMI The Flash Markit Manufacturing PMI for the Eurozone increased to 55.1 in January of 2017 from 54.9 in the previous month and beating market expectations of 54.8. It is the highest reading in 69 months as hiring gained momentum on the back of sustained growth of new orders and improved optimism while average input costs rose at the fastest rate since May 2011. Manufacturing PMI in the Euro Area averaged 50.20 from 2007 until 2017, reaching an all time high of 59 in February of 2011 and a record low of 33.50 in February of 2009. Manufacturing PMI in the Euro Area is reported by Markit Economics.
Main moves in markets:
Currencies The Bloomberg Dollar Spot Index was little changed as of 8:21 a.m. in London, after dropping as much as 0.3 percent earlier. The greenback has fallen for four straight weeks, the longest retreat since February.
The yen fell 0.5 percent to 113.26 per dollar, after jumping 1.7 percent the previous session, the most since July. The euro slipped 0.1 percent to $1.0753, while the British pound dropped 0.4 percent to $1.2481 after a 1.3 percent rally on Monday.
The Australian dollar fell 0.2 percent and the New Zealand dollar slipped 0.1 percent after strengthening to levels last seen in November.
Stocks The Stoxx Europe 600 index rose 0.1 percent after dropping Monday to the lowest close since December. BT Group tumbled 14 percent as the company more than tripled a writedown at its Italian unit after a probe found more faulty accounting and "inappropriate behavior" than the company first identified.
The Topix fell 0.6 percent to the lowest since Dec. 7, led by declines in banks and exporters. Australia's S&P/ASX 200 Index rose 0.7 percent, after a two-day slide.
The MSCI Emerging Markets Index headed toward the highest closing price since October, with Indonesia's benchmark up 0.8 percent. Vietnam stocks are trading near the highest since 2008, while those in Singapore, Taiwan and Thailand are at levels unseen in more than a year.
Futures on the S&P 500 Index slipped less than 0.1 percent after the gauge fell 0.3 percent on Monday.
Bonds The yield on the 10-year Treasury was steady at 2.40 percent after it declined seven basis points Monday; bonds had extended their rally after Trump vowed "a very major border tax" on imports in a meeting with business leaders.
Australian bonds gained, with the yield on 10-year notes down six basis points to 2.70 percent.
Commodities Gold slipped 0.4 percent after climbing 0.7 percent Monday and touching a two-month high of $1,220.26 an ounce.
West Texas Intermediate crude rose 0.9 percent to $53.21 a barrel as Iraq said it's close to implementing its share of pledged output curbs agreed with OPEC to trim bloated global inventories and stabilize the market. Oil slid 0.9 percent the previous session after U.S. drillers added the most rigs in more than three years.
Global Market Risks at a glance: