Dow closes above  20K
Dollar attempts to recover
European bourses slightly ahead
Gold and bonds extend declines while dollar and copper advance
Dollar is trying to recover against other major currencies today as recent selloff looks exhausted while oil climbed above $53 a barrel. Global government bonds extended declines and France's 10-year yield breached 1 percent for the first time in more than a year.
"The environment seems to be conducive to risk taking," said Mark Robertson, a senior investment manager at NN Investment Partners in the Hague. "The market seems to be adopting the mindset that growth and inflation are going to be better going forward.
A generally supportive earnings season has allowed Wall Street to continue its "Trump trade", which began in November when Donald Trump won the US presidential election, and which was reignited this week after he swiftly issued executive orders linked to infrastructure projects.
As hopes for tax cuts and lighter US regulation abound, the benchmark S&P 500 and the technology-focused Nasdaq Composite also stand at fresh peaks.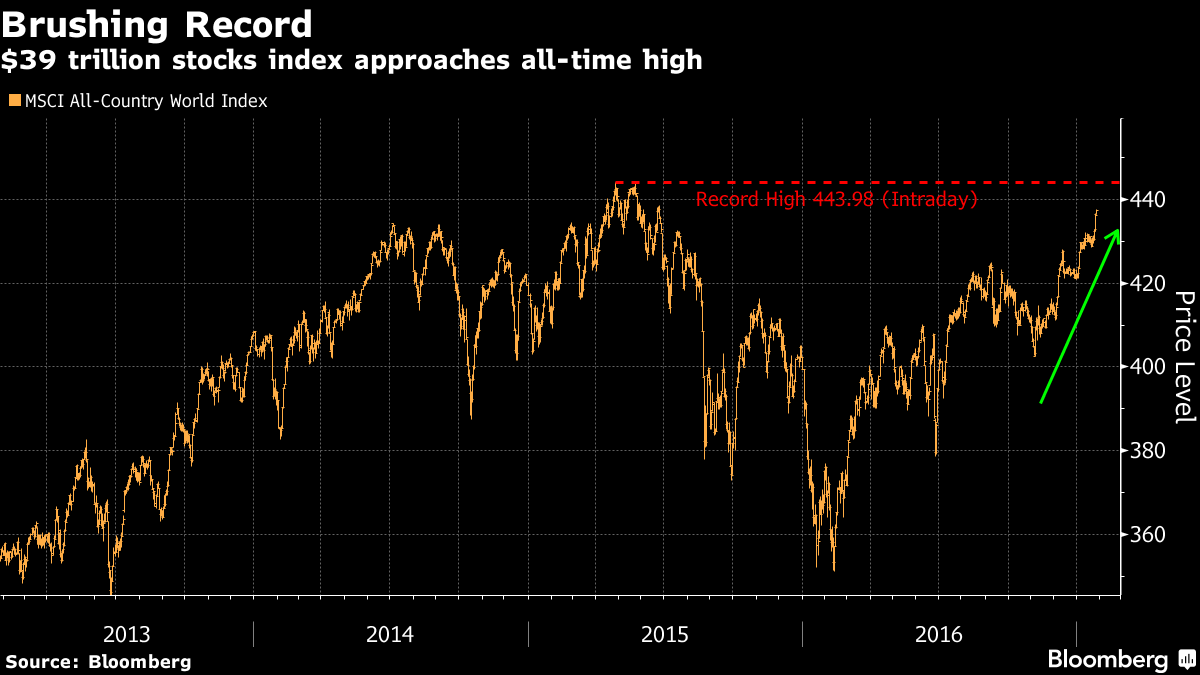 Stocks The Stoxx Europe 600 Index climbed 0.3 percent at 9:04 a.m. in New York, while Germany's DAX rose to a 20-month high.
S&P 500 futures edged higher after the underlying index jumped 0.8 percent to 20,068.51 on Wednesday.
Drug and healthcare companies led the 19 industry groups of the Stoxx 600, with 40 of 42 members higher.
Swiss drugmaker Actelion Ltd. jumped as much as 22% percent after agreeing to a $30 billion takeover by Johnson & Johnson.
In Asia, Japanese and Hong Kong stocks performed strongly, with the Topix and Hang Seng benchmarks up 1.5 per cent and 1.4 per cent, respectively. But China's Shanghai Composite rose just 0.3 per cent as trading began to thin ahead of the Lunar New Year break. The Australian market was shut for a public holiday.
Bonds The yield on the 10-year Treasury added two basis point to 2.53 percent after jumping five basis points on Wednesday.
Periphery nations led a retreat in European bonds, with yields on Portuguese government debt advancing 10 basis points.
Russian bonds fell for a third day after the finance ministry said it will start currency purchases next month.
Currencies The Bloomberg Dollar Spot Index added 0.5 percent, the most in a week.
The pound weakened 0.4 percent to $1.258 after earlier climbing as much as 0.3 percent after a data release showed the U.K. economy grew faster than economists forecast in the fourth quarter.
The euro slipped 0.5 percent to $1.0692.
Commodities Gold extended a three-day drop to 2.4 percent, the biggest such fall in a month. Rising risk appetite and the approaching physical demand dearth that usually follows the Lunar New Year, when China steps back purchases, are weighing on prices.
West Texas Intermediate crude rose 0.7 percent to $53.05, paring Wednesday's declines as investors weighed output cuts from OPEC and other producing nations against expanding U.S. crude stockpiles.
Copper for delivery in three months was little changed on the London Metal Exchange after climbing to the highest since Nov. 28 at $6,045.50 a ton after miner Anglo American said output fell.
Iron ore continued its rally for a third day, with futures climbing 1.1 percent.