US media are reporting that Trump will order a review of the Dodd-Frank rules, which are designed to stop banks being too reckless.
He's also apparently planning to sign another executive action that could halt President Obama's Fiduciary Rules. This regulation forces retirement advisers to work in the best interests of their clients; Trump will ask the US labor secretary to consider rescinding it, reports say.
Bank shares boosted by Trump Shares in banks and insurance groups are rallying in London, following the reports that president Trump will take steps to dismantle regulations brought in to prevent another financial crisis
After a flurry of executive orders taking action on a range of campaign pledges – including building a wall with Mexico and enacting a travel ban on seven Muslim-majority countries – President Donald Trump has finally turned his attention to the banks.
Sweeping the legislation act  of the Dodd-Frank Act rules enacted in response to the 2008 financial crisis, Trump is aligning with many industry players and  has been the target of fierce lobbying by broker-dealers and other financial advisers since it was proposed by the Obama administration in 2015.
Trump also will halt another of former President Barack Obama's regulations, hated by the financial industry, that requires advisers on retirement accounts to work in the best interests of their clients. Trump's order will give the new administration time to review the change, known as the fiduciary rule. 
Former Goldman Sachs top executive Gary Cohn who is now director of the White House's National Economic Council, said Mr Trump would sign executive orders preparing the way to fulfil a campaign pledge to dismantle parts of Dodd-Frank.
Republicans in Congress argue that the law has constricted banks' ability to do business. But any attempt to roll it back will face fierce resistance from Democrats who view it as a linchpin of financial stability and consumer protection.
Trump said repeatedly during the presidential campaign that the Dodd-Frank overhaul law was preventing banks from lending, which he said made it harder for consumers to access credit and get the economy to grow. Financial analysts have had mixed views on this assessment. Some believe that low demand from consumers has hurt the ability of banks to lend, and low interest rates have hurt the returns banks make on these loans. But smaller banks have said they are dealing with a crush of new regulations spurred by Dodd-Frank, something regulators have struggled to address.
Cohn didn't specify how all of these regulations should be rewritten, but he said that financial markets have made their own corrections and that the environment that fueled the financial crisis no longer existed. He said, for example, that even if mortgage restrictions are rolled back, it doesn't mean that there would be another boom in the subprime lending market. That is because, he said, those loans can't be securitized and sold like they were before the financial crisis because the market for those products isn't the same.
"We don't want to do it an unregulated way," he said. "We want to do it in a smart, regulated way."
Translation: we want our bubble, we want to be able to securitize, package and sell it, we want to offload risky exposure to momentum-chasing retail investors and, potentially, widows and orphans.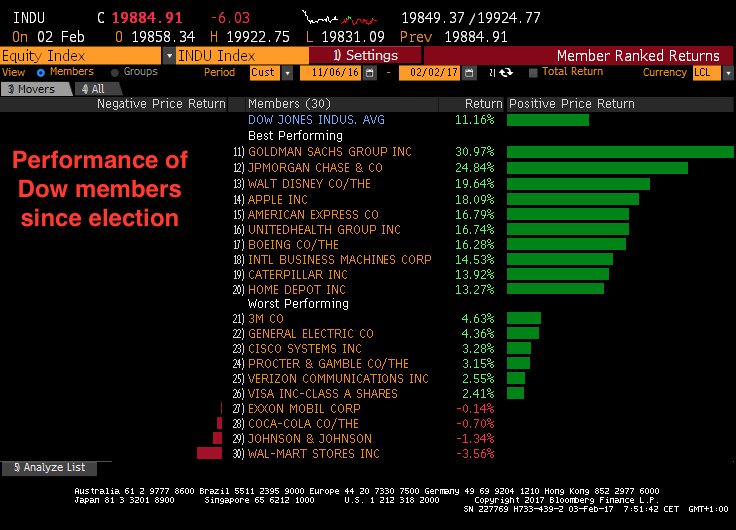 More from the WSJ:
Trump blamed the political establishment and Wall Street banks for leaving behind many Americans and vowed to break up both. Those promises have already been called into question as he has filled his administration with members of Congress and Wall Street executives, including Mr. Cohn, who retired as president of Goldman Sachs Group Inc. to join the Trump administration.

Adding to the potentially difficult optics for Mr. Trump, he will sign the actions on the same day he meets with a group of business executives, including J.P. Morgan Chase & Co. Chief Executive James Dimon and BlackRock Inc. CEO Laurence Fink. Asked about the potential political pushback because of his Wall Street past, Mr. Cohn said the administration's goal of deregulating financial markets "has nothing to do with Goldman Sachs."

"It has nothing to do with J.P. Morgan," he said. "It has nothing to do with Citigroup. It has nothing to do with Bank of America. It has to do with being a player in a global market where we should, could and will have a dominant position as long as we don't regulate ourselves out of that."

Sources: WSJ, ZeroH,The Guardian,FT,Bloomberg US today