Nikkei Raises as banks climbs on Trump´s deregulation hopes
European bourses flat: deregulation hopes underpin Banks
Hopes for regulatory reform are helping financial stocks stand out in Europe as well as in Asia; the momentum on world stock markets from US jobs data fades. US Futures predicts record start point for the S&P 500, the dollar gaining against euro and sterling.
Japan's broad Topix rose 0.4 per cent as a weaker yen gave exporters a lift, while Hong Kong's Hang Seng advanced 1 per cent. On the mainland China's Shanghai Composite added 0.6 per cent.
Political risks in Europe are denting in the confidence of investors as caution is creeping through bond and currencies, after French Presidency candidate Marine Le Pen unveiled manifesto pledge to take France out of the euro single market currency.
The divergence between French and German bond yields became more pronounced, with the spread at the widest since 2013.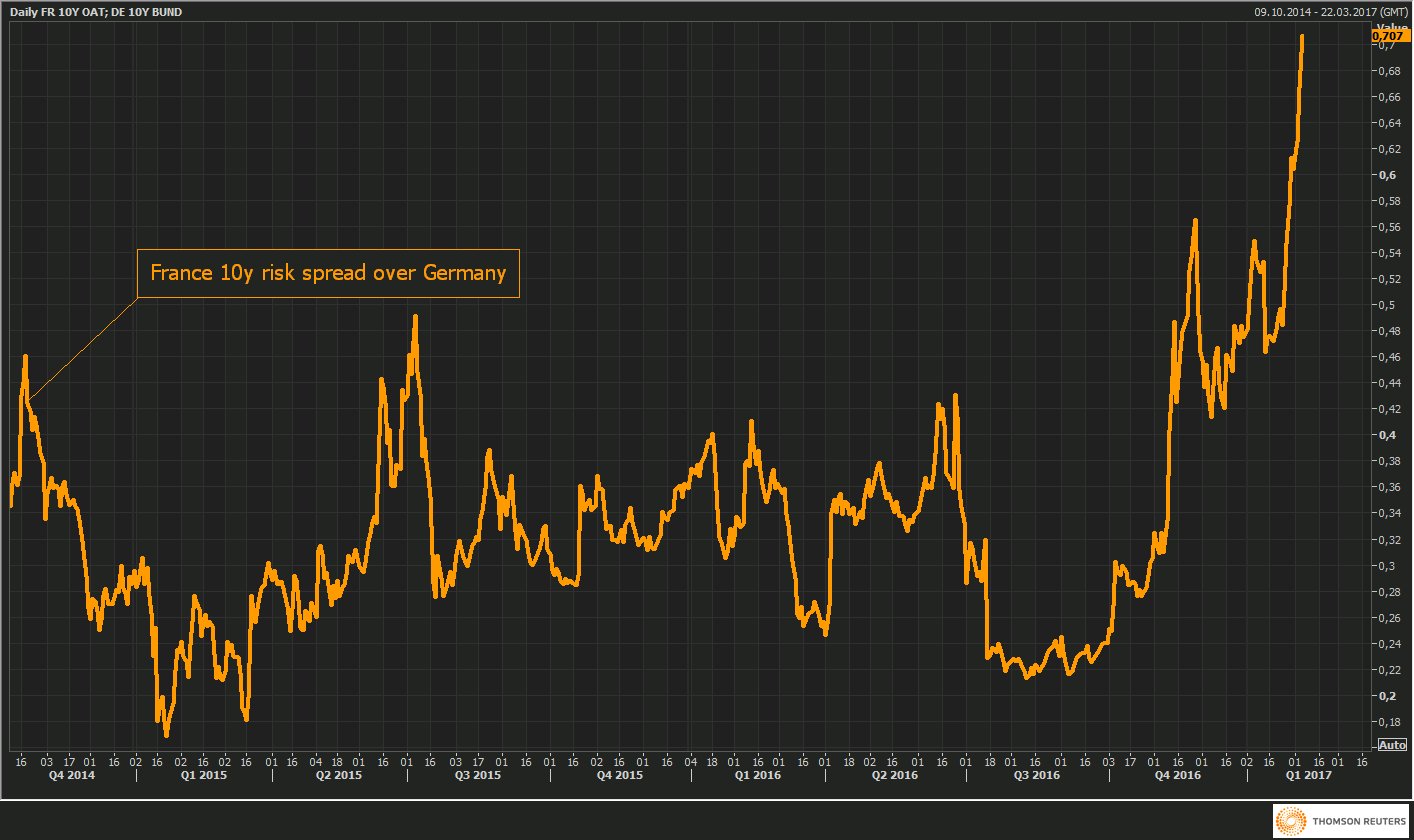 Launching her campaign for the Elysee in Lyon yesterday, Marine Le Pen promised to halt the forces of globalisation, pull France out of the eurozone, and end "uncontrolled immigration" three months ahead of the country's key election, FT reports.
 Investors have been demanding a steadily rising premium for holding French debt over Germany's – considered the safest asset class in the eurozone – with 10-year yields climbing from record lows of 0.1 per cent in September to above 1 per cent since January.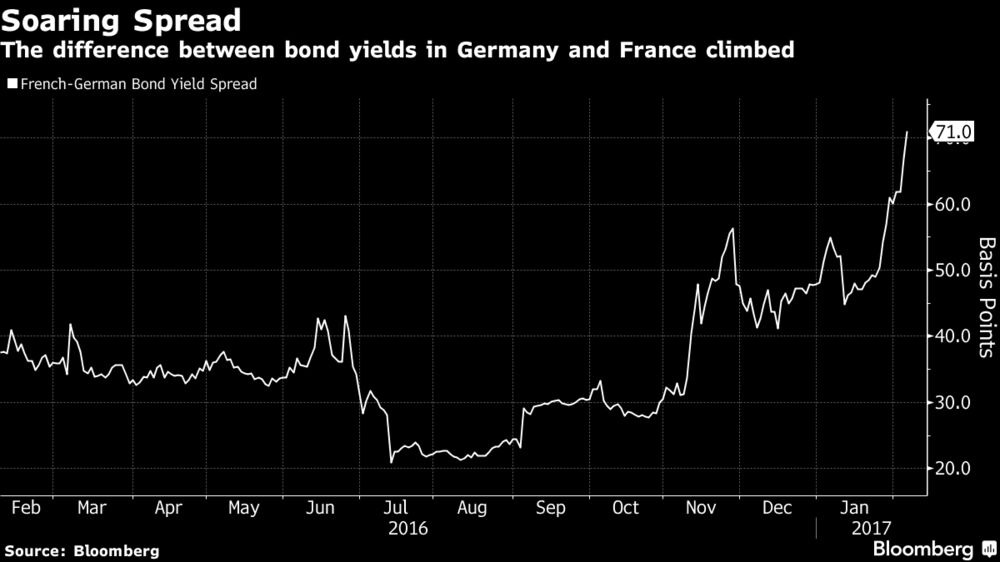 Traders are assigning greater risk premiums to European countries where anti-establishment movements are gaining traction ahead of elections. The National Front's Le Pen on Sunday in Lyon fired at globalization and monetary integration, calling for a referendum on European Union membership and a limit on immigration.
Bloomberg: What's coming up in the markets:
After Germany, industrial output data is coming this week from Spanish, Italian and French factories that should show their contribution to euro-area expansion in December. In the U.K., industrial activity may have moderated.
European banks including Societe Generale SA and UniCredit SpA report this week, and Sanofi and GlaxoSmithKline Plc will be among those delivering health-care earnings. Globally, watch out for numbers from BP Plc, SoftBank Group, the Walt Disney Co., Twitter Inc. and the Coca-Cola Co.
The U.K. House of Commons will complete its debate on the Article 50 bill on Monday, the triggering of which will start the process of leaving the European Union.
The European Central Bank President Mario Draghi can cite accelerating inflation, declining unemployment and 15 quarters of expansion as evidence that his stimulus policies are working when he appears before the European Parliament on Monday. He'll probably also have to point to weak underlying price growth and a turbulent political environment.
Currencies
The Bloomberg Dollar Spot Index rose 0.1 percent as of 11 a.m. in London, after earlier dropping 0.1 percent. The gauge on Friday completed a sixth weekly decline for its longest stretch of losses since August 2010.
The euro dropped 0.4 percent to $1.0736, while the pound was flat.
Bonds
The yield on 10-year Treasuries lost two basis points to 2.45 percent.
The yield difference between French and German 10-year bonds jumped to 71 basis points.
Commodities
Oil added 0.3 percent in New York to $53.98 per barrel, with gains tempered as U.S. drillers boosted rig count to the most since October 2015, according to Baker Hughes Inc.
Gold advanced for a third day, climbing 0.2 percent to $1,222.84 an ounce, which would be the highest closing level since November.
Nickel climbed after the Philippines reiterated plans to shutter mines, while copper rose amid the prospect of a strike in Chile.
Stocks
The Stoxx Europe 600 Index added 0.2 percent, after rising 0.6 percent on Friday.
Miners climbed 0.6 percent, bouncing after a selloff on Friday, with Randgold Resources Ltd. gaining following quarterly results.