Asian Stocks Close Mostly Higher Despite Oil Retreat
Nikkei edges up as yen's rise stalls
European Stocks higher as earnings improving
Greek borrowing costs are rising as a fresh funding crisis looms.
European stocks got a boost from earnings pointing to improving corporate and economic health, while bonds from Italy to France recovered as attention was diverted away from political risk.
European politics is widely cited as an important driver.  The most obvious metric is the premium being paid over Germany.  Yet the premiums narrowed a little yesterday and are narrowing a little today.   Moreover, on the one hand, some observers argue investors are not taking the political risk seriously enough, and on the other hand, other accounts emphasize how much the spreads have widened already.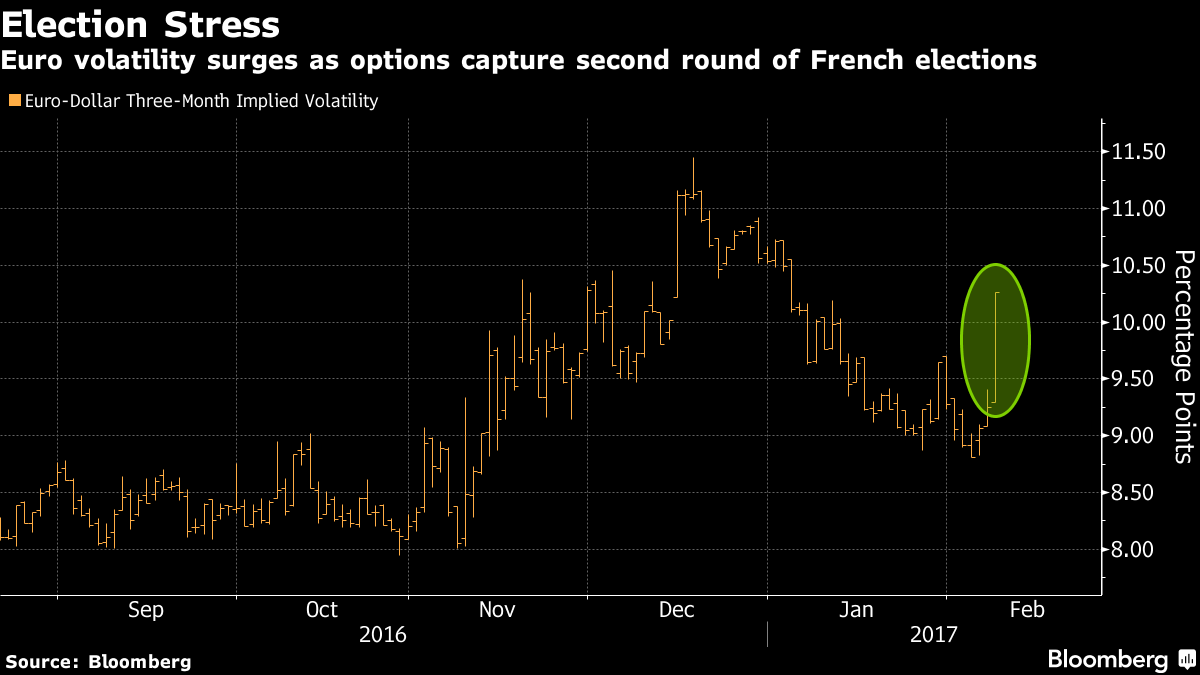 The Greek drama is in the headlines this morning following the fresh impasse that has emerged between its European creditors and the International Monetary Fund.
In broad terms, the IMF believes Greek debts are unsustainable and on an "explosive path", raising doubts about the Fund's participation in the funding programme.
The IMF wants to see Greek offered debt relief from its European creditors, who have so far ruled that out.
Responding to the IMF's latest assessment, the eurogroup's president Jeroen Dijsselbloem said there would be no such debt forgiveness, adding:
It's surprising because Greece is already doing better than that report describes.
Asian Stocks Close Mostly Higher Despite Oil Retreat
The Shanghai Composite Index rose 14 points, or 0.5%, to close at 3,167 on Wednesday February 8th, 2017.
Elsewhere in Asia, stocks closed mostly higher, reversing some earlier losses and amid a stronger dollar while oil prices remained under pressure.
The Nikkei 225 added 97 points, or 0.5%, to 19,008;
the Hang Seng went up 154 points, or 0.7%, to 23,485; and
the S&P/ASX 200 gained 29 points, or 0.5%, to 5,651.
By contrast, the Kospi lost 10 points, or 0.5%, to 2,065.
Coming up today in the markets:
MPs will resume debating the remaining amendments of the bill to trigger Brexit today. Theresa May's plan is on track after she won a parliamentary ballot by promising lawmakers a vote on the final deal with the EU. Seven Tory members of the House of Commons still voted against her.
Earnings from GlaxoSmithKline are due today. Glaxo's core EPS is expected to rise to 25 pence on a weaker pound, while investors will focus on comments about generics competition to its Advair drug.
The U.S. Treasury Department is this week selling a total of $62 billion of three-, 10- and 30-year securities in its quarterly refunding.
Stocks
The Stoxx Europe 600 Index increased 0.6 percent as of 11:24 a.m. in London. Rio Tinto Plc jumped after it announced it will pay a much higher dividend than expected and buy back $500 million of shares after higher iron ore prices boosted profits.
S&P 500 Index futures were little changed after the underlying gauge increased less than a point Tuesday in New York.
Currencies
The Bloomberg Dollar Spot Index rose 0.2 percent, adding to a two-day gain of 0.6 percent. The currency is still down 3 percent from a Jan. 3 peak.
The euro slipped 0.3 percent to $1.0647 and the British pound was little changed at $1.2493.
Commodities
Oil slid 1 percent to $51.63 a barrel in New York, heading for a third-straight drop amid speculation that rising supply from U.S. shale producers is offsetting cuts by OPEC.
Copper three-month forwards jumped 1.5 percent in London.
Bonds
Yields on 10-year Treasuries held below 2.40 percent, after crossing that threshold for the first time in two weeks on Tuesday.
Portugal's 10-year debt yield fell 12 basis points while French benchmark yields dropped three basis points and Italy's fell six basis points.
Indian bonds tumbled after the central bank unexpectedly left rates unchanged, defying market expectations for a cut to counter slowing inflation.
Yields on Greece's two-year notes advanced for a fourth day, climbing eight basis points to 9.80 percent