Asian Shares flat on US Holiday
European Stocks Gain 
Unilever on Focus slumps after Kraft Withdrawal
Pound stronger before Brexit debate
France : Election Wide Open
Bond Traders Betting on Euro-Breakup
The day is being held up by the aftermath of the Kraft takeover intent of Unilever and the withdrawal soon after the Unilever rejection of the $ 143 billion takeover bid .
Asian share markets were mixed on Monday as political uncertainty globally kept the mood cautious, while the U.S. dollar dithered in a tight range ahead of a busy week for Federal Reserve events.
Turnover was light with U.S. markets closed for the Presidents Day holiday.
European Stocks mixed On Monday
The DAX 30 added 67 points, or 0.6%, to 11,826 Monday February 20th, following a positive session in Asia and Wall Street's climb to a new record high.
Also, other major stock markets in Europe traded in the green as Euro area finance ministers will be meeting in Brussels to discuss the Greek bailout program and the House of Lords is set to begin debating the Brexit bill today.
The FTSE 100 rose 5 points, or 0.1%, to 7,305;
the CAC 40 gained 19 points, or 0.4%, to 4,887;
the IBEX 35 went up 49 points, or 0.5%, to 9,549;
the FTSE MIB advanced 48 points, or 0.3%, to 19,054.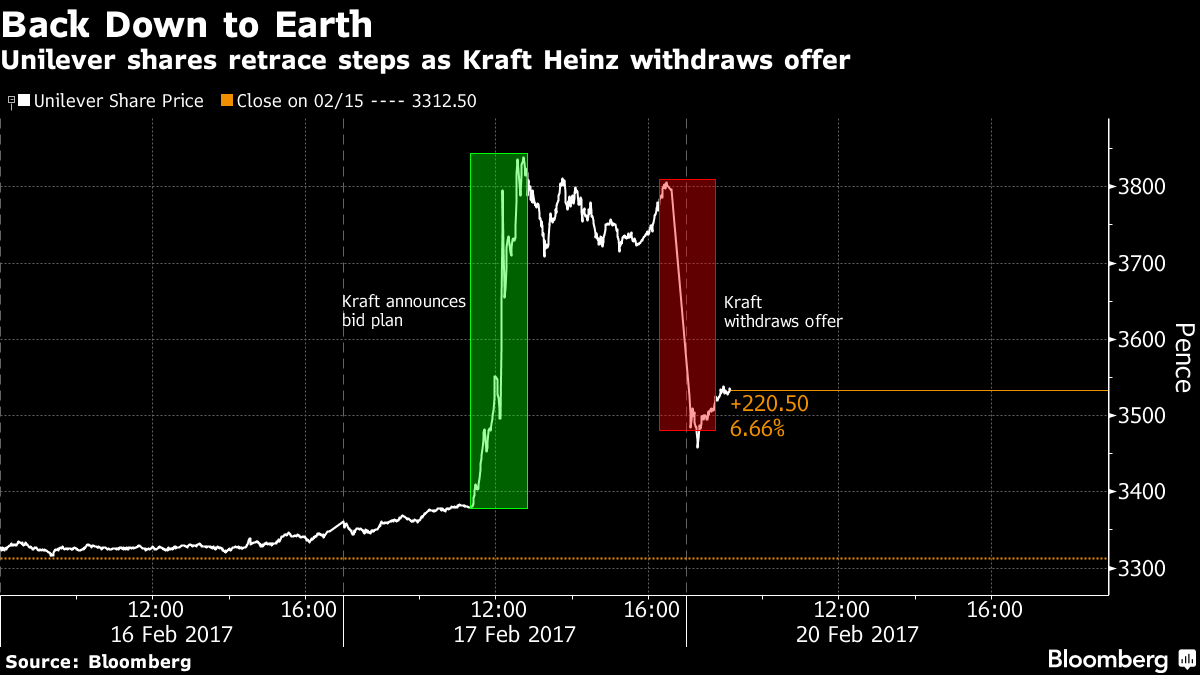 Trading in Kraft and its erstwhile target remains in focus on the back of Friday's surge in both stocks. People familiar with the talks at the weekend said 3G Capital and Warren Buffett's Berkshire Hathaway Inc. decided Unilever's negative response made a friendly transaction impossible.
With U.S. bond and stock markets shut on Monday for Presidents' Day, investors are watching developments in Europe.
Betting on Euro-Breakup Markets across the continent have started to price in the increased potential for anti-euro candidates to win elections in France and Italy. Recent positioning in German and Italian bonds are hedges against a blow-up in the risk of a breakup in the common currency, said traders in London and New York, who asked not to be identified because they are not authorized to speak publicly.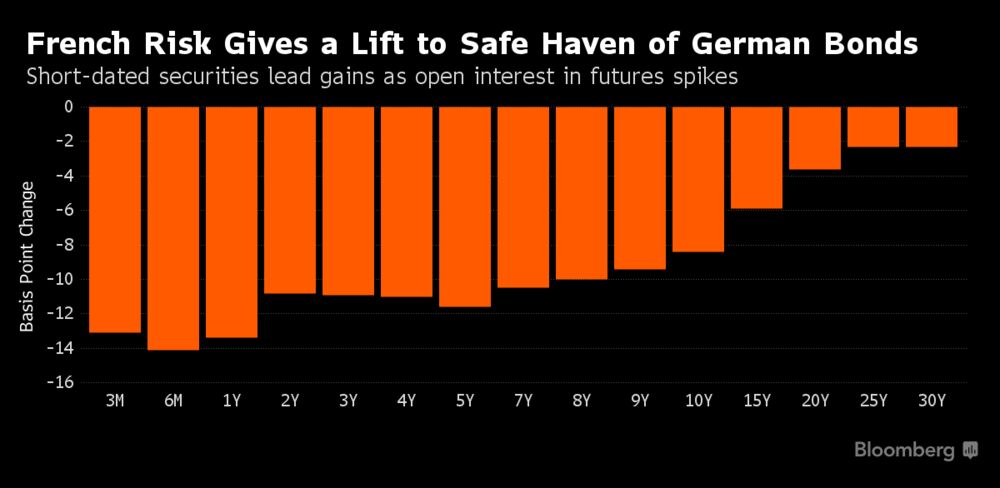 The front end of the German yield curve has outperformed over the past three weeks, with 6-month and two-year yields dropping 10-14 basis points, while open interest in two-year futures has jumped by more than 100,000 contracts

In the event of a euro-zone breakup, the safest thing to hold would be cash, and these are the assets closest to cash

Moves in the relative value of Italian bonds also show signs of hedging
Bonds with higher coupons trade above par, and these higher priced bonds stand to lose much more in the event investors worry about a possible haircut in the event of a default
France's election is wide open with just nine weeks to go after a weekend of stumbles that saw independent Emmanuel Macron ensnared by the country's colonial past and attempts to unite the left fizzle.
After earlier signaling they would consider a possible joint candidacy, Socialist Benoit Hamon and far-left campaigner Jean-Luc Melenchon ended up trading barbs rather than bridging their differences.
It will be talked:
The Fed releases minutes this week from its most recent meeting, possibly giving investors a look into how members see Trump's policies. Data should show the U.S. housing market perking up a bit at the start of the year. The PMI is expected to rise slightly.
PMI surveys for the euro area and its two largest economies this week may show growth momentum is solid, while the Ifo business confidence survey may support that view for Germany.
Investors will be watching International Petroleum Week in London with top OPEC, government and company officials attending.
Among companies reporting earnings this week are Wal-Mart Stores Inc., Barclays Plc and HSBC Holdings Plc. Billionaire Warren Buffett will release his annual letter to shareholders with Berkshire Hathaway Inc.'s earnings.
The U.K.'s House of Lords will debate the article 50 bill, the legislation which will allow Theresa May to trigger Brexit.
Bank of England Governor Mark Carney will on Tuesday testify before the U.K. Parliament's Treasury Committee.
Currencies
The Bloomberg Dollar Spot Index swung between gains and losses to trade little changed Monday while the U.S. holiday weighed on volumes.
Sterling was higher versus all its Group-of-10 peers, rising 0.4 percent to $1.2460.
South Africa's rand declined 0.6 percent before a meeting of the ruling African National Congress' executive committee that may discuss Finance Minister Pravin Gordhan's position.
Commodities
Copper led an advance in industrial metals, rising 0.9 percent to $6,012.50 a metric ton as the deadlock deepened between Freeport-McMoRan Inc. and Indonesia over mining licenses, while Citigroup gave a bullish outlook for prices.
U.S. oil futures climbed 0.7 percent to $53.77 a barrel after spending last week in the narrowest trading range in 13 years, as rising U.S. drilling activity threatened to offset OPEC production cuts.
Spot gold edged 0.1 percent higher after gaining three straight weeks.
Bonds
German bonds slipped, with the 10-year yield rising less than one basis point from Friday.
European government bond yield curves all steepened, as longer-dated bonds underperformed on expectations of long-dated syndicated bond sales this week.
Unilever bonds cut, but didn't erase, Friday's spread-widening move, as the company is still seen as in play