European Markets flat as traders absorb Fed minutes
Dollar  unchanged  despite Hawkish FOMC Minutes
Dollar was unmoved by the hawkish FOMC minutes released overnight and struggles to extend gain. EUR/USD's break of 1.0520 minor support yesterday is seen as a sign of decline resumption.
DJIA closed at new record high at 20775.60, up 0.16%. But S&P 500 and NASDAQ closed slightly down by -0.11% and -0.09% respectively.
FOMC Signaled Rate Hike To Come 'Fairly Soon' Although the FOMC minutes for the January meeting appeared to be a hawkish one, it failed to lifted speculations of a March rate hike. As suggested in the minutes, many members judged that would be "appropriate" to increase interest rate again "fairly soon".
As US President Donald Trump has yet to announce his fiscal expansion plan, the FOMC members emphasized their "considerable uncertainty" about possible changes in "fiscal and other government policies" as well as "about the timing and magnitude of the net effects of such changes on economic activity".
European stocks were little changed as positive results from companies including Telefonica SA and Bouygues SA helped offset an extended slide in mining shares.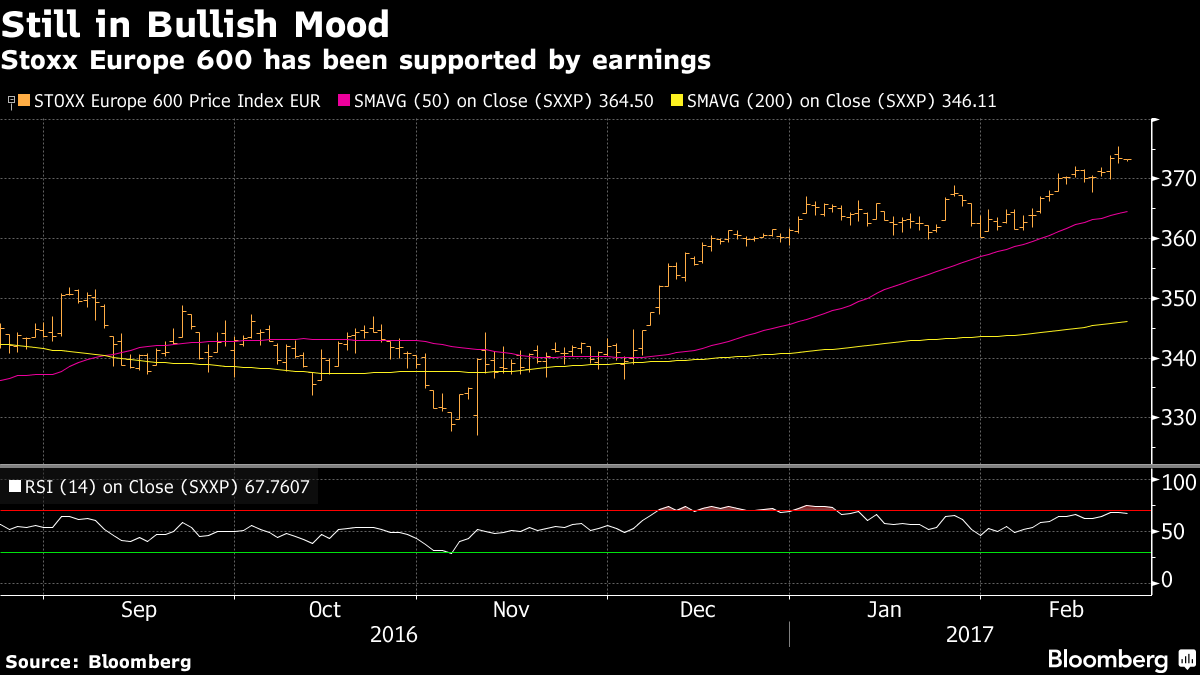 Telefonica climbed 2.5 percent after reporting an increase in fourth-quarter earnings as it began to benefit from a cost-cutting plan and price hikes in Spain.
Bouygues added 4.8 percent after forecasting a rise in profitability this year.
Barclays Plc gained 2.3 percent after a measure of capital strength rose more than expected in the fourth quarter.
Meanwhile  Japanese stocks ended marginally lower on Thursday as financials weakened after U.S. yields fell on the cautious tone struck in minutes of the latest Federal Reserve monetary policy meeting.
The Nikkei ended down 0.04 percent to 19,371.46, while the broader Topix dropped 0.1 percent to 1,556.25.
But while major stocks ended lower, small to mid caps attracted buyers.
The Jasdaq market rose 0.4 percent to 2,977.49, the highest closing since the early 1990s, according to Reuters data.
Qantas Airways Ltd. jumped in Sydney after reporting better-than-target profits, while Axiata Group Bhd. slid after it swung to a loss in the fourth quarter.
Italy Warned by EU Over High Public Debt With Spillover Risk
European Commission says Italy has 'excessive imbalances'

Worries expressed over Italian banks' non-performing loans
Troubles including soured bank loans risk spilling into other euro-area countries, the commission said on Wednesday. Italy's public debt is projected to rise to 133.3 percent of gross domestic product this year from an estimated 132.8 percent in 2016.
"High government debt and protracted weak productivity dynamics imply risks with cross-border relevance looking forward, in a context of high non-performing loans and unemployment," the European Union's executive arm in Brussels said in a set of annual policy recommendations to EU governments.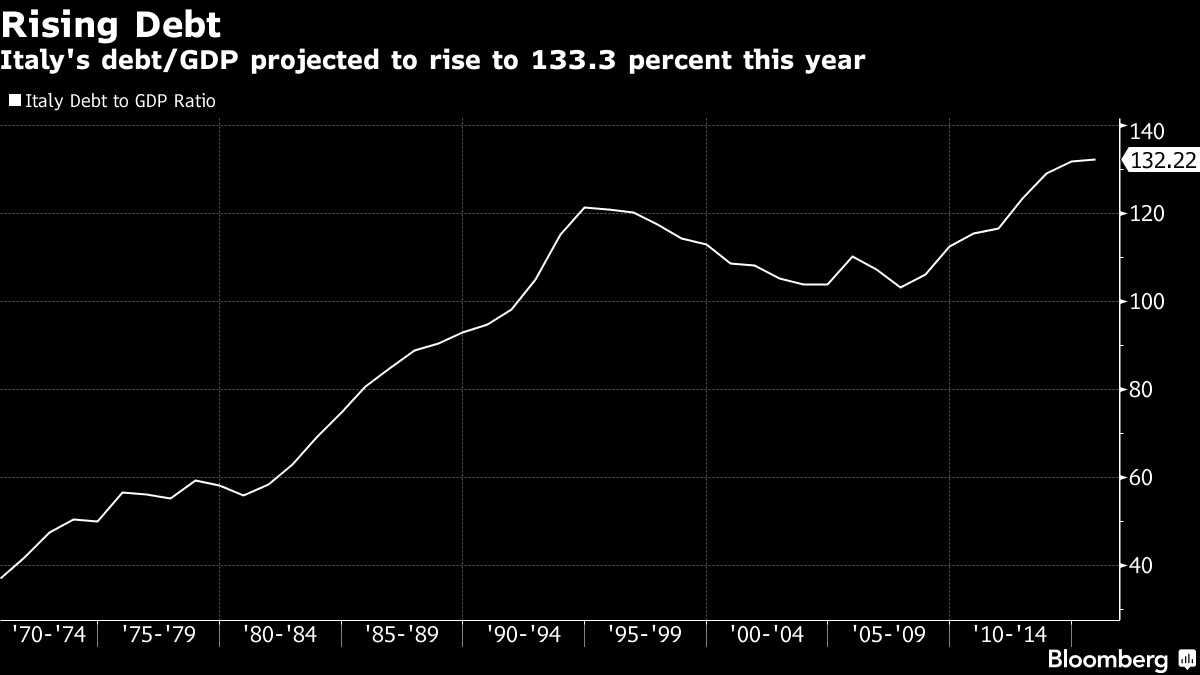 Currencies
The Bloomberg Dollar Spot Index traded slightly higher, after falling 0.2 percent on Wednesday.
Yen was higher a second day as it pared its weekly losses versus the dollar. The euro was 0.1 percent lower at $1.0546 while its two-month volatility surged to highest in February as markets hedge the elections in April and May.
Bonds
French 10-year yields are steady at 1 percent, while short-dated bonds have led gains, which appears to be benefiting from large redemptions.
Core bonds are stable, with German 10-year yields little changed. Peripherals are underperforming, with 10-year Italy leading losses, as markets digest the prospect of new supply on Tuesday.
Commodities
West Texas Intermediate gained 1.4 percent to $54.36 a barrel and Brent added 1.5 percent to $56.65.
Industrial metals slid for a third day as investors continued to focus on a weaker-than-expected recovery in demand after the Lunar New Year in China. Copper dropped 0.8 percent to $5,992 a metric ton, zinc lost 1.2 percent and nickel fell 1.4 percent.
Gold was little changed at $1,238.04 an ounce as the outlook for higher U.S. interest rates and a stronger dollar offset the effect of investors seeking a haven from political risk in the U.S. and Europe.
U.S. natural gas advanced 2.7 percent to $2.662 per million British thermal units, extending its rebound off a six-month low before a government inventory report due Thursday. Prices are still down 5.8 percent this week as mild weather on the east coast reduced demand for heating fuel.