Global Stocks Drop, Futures Flat;
French Yields Slide As Political Jitters Subside
Trillions of Dollars Are at Stake When Trump Speaks to Congress
The MSCI Asia index fells as Japan's Topix dropped for third day. S&P futures were unchanged after hitting a a fresh all time high on Friday. Oil futures gained, with the dollar little changed against a basket of major currencies. Priceline, Albemarle and AES are among companies reporting earnings.
European politics once again drove sentiment, this time higher after French electoral polls boosted the country's bonds and reports of a potential Scottish independence referendum sank the British pound. The dollar was little changed before a key speech from U.S. President Donald Trump.
France's 10-year bond yield fell 2.5 basis points to a one-month low of 0.90%, outperforming euro zone peers. Safe-haven German bond yields  edged higher, narrowing the gap between French peers to around 70 basis points, its tightest level in just over a week.
Donald Trump's address to Congress on Tuesday is taking on the importance of a State of the Union speech when it comes to U.S. financial markets.
A budget outline is expected to be made public as early as Monday, with Trump set to propose major defense-spending increases and big cuts to the Environmental Protection Agency, State Department and other federal agencies, according to a person familiar with the plan.
"We need to see some details within all the policy talk," said Sean Simko, who manages $8 billion in fixed-income assets at SEI Investments Co. in Oaks, Pennsylvania. "More specifics in terms of numbers or even a more defined timeline. If there aren't specifics there, the risk trade might be ending." Bloomberg informs.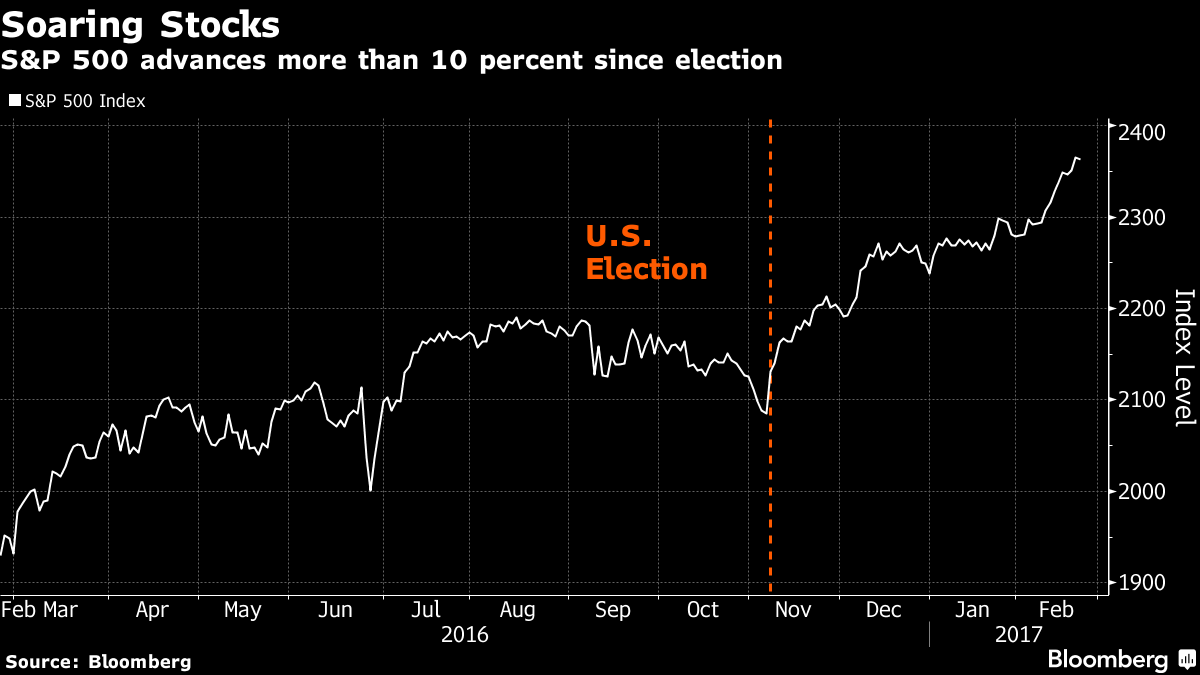 Since Trump's election, stocks have showed few signs of slowing down. The S&P 500 has advanced 10 percent, posting 17 record closes in a rally that's added $2.8 trillion in value to the U.S. equity market. To be sure, fundamentals are playing a part in the market's gains. The economy has shown signs of accelerating and corporate earnings are predicted to surge 12 percent from last year, a turnaround from the profit declines in 2015 and 2016.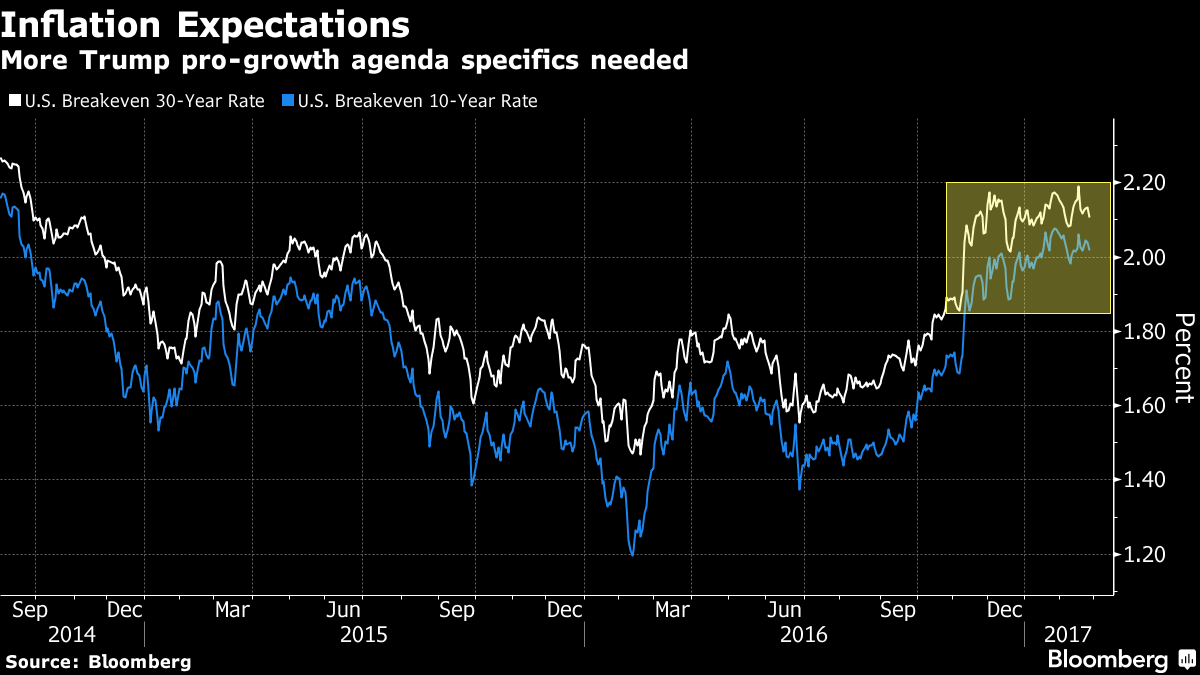 If Trump does provide more clarity on his tax and growth plans, that raises the risk that the Federal Reserve will be more willing to increase interest rates, Woo said. Traders currently assign about a 40 percent probability for a hike at the Fed's March 15 policy meeting.
Today's Markets
In Asia, Japan -0.9%. Hong Kong -0.2%. China -0.8%. India -0.3%.
In Europe, at midday, London +0.2%. Paris -0.1%. Frankfurt +0.1%.
Futures at 6:20, Dow flat. S&P flat. Nasdaq -0.1%. Crude +0.6% to $54.32. Gold -0.1% to $1256.90.
Ten-year Treasury Yield +1 bps to 2.33%
Economy
Theresa May is preparing for the Scottish government to call a second independence referendum, according to The Times, which will reportedly coincide with the triggering of Article 50. Sterling sold off on the news, falling 0.6% against the dollar to 1.2394. Scotland voted 55% to 45% in September 2014 to stay inside the U.K., but that was almost a year before the Brexit vote.
Greece must not be granted a "bail-in" that would involve creditors taking a loss on their loans, Germany's deputy finance minister declared, reiterating the government's opposition to debt relief and its differences with the IMF. Jens Spahn argued that if such measures were given to Greece then why not other countries too? "Our Spanish friends, for example, say: 'Hang on – that wouldn't be fair: we carry out reforms and get no haircut and now you're talking about giving Greece one?!'"
Eurozone businesses grew more optimistic about their prospects in February, despite heightened uncertainty ahead of key elections across the currency area. The European Commission's Economic Sentiment Indicator, which aggregates business and consumer confidence, rose to 108.0 from 107.9 in January, reaching its highest level since March 2011.
The White House will send federal departments a budget proposal today containing the defense spending increase President Trump has promised, financed partly by cuts to the State Department, EPA and other non-defense programs. In a speech to activists on Friday, he pledged "one of the greatest military buildups in American history." Related tickers: LMT, RTN, GD, BA, NOC, OA, HII, HON, UTX, ITT, TXT, LLL, COL
Democrats have selected former Labor Secretary Tom Perez as their new chairman, choosing a veteran of the Obama administration which immediately appointed rival Keith Ellison as deputy chair of the DNC. "Over the past eight years, our party continued its track record of delivering on that promise: growing the economy, creating new jobs… I know that Tom Perez will unite us under that banner of opportunity," said former President Obama, offering his congratulations.
Stocks
Billionaire investor Warren Buffett has struck an upbeat tone on American business and what he called a "miraculous U.S. economy." In his annual letter to Berkshire (BRK.A, BRK.B) shareholders, the Oracle of Omaha urged a long-term view of the markets, saying a collection of conservatively financed companies are "virtually certain" to be worth more in the future. He also defended share buybacks and spent a sizable section of the letter attacking money-management fees.
Deutsche Bank cut its bonus pool for 2016 by almost 80%, a figure unmatched in the bank's recent history as it tries to counteract the impact of low interest rates and legal expenses. Deutsche (NYSE:DB) chief administrative officer Karl von Rohr said the reductions were "frustrating" for staff, but said that the decision had been taken "very consciously, also bearing in mind our shareholders."
The first big phone announcement of Mobile World Congress goes to TCL and BlackBerry (NASDAQ:BBRY), with the two companies unveiling a sleek $549 smartphone that will become available in April. Running Android 7, the KeyOne still includes a signature QWERTY keyboard, but it responds to touch gestures and has a fingerprint sensor built into the space bar. Other features? A 4.5-inch touchscreen, fast charging, and rear- and front-facing cameras.
More from the Mobile World Congress: The iconic Nokia (NYSE:NOK) 3310 handset has made a comeback and will soon to be on sale for €49. With a price tag of €1,499, Sony (NYSE:SNE) is getting ready to launch the Xperia Touch, a projector product that allows users to interact with any surface as if it was a touchscreen. The company also unveiled a smartphone with the world's first 4K HDR screen.
Looking to steal users from the likes of Fitbit (NYSE:FIT) and Apple (NASDAQ:AAPL), Huawei has launched the Huawei Watch 2 with a focus on fitness. The device has space for a SIM card – meaning it doesn't have to be tethered to a phone – but the main selling point is the watch's battery life. It offers two days of full usage and a special low-power mode that can display the time and track steps for up to 25 days on a single charge.
Samsung will reveal its next flagship smartphone, the Galaxy S8, at an event on March 29, the company said at MWC 2017, where it also introduced two new tablet computers. Meanwhile, a South Korean court spokesman said five Samsung Group (OTC:SSNLF) executives, including Jay Y. Lee, are likely to be indicted tomorrow in connection with an influence-peddling scandal that's put the heir behind bars.
Aiming to close a pricing gap with rivals like Aldi and Kroger (NYSE:KR), Wal-Mart (NYSE:WMT) is running a new price-comparison test in at least 1,200 U.S. stores, sources told Reuters. It's also squeezing packaged goods suppliers. The retailer held meetings last week with P&G (NYSE:PG), Unilever (UL, UN), Conagra Brands (NYSE:CAG), J&J (NYSE:JNJ) and Kraft Heinz (NASDAQ:KHC), demanding they reduce their cost of goods by 15%.
"Ambiguities in the law have meant that enforcement officers have found it difficult to classify and quantify cases of counterfeiting," said Alibaba (NYSE:BABA), as it tries to remove itself from the U.S. "Notorious Markets" blacklist. The company said it reported almost 4,500 leads on fake operations to authorities in 2016, but they resulted in just 33 convictions.
SoftBank is looking to plow some cash into WeWork (Private:VWORK). According to CNBC, the investment being discussed is a $2B primary tranche of funding, followed by a secondary round worth more than $1B (that could be increased to $2B). If the SoftBank (OTCPK:SFTBY) deal closes, WeWork would be valued at more than $20B.
African-American coming-of-age tale Moonlight won the Oscar for Best Picture on Sunday, beating favorite La La Land (LGF.A, LGF.B) after an embarrassing onstage gaffe over the announcement. Other Academy Award winners: Best Original Screenplay – Manchester by the Sea (NASDAQ:AMZN); Cinematography, Best Production Design & Best Original Score – La La Land; Best Animated Feature – Zootopia (NYSE:DIS).
In the first arrangement of its kind, New Zealand's Spark (OTCPK:SPKKY) has signed an "exclusive partnership" with Netflix (NASDAQ:NFLX), which will give its customers a free Netflix subscription if they sign up to a two year broadband plan. It's the first time the video streaming giant has been bundled with broadband in the country and comes days after the Commerce Commission ruled against Sky Television's (OTC:SKKTY) merger with Vodafone New Zealand (NASDAQ:VOD).
Takata is on the verge of establishing a compensation fund for victims of its exploding air bags as it heads to a Detroit federal court tomorrow to plead guilty to criminal misconduct. To sort through the claims, the firm has picked Kenneth Feinberg, an attorney who ran a similar program at GM following its ignition switch scandal. He's also expected to oversee a second $850M Takata (OTCPK:TKTDY) fund for automakers that are shouldering recall costs.
NASA and Lockheed Martin have commenced the first of a series of high-speed wind tunnel tests on a project called the Quiet Supersonic Technology (QueSST) X-plane, which some are dubbing "The New Concorde." While the moniker is not really accurate, it could pave the way for a new era of supersonic travel. Where does Lockheed (NYSE:LMT) come in? Last February it was awarded a $20M contract to test technology that makes sonic booms practically unnoticeable to people on the ground.