Politics takes front seat as French yields drop
bank lending to eurozone households improved
President Trump's address to Congress a key event this week
Pound drops as Scotish new referendum looms
World stocks mixed
French 10-year bond yields hit a one-month low on Monday, pushing other euro zone sovereign yields lower, while a more cautious mood hung over world stock markets and the dollar, both of which struggled for clear direction.
Politics deepened its hold on markets, after French electoral polls boosted the country's bonds and reports of a potential Scottish independence referendum sank the British pound. The dollar was little changed before a key speech from U.S. President Donald Trump, Bloomberg reports
Polls showed centrist Emmanuel Macron would easily beat far-right candidate Marine Le Pen in May's presidential election runoff, relieving some fears that have built up in recent weeks among investors.
But that´s what the polls said about the Brexit first and then on the hopes of a Trump administration: they were showing little real chances of that happening. Politics are main market drivers as of now.
Sterling, which has been held hostage by politics since a Scottish referendum in 2014, fell as much as 0.6 percent after The Times citedunidentified government sources as saying May could agree to a new Scottish vote, but on condition it is held after the U.K. leaves the European Union. The House of Lords begins on Monday a detailed examination of the bill authorizing May to trigger the nation's withdrawal from the bloc.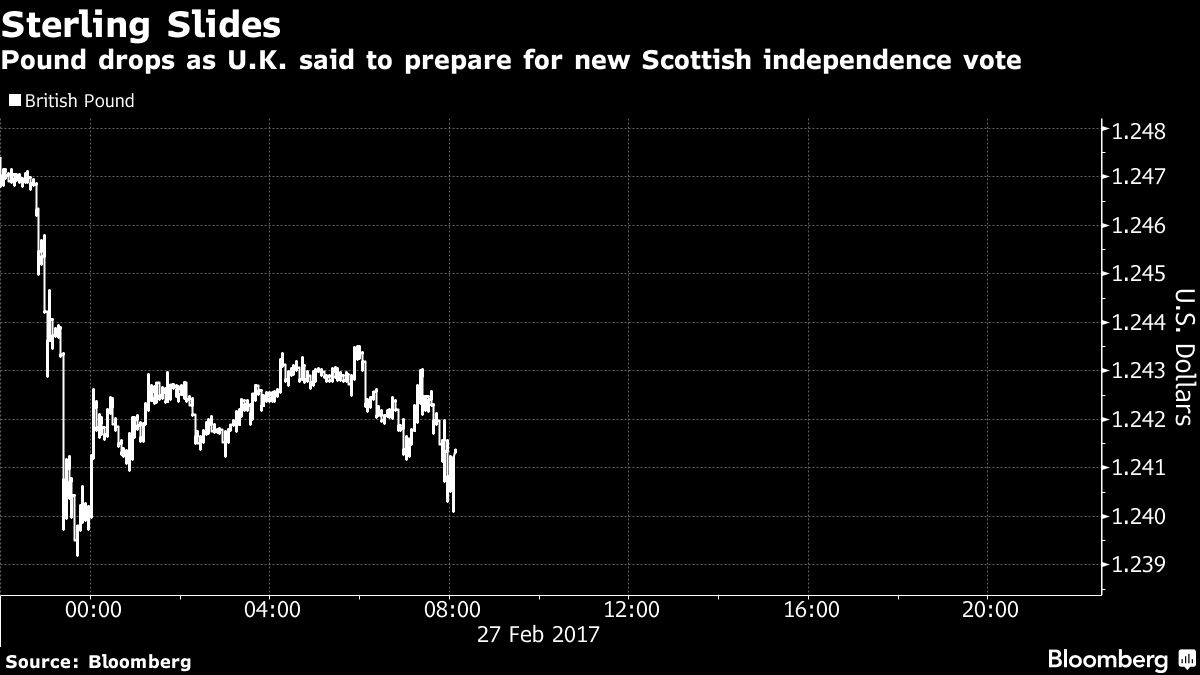 There was good news for the eurozone on Monday, as bank lending to eurozone households improved for a third straight month, rising to 2.2% in January. Lending has been moving upwards since 2015, but has only recently shown strong gains. This could be a sign that the ECB's stimulus program is finally bearing results.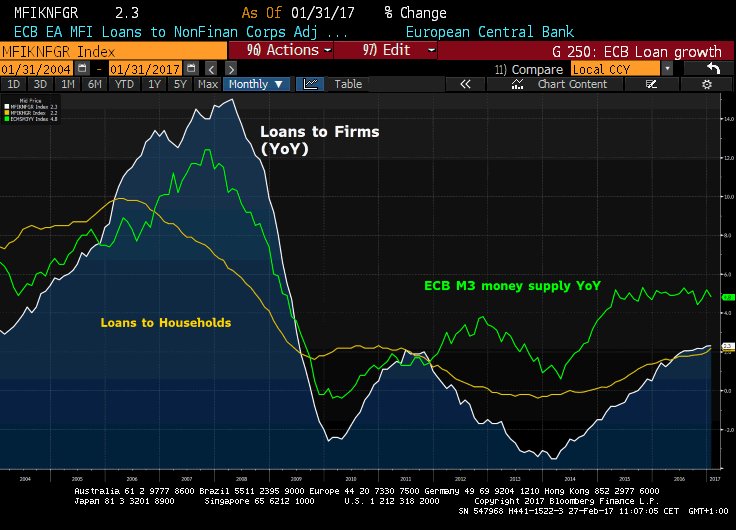 In Europe, the French-led fall in bond yields and tightening of spreads over Germany were the most notable moves at the start of a week in which U.S. President Donald Trump's State of the Union address on Tuesday will loom large.
Trump is expected to unveil some elements of his plans to cut taxes in his joint address to Congress.
As Bloomberg puts it "We are concerned that the markets could be heading for a harsh reality check if the Trump administration fails to meet high expectations as reflected in strong equity gains, including risky assets," Piotr Matys, currency strategist at Rabobank in London, wrote in a note to clients. "It seems to us that the markets are too optimistic, looking from the glass half full perspective and not pricing enough of the negatives."
Main market drivers:
Currencies
The British pound lost 0.3 percent to $1.2422 as of 10:58 a.m. in London.
The euro gained 0.2 percent to $1.0582.
The Bloomberg Dollar Spot Index was little changed. The gauge fell 0.4 percent last week, its first drop in three weeks.
Bonds
French 10-year bond yields dropped four basis points to 0.89 percent and peripheral debt also got a boost from improved risk appetite. German benchmarks added one basis point to 0.2 percent.
Yields on 10-year Treasuries rose two basis points to 2.33 percent, reversing three straight days of declines.
Stocks
The Stoxx Europe 600 Index lost 0.3 percent, extending Friday's declines.
Deutsche Boerse AG dropped 4.7 percent and London Stock Exchange Group Plc fell 3.2 percent after LSE said the two companies' merger plan is unlikely to proceed for regulatory reasons.
Intesa Sanpaolo SpA jumped 4.9 percent after abandoning the idea of a merger with Assicurazioni Generali SpA. The Italian insurer slid 3.6 percent.
Commodities
WTI crude futures rose 0.7 percent to $54.37 a barrel, near the Feb. 23 closing price, which was the highest since July 2015.
Gold was little changed at 1,256.21 an ounce. The metal jumped 1.8 percent last week for its fourth straight weekly advanced.