Markets expect Yellen confirmation for rate increase.
Dollar and stock traders holding back just in case of upset
Euro Stocks Rebound On Latest French Polls
UK heading for stagflation
The market's focus is squarely on Yellen (and Fischer), with today's economic data having little impact. 
An important part of the shift in the rhetoric of Fed officials is that the rate hike is not tied to any specific trigger, such as stronger data or more improvement in the labor market. 
The general economic conditions and proximity to the full employment and price stability goals are sufficient, and officials are simply looking for appropriate opportunities.  The broader context, including stronger world growth and a stable dollar (which eased on a broad trade-weighted basis in both January and February), is also conducive.
The failure to raise rates would be potentially more destabilizing that raising rates.  Investors, seeing the rising prices and improving labor market (with weekly jobless claims at new cyclical lows) would wonder at least two things:  What does the Fed know that we don't and is the Fed slipping behind the curve?   It does not seem as if Fed officials have let expectations build to such a degree (nearly 90% by Bloomberg's calculation and almost 80% in the CME's estimate) without delivering.
In Europe, French stocks outperformed on the day, with the bluechip CAC 40 rising 0.7 percent, led by banking shares, as far-right candidate Marine Le Pen's chances in the country's presidential election dimmed.
The euro  rose and the gap between French and German 10-year government bond yields fell to its lowest in a month.
Signs that centrist Emmanuel Macron is gaining ground in the race to be France's next president have helped calm markets fearful that anti-euro Le Pen could deliver an electoral shock like those in Britain and the United States last year.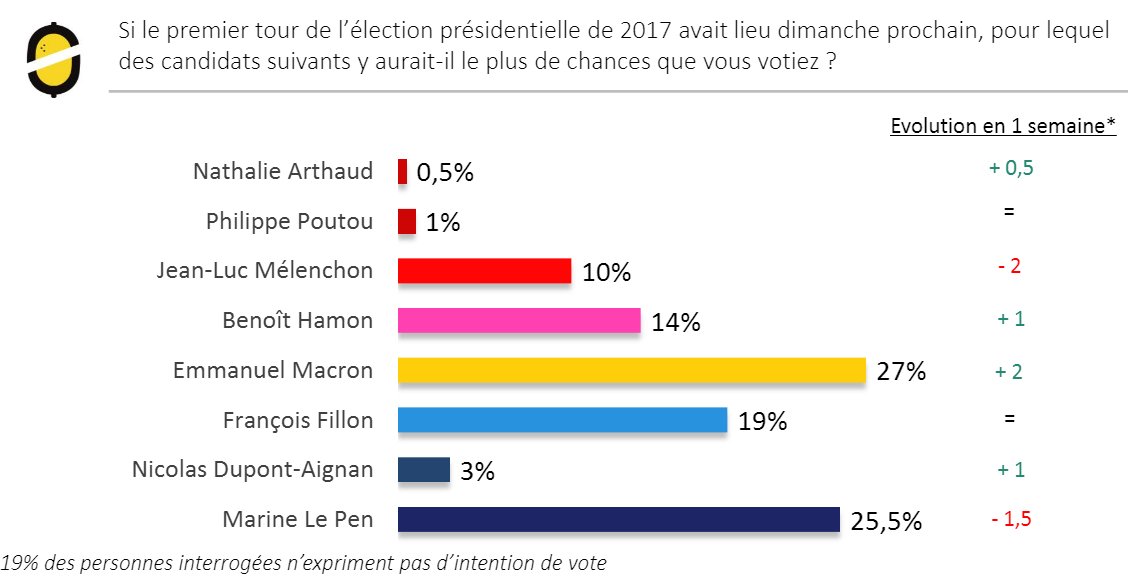 France: First time: #Macron (EM-*) takes the lead (Odoxa poll). #Sondage #Presidentielle2017
The Stoxx Europe 600 Index pared a weekly gain. The dollar weakened for the first time in six days that the Federal Reserve will raise rates this month, bolstering the euro.
Britain's pound slid after a measure of the U.K. services sector expanded less than forecast. U.S. government bonds extended losses into a fifth day and gold edged lower.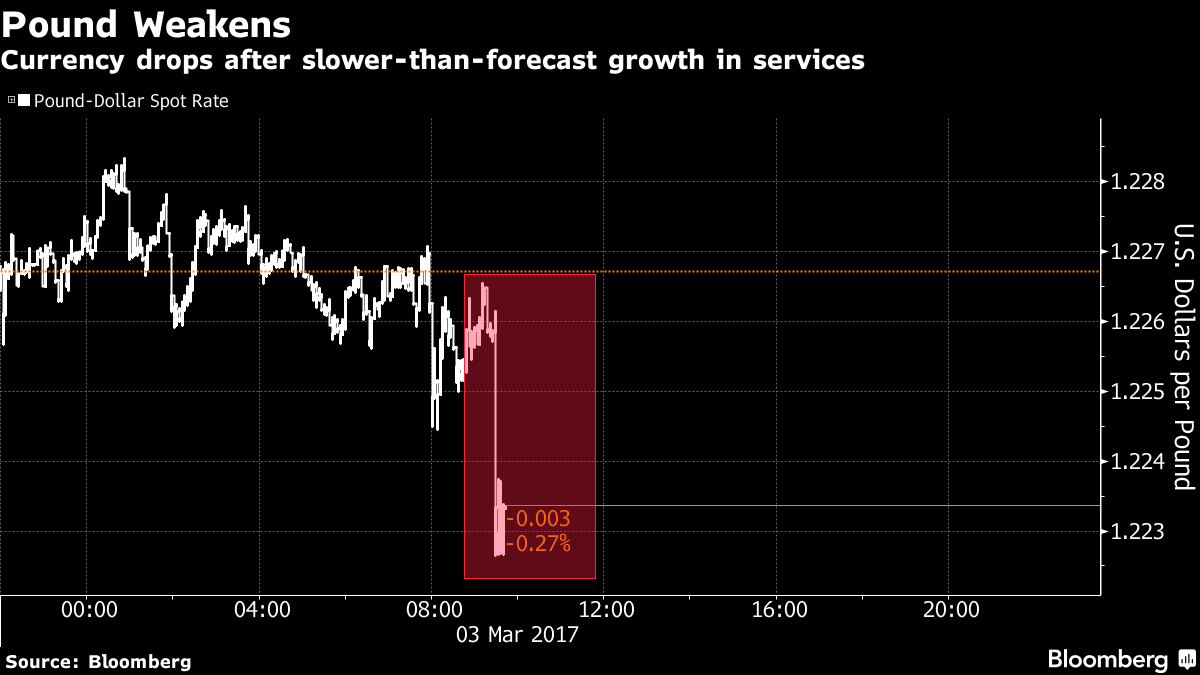 The UK is entering stagflation – high inflation and stagnant growth – warns Samuel Tombs, chief UK economist at Pantheon Macroeconomics. He said:
The decline in the services PMI to a five-month low in February is the clearest sign yet that the U.K. now is enduring stagflation.  Evidence on retail spending so far this year has been disappointingly weak.
The economy is likely to see slower growth this year, according to Daniel Vernazza, lead UK economist at UniCredit Research. He said:
There are two salient explanations for the recent softness. First, the squeeze in real household income growth (resulting from higher imported inflation) is weighing on demand, particularly for retail services…
Second, Brexit-related economic uncertainty remains high and this will increasingly weigh on business investment as the date when the UK formally leaves the EU (spring 2019) approaches.
Main market moves on:
Currencies
The euro strengthened 0.4 percent to $1.0549 as of 7:29 a.m. in New York. The pound slipped 0.3 percent, falling for a sixth day, its longest losing streak since December 2015.
The Bloomberg Dollar Spot Index slipped 0.1 percent after a five-day rally.
Stocks
Futures on the S&P 500 Index fell 0.1 percent, after the stocks gauge lost 0.6 percent Thursday.
The Stoxx Europe 600 slipped 0.2 percent, paring its weekly gain to 1.4 percent.
South Korea's Kospi Index fell 1.1 percent, the most since November, as Korean newspapers reported that China ordered travel agencies to stop selling travel packages into the country.
Bonds
Treasuries extended a fifth day of losses as 10-year yields rose two basis points to 2.5 percent.
German bonds retreated as demand for safety abated on receding political risk in neighboring France. Yields on 10-year benchmarks rose three basis points to 0.35 percent after a poll that showed anti-euro presidential candidate Marine Le Pen lost her lead in the first round of voting next month.
Commodities
Gold slipped 0.5 percent to $1,227.54 an ounce. It's down 2.4 percent for the week, after four straight weeks of advances.
West Texas Intermediate crude added 0.3 percent to $52.75 a barrel.
Copper and iron ore extended declines. The price of copper futures fell 0.2 percent while iron ore tumbled 2.9 percent, heading for the lowest close since Feb. 10.