The chocked Obamacare replaced by Trumpcare
Brace for TweetTrump onforeign- trade Deficit
Futures Decline before opening bell
Europe Slumps After German Industrial Orders Collapse
OECD Sees Lots to Worry About in the Global Economic Outlook
Germany's largest lender continued to grab attention and European stocks fell for a third consecutive day on Tuesday, once again dragged down by financials as Deutsche Bank shares slid again on deepening concern about its health after its $8.5 billion cash call. Deutsche shares dropped as much as 3% to a fresh 2017 low. They have lost more than 10% in the last few days since the bank said it would tap investors for $8.5 billion.
The global economy may not be strong enough to withstand risks from increased trade barriers, overblown stock markets or potential currency volatility, according to the Organisation for Economic Cooperation and Development.
Though not named in the report, some of the concerns are related to the policies of U.S. President Donald Trump's administration, including his threats to impose tariffs on nations he deems to have an unfair advantage, The OECD also said there's a "disconnect" between equity valuations and the outlook for the real economy, with the market performance partly linked to anticipation of a Trump stimulus package.
Today's Markets
In Asia, Japan -0.2%. Hong Kong +0.4%. China +0.3%. India -0.2%.
In Europe, at midday, London -0.16%. Paris -0.3%. Frankfurt –0.14%.
Futures at 6:20, Dow -0.14%. S&P -0.24%. Nasdaq -0.22%. Crude +0.4% to $53.40. Gold -0.71% to $1217.90.
Ten-year Treasury Yield flat at 2.5%
Economy
President Trump's goal of narrowing the U.S. foreign-trade deficit is putting extra attention on the Commerce Department's monthly trade reports. Data due today is expected to show the trade deficit for January widening to $48.5B from $44.3B the month before. Early figures also showed a widening deficit that could weigh on broader economic growth.
Removing Iraq from the list, President Trump has signed a revised executive order banning citizens from six Muslim-majority nations from traveling to the U.S. after his first attempt was blocked in the courts. The new order, which takes effect on March 16, only applies to new visa applicants, meaning some 60,000 people whose visas were revoked under the previous order will now be permitted to enter.
Despite angry opposition from China, the U.S. has started to deploy the first elements of its THAAD anti-missile defense system in South Korea after Pyongyang's recent test of four ballistic missiles. Meanwhile, North Korea and Malaysia have banned each other's nationals from departing their countries, escalating more than a week of tit-for-tat retaliation following an investigation into the killing of Kim Jong Nam.
China's foreign exchange reserves rose for the first time in eight months in February, climbing back above $3T as a regulatory crackdown and a steadying yuan helped staunch capital outflows. The rebound could ease fears that China will engineer another sharp one-off devaluation of the yuan, which would run the risk of inflaming trade tensions with the new Trump administration.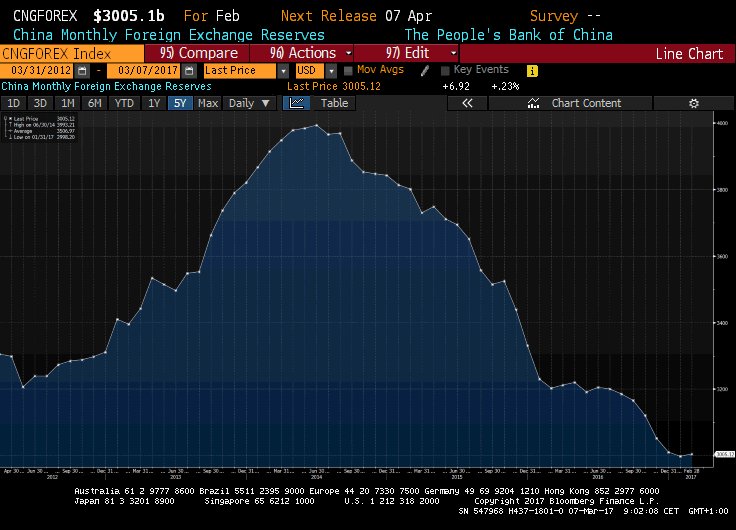 Sterling is below $1.22 today for the first time since January 17. The currency has slipped on falling retail sales and concerns about a second vote in the U.K. House of Lords, the upper house of parliament, on Brexit legislation. Amendments could give lawmakers more say over Britain's exit from the EU, while delays may prevent the government from triggering Article 50.
Economic growth in the eurozone was confirmed at a 0.4% quarterly pace at the end of last year, driven along by a healthy rise in investment and consumer spending. A final reading from Eurostat came in line with a flash estimate in the final three months of 2016. Overall growth was 1.7% Y/Y, below the U.K.'s 1.8% and the EU's wider 1.9% in the year.
A major fall in demand drove the biggest monthly slump in German industrial orders in eight years in January, countering a sharp upswing in the previous month. According to the Economy Ministry, contracts for "Made in Germany" goods were down by 7.4% from December. That's the biggest monthly drop since January 2009 and almost three times below consensus forecasts.
Stocks
A group representing large institutional investors has approached S&P Dow Jones Indices (SPGI, CME, NWS) and MSCI, looking to bar SNAP and any other firm that sells investors non-voting shares from their stock benchmarks. Both index providers have said they are reviewing the company's inclusion. On Monday, shares of Snap finished more than 12% lower in its third session of trade, falling below its IPO price for the first time.
Shares of Salesforce rose 2.2% in extended trading after the company announced an artificial intelligence partnership with IBM. As part of the agreement, data from Big Blue's Watson will be available to Salesforce (NYSE:CRM) customers, and the cloud company's technology will be integrated into IBM's system for internal use.
Blaming modest penalties and lax laws, Alibaba (NYSE:BABA) founder Jack Ma has called directly on China's National People's Congress to ramp up efforts to erase counterfeiting. He even called for the same harsh punishments that are given to drunk drivers. Alibaba was again labeled a "notorious market" last year by the U.S. Office of the Trade Representative – just four years after escaping the label.
Amazon has abandoned its legal battle to protect its Alexa assistant with First Amendment rights – for now. The company filed a motion against a police search warrant in an Arkansas murder case earlier this month, but dropped it after the defendant agreed to hand over the data contained on his Echo speaker. Amazon (NASDAQ:AMZN) previously claimed that voice interactions were a "constitutionally protected opinion."
Wells Fargo has named a new top lawyer, filling a key position as the bank faces legal and regulatory investigations over a phony accounts scandal. Allen Parker will join the lender as general counsel and serve on its operating committee, starting March 27. He succeeds James Strother, a 30-year Wells Fargo (NYSE:WFC) veteran who's retiring and was among executives whose bonuses were withheld in the wake of the scandal.
Concerns over the soaring cost of Mylan's (NASDAQ:MYL) EpiPen, plus increased competition, appear to have taken a toll on sales of the brand-name allergy shot. Data from the Athenahealth (NASDAQ:ATHN) network shows that prescriptions for EpiPen alternatives have quadrupled since the beginning of 2017. Put another way, the brand-name product's market share has fallen from around 95% to around 71% in February.
Philadelphia's new soda tax has high stakes for the beverage industry, with PepsiCo (NYSE:PEP) recording a 40% drop in sales and Coca-Cola (NYSE:KO) seeing volumes slump 30%-50%. A much bigger market, Chicago's Cook County, has passed a similar tax that goes into effect July. Boulder, San Francisco and others also voted on related measures, while Santa Fe has a hearing on the issue this week. Related stocks: DPS, MNST, FIZZ, SBUX, UL, PG
Packaging conglomerate Ardagh Group launched a long-awaited IPO late on Monday, as it sought to raise as much as $370M by floating around 7% of the company on the NYSE. It intends to sell 16.2M shares in a price range from $17 to $20 apiece. Ardagh (Pending:ARD), which has been manufacturing Heineken's (OTCQX:HEINY) beer bottles for over 25 years and also counts L'Oreal (OTCPK:LRLCY) and Coca-Cola (KO) among its clients, has said it will use the IPO proceeds to pay down debt.
Citing a procedural irregularity in the process, Europe's second highest court has annulled a 2013 decision by EU regulators to block UPS's bid for Dutch peer TNT Express (OTCPK:TNTEY). Antitrust authorities relied on an "econometric analysis which had not been discussed in its final form." The veto paved the way for rival FedEx (NYSE:FDX) to acquire TNT last year, a deal given the green light by the European Commission.
RadioShack's owner is preparing to seek bankruptcy protection for the second time in as many years, WSJ reports, as the 1,500-store chain looks to further shrink to survive. Parent company General Wireless Operations is in discussions with partner Sprint (NYSE:S) and potential strategic investors about reducing RadioShack's (NYSE:RSH) footprint and could file for Chapter 11 protection as soon as today.
Amid a downturn at ESPN, Walt Disney (NYSE:DIS) will lay off a "small percentage" of workers at the sports network, including on-air anchors, reporters, and radio/podcast hosts. The move is less about cost control, CNBC reports, and more about reshaping ESPN for a digital future. But Sports Illustrated's Richard Deitsch said the company plans to save tens of millions in staff salary, suggesting big names are on their way out.
Europe's first major motor show of the year is underway in Geneva and automakers are taking the wraps off their latest models. BMW (OTCPK:BAMXF) has launched its 5 Series Touring, while Volkswagen (OTCPK:VLKAY) showed off its driverless concept car, Sedric. Next up? Aston Martin will reveal its newest hypercar, the Valkyrie, and Lamborghini (OTCPK:AUDVF) will fully unveil its Huracan Performante – the car that recently broke the lap record at Germany's famed Nürburgring circuit.
Asked whether the VW brand will face greater competitive pressures after PSA, by acquiring Opel, becomes Europe's second-ranked carmaker by sales, Volkswagen (OTCPK:VLKAY) CEO Matthias Mueller said: "We took Opel (NYSE:GM) and PSA (OTCPK:PEUGF) seriously as competitors in the past. These were two brands and now they're under a single roof. I don't believe that a great deal will change there."
After a boardroom battle that lasted less than two months, rookie activist investor Mantle Ridge has upended management of CSX Corp. (NYSE:CSX). The company has officially installed Hunter Harrison as chief executive with a mandate to slash costs and revamp one of the country's biggest railways.
Saudi Aramco will pay Royal Dutch Shell (RDS.A, RDS.B) $2.2B including debt to finalize the breakup of a 19-year refining partnership known as Motiva Enterprises. Aramco's (Private:ARMCO) Saudi Refining unit will take full ownership of the Motiva Enterprises name and legal entity, including the largest refinery in the U.S. at Port Arthur, while Shell will take sole ownership of the Norco and Convent refineries.
Exxon Mobil is expanding its manufacturing capacity along the U.S. Gulf Coast through planned investments of $20B/year through 2022 to "take advantage of the American energy revolution," CEO Darren Woods told the CERAWeek energy conference in Houston. "Thank you to @exxonmobil for your $20B investment that is creating more than 45,000 manufacturing & construction jobs in the USA!" tweeted President Trump following the news. XOM +0.3% premarket.
OECD Sees Lots to Worry About in the Global Economic Outlook: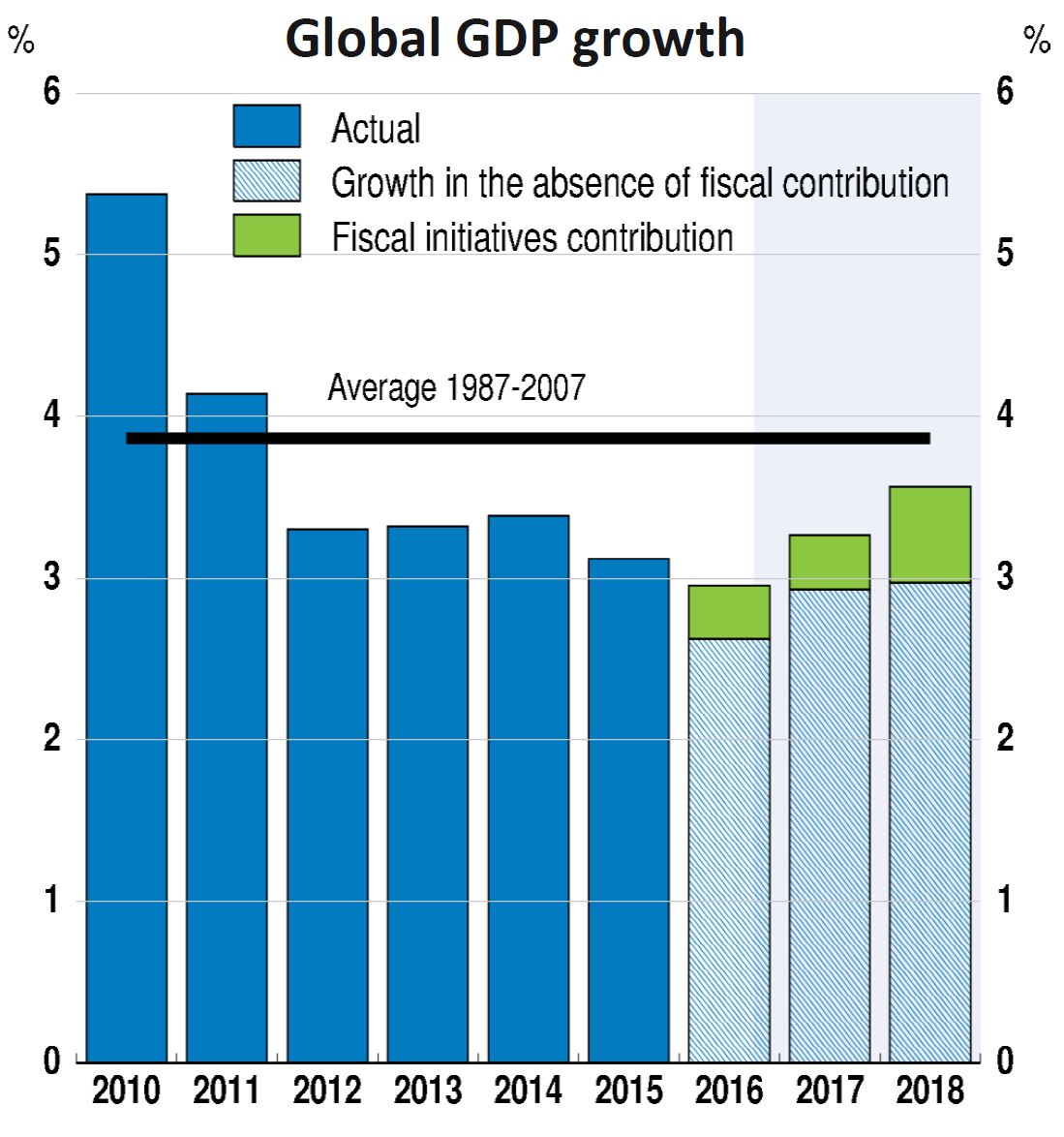 "We think the dynamic response to increased protectionism could be really quick, so we have a pretty significant downward bias on what it could mean for growth," OECD Chief Economist Catherine Mann said in an interview. . "What we mean by that is the way businesses will respond by raising prices and cutting trade flows."
The OECD highlighted potential exchange rate volatility from the shift in the interest-rate cycle. The U.S. Federal Reserve is forecast to increase interest rates next week in what may be the start of a series of hikes this year. In contrast, the European Central Bank is pressing on with its planned stimulus program through 2017.
Turkey is among the countries most exposed to a strengthening dollar because it has external debt amounting to more than 50 percent of gross domestic product, about half of which is denominated in dollars, while generating little revenue in that currency from exports. Mexico also has significant dollar liabilities of about a fifth of GDP, yet its dollar-generating exports offer it some protection, the OECD said.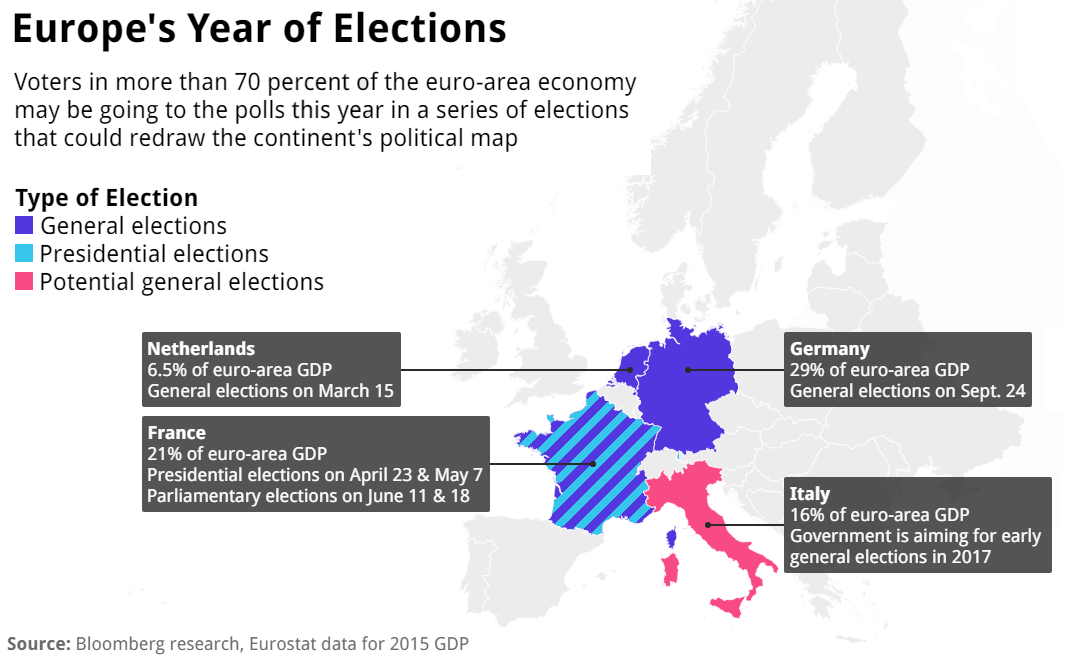 Political risks may also assert themselves, especially in Europe where Germany, France and the Netherlands face elections. Confidence in national governments has slumped since 2007, notably in France, the U.S. and Greece, according to OECD data.