ADP Says Companies in U.S. Hired the Most in Almost Three Years
Companies added the most workers in almost three years to U.S. payrolls in February on a surge in construction and manufacturing employment, data from the ADP Research Institute in Roseland, New Jersey, showed Wednesday.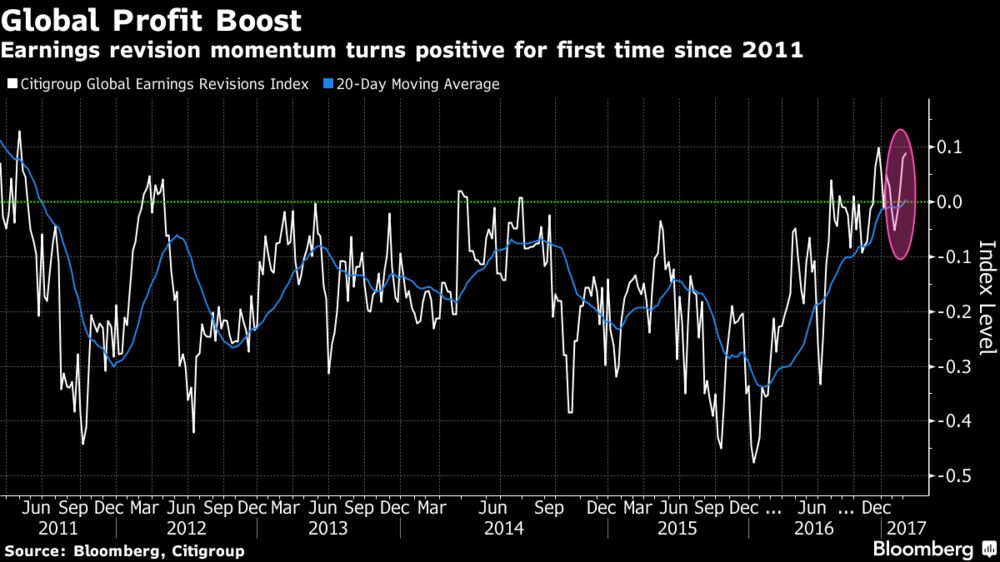 The number of stock analysts raising their profit estimates for firms worldwide has exceeded those lowering them for three straight weeks, according to Citigroup Inc.'s earnings-revisions index. The gauge's four-week moving average has turned positive for the first time since 2011
The CIA faces what could potentially be the biggest ever leak of its secrets, after Wikileaks published thousands of documents claiming to show how the agency uses cyber espionage tactics to hack into smartphones and other devices. Tensions with the tech sector? The methods could reportedly capture text and voice messages on iOS (NASDAQ:AAPL), Android (GOOG, GOOGL) and Whatsapp (NASDAQ:FB) before they were encrypted, and could hack Microsoft (NASDAQ:MSFT) software and Samsung (OTC:SSNLF) TVs.
Today's Markets
In Asia, Japan -0.5%. Hong Kong +0.4%. China flat. India -0.3%.
In Europe, at midday, London -0.2%. Paris -0.2%. Frankfurt -0.1%.
Futures at 6:20, Dow -0.1%. S&P -0.1%. Nasdaq -0.1%. Crude -0.9% to $52.65. Gold -0.2% to $1214.10.
Ten-year Treasury Yield +3 bps to 2.54%
How to use Trump's travel ban at business school. The president signed a revised executive order on Monday, restricting entry into the U.S. by people from six predominantly Muslim countries. It scaled back an earlier version that ended up in legal limbo. To Duke's Bill Boulding, who leads the No. 3 MBA program in the U.S., this is a teachable moment.
Avon lady 2.0. The system known as multi-level marketing—reps getting paid when they sell products, and earning additional commission when each rep they've recruited sells something—is the backbone of a $36 billion American industry, from cosmetics purveyors to nutrition-supplement companies like Herbalife. Increasingly, such companies are trying to use it to recruit millennials and swap door-knocks for Instagram fans.
The Trump child-care plan, by the numbers. It includes three main proposals: a tax deduction, a refundable credit, and a tax-free savings account. Wealthy parents appear to get most of the help. The average annual tax savings for those who make less than $30,000 a year is $10, while the average annual increase in after-tax income for earners making between $100,000 and $200,000 is $360.
President Trump is "proud to endorse" a plan to replace Obamacare backed by Republican leaders in Congress, and called for its quick passage even as opposition to the American Health Care Act hardened among conservatives. Trump also tweeted plans yesterday to lower drug prices. "I am working on a new system where there will be competition in the Drug Industry. Pricing for the American people will come way down!"
UK Chancellor seeks to portray upbeat future after EU divorce
Chancellor of the Exchequer Philip Hammond said the U.K. economy will grow faster than previously forecast this year as he set the course for government spending with Britain preparing to leave the European Union. Hammond: We on this side will not saddle our children with debt. Although the Uk government is backing a "help -to-Buy scheme…that will do exactly that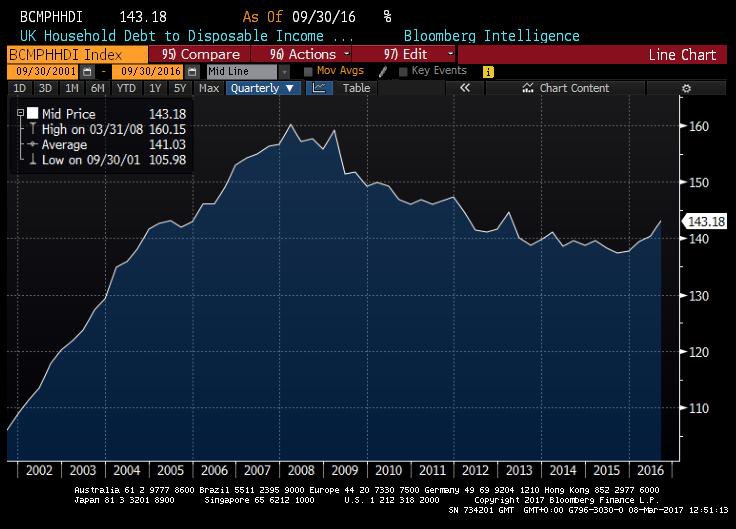 "We have not manipulated anything!" Wolfgang Schaeuble told a news conference on Tuesday, once again rebuffing allegations that Germany has swayed the euro for its economic benefit. "It's the competitiveness of the German economy," he said. Commenting on the ECB, the German finance minister conceded that the central bank faced a difficult task of implementing one monetary policy to fit all members.
Britain's House of Lords has voted to give lawmakers more power to reject the final terms of the country's exit from the EU, ignoring pleas from Theresa May not to hamstring negotiations. However, the government vowed to overturn the Brexit Bill amendment when it returns to the House of Commons, as Chancellor Philip Hammond gets ready to deliver the U.K.'s first full budget since Brexit.
Fearing a rapid escalation on the Korean peninsula, China is calling for North Korea to stop its nuclear and missile tests and for South Korea and the U.S. to cease joint military drills. The moves are causing tension to increase like two "accelerating trains coming towards each other," Foreign Minister Wang Yi said on the sidelines of the National People's Congress.
China produced a rare trade deficit in February as imports surged to feed a months-long construction boom. The country's exports rose 4.2% from the same period last year, while imports soared 44.7%, resulting in a trade deficit of 60.36B yuan ($8.75B). Meanwhile, Japan's economy grew more than anticipated in Q4, climbing at an annualized rate of 1.2%, as capital expenditure grew at its fastest pace since 2014.
Brazil's industrial output probably grew in December as automobile production rose, adding to hopes of a gradual economic recovery in 2017. However, analysts expect a decline by 0.35% in January, on a monthly basis. The figures will come as the country's economy fell further into its worst ever recession, contracting by 3.6% in 2016.
OPEC and non-OPEC producing countries have reiterated their pledge to uphold the terms of the production cut agreement reached late last year. On the sidelines of the CERAweek conference, top energy ministers said they were committed to removing 1.8M barrels from the market, however, oil prices are heading lower today after a bearish inventory number from the API.
Stocks
Disney shareholders will be eyeing the media and entertainment giant's annual meeting today. The company reported a larger-than-expected decline in revenue last quarter and concerns linger about ESPN, as more viewers cut the cord. In February, CEO Bob Iger said he was open to extending his term at Disney (NYSE:DIS), so investors will also be watching remarks about possible contract details.
Jim Gianopulos is set to take over as chairman and CEO at Paramount Pictures (VIA, VIAB) after the departure of longtime chief Brad Grey, Variety reports. Gianopulos, formerly chairman of Twentieth Century Fox (FOX, FOXA), would have longtime studio executive Michael De Luca along as a deputy to oversee the film division. He left a role at Sony Pictures (NYSE:SNE) in 2015 to produce the Fifty Shades films.
SoftBank is set to sell an $8B stake in ARM Holdings, the chip designer it purchased last July, placing 25% of Britain's largest tech company into the $100B Saudi-backed Vision Fund. The decision was made as the SoftBank-led (OTCPK:SFTBY) fund looks to secure the backing of investment group Mubadala, which wanted to own a portion of ARM, sources told FT.
Nintendo's Switch surpassed 330,637 consoles sold in Japan in its first three days, according to gaming magazine Famitsu. When compared to the launch of other Nintendo (OTCPK:NTDOY) systems, the Switch outsold the Wii U, but was still nearly 70,000 units behind the Wii. Calling it a make or break console is a bit of a stretch, but there's no question Nintendo has a whole lot riding on its success.
Chinese cellphone equipment maker ZTE has agreed to plead guilty and pay about $900M to U.S. authorities to settle allegations that it violated American laws on selling U.S. technology to Iran. "With this action, we are putting the world on notice," Commerce Secretary Wilbur Ross told reporters. He also called ZTE's (OTCPK:ZTCOY) actions "a brazen disregard for our laws."
A week after Snap priced its IPO, women's apparel maker J.Jill plans to raise $175M, pricing 11.7M shares in a range of $14-$16. Trading is set to begin tomorrow on the NYSE under ticker symbol "JILL." There is far less attention and hype on J.Jill vs. SNAP, which saw shares take off in their first two trading days only to plummet in the following two sessions.
It's been about two years since Amazon (NASDAQ:AMZN) launched in Mexico via Amazon.com.mx, but online shoppers in the country can now sign up for unlimited free shipping and streaming video through Amazon Prime. The service will be offered for over 20M items at a price of 449 pesos ($23) for the first year, before rising to the annual standard price of 899 pesos ($46).
Nestle chocolates in the U.K. and Ireland will have 10% less sugar starting next year as the firm tries to make their products healthier. Key brands such as KitKat, Aeros, Lion and After Eight will all have a total of around 7,500 tons of sugar removed and replaced by existing and non-artificial ingredients. Nestle (OTCPK:NSRGY) told CNBC via email that the move was not linked to the weakening pound following the Brexit vote.
Looking to revive sales of the world's largest airliner, Airbus (OTCPK:EADSY) is considering doing away with one of the hallmarks of its A380 superjumbo, a "grand staircase" echoing the era of cruise ships, Reuters reports. The idea of a slimmed down staircase, as well as adding fuel-saving wingtips, is aimed at lowering the huge double-decker's operating costs and boosting its fuel efficiency.
Fiat Chrysler is still trying to win U.S. approval to sell 2017 diesel models as the U.S. government decides whether to take legal action, CEO Sergio Marchionne told reporters at the Geneva Motor Show. In January, the EPA and California Air Resources Board accused Fiat Chrysler (NYSE:FCAU) of illegally using hidden software to allow excess diesel emissions from 104,000 U.S. trucks and SUVs.
Rebuffing an overture from Marchionne, Volkswagen (OTCPK:VLKAY) confirmed it's not open to merger discussions with Italian rival Fiat Chrysler (FCAU). "We are not ready for talks about anything," CEO Matthias Mueller declared. "We have other problems." On Tuesday, the FCA chief said VW could be an attractive prospective partner and may be interested in talks.
More news from Geneva… Tire makers are reinventing the wheel as they try to squeeze more profit out of a product many drivers don't even give a second thought. Italy's Pirelli (OTCPK:PPAMF) presented its connesso tire that sends data – including pressure, wear and temperature – to a smartphone app via the cloud, and could soon be included on a car's dashboard. Goodyear (NYSE:GT) presented its Eagle 360 Urban, a concept tire designed for future self-driving vehicles.
Following a series of recent controversies, UBER CEO Travis Kalanick is seeking a chief operating officer who "can partner with me to write the next chapter in our journey." Last week, Kalanick said he needed to change as a leader "and grow up," adding that "I need leadership help, and I intend to get it." He spoke as part of an apology for berating an Uber driver in February.
Airbnb has invited some "hosts" to attend executive board meetings and offered them more direct contact with CEO Brian Chesky. Unlike the guests that use Airbnb (Private:AIRB), property owners are usually voters and taxpayers in their communities, and have more sway with elected officials. Host advocacy was pivotal to the defeat of Proposition F in San Francisco, a measure on the ballot in 2015 to limit short-term rentals.