European Stocks struggling

Pound dipping

Dollar rises before jobs data

Treasuries Suffer Longest Losing Streak Since 2012
Treasuries headed for the longest losing streak in five years before a U.S. debt auction on Wednesday and as the market prepares for the Federal Reserve to raise interest rates as early as next week. The dollar rose, while sterling extended its decline ahead of the U.K. budget.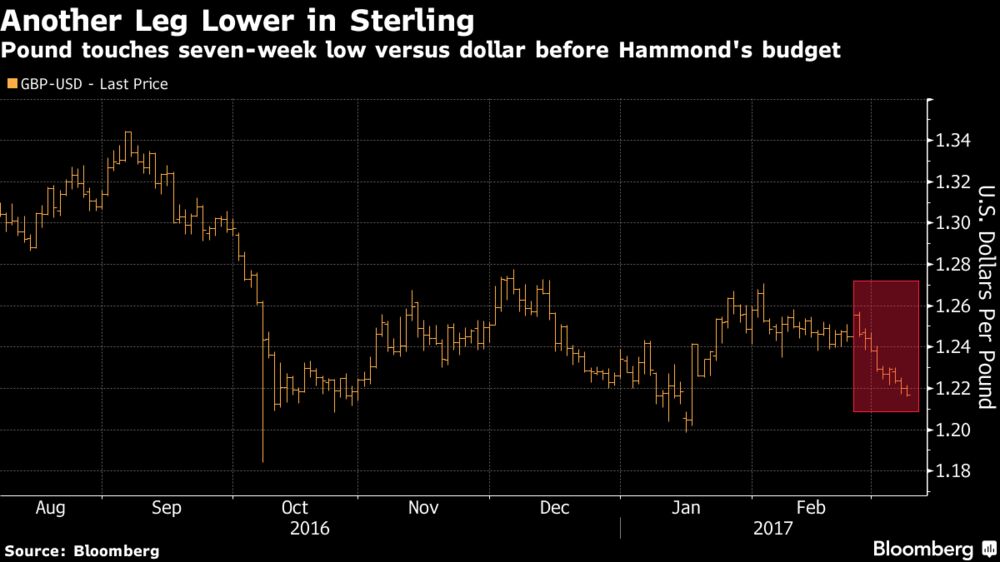 China reported its first trade deficit in three years in February as imports soared 38.1 percent while exports dropped 1.3 percent.
Data released on Wednesday showed China in February recorded a trade deficit in renminbi terms for the first time since 2014 as imports surged 44.7 per cent from a year earlier and exports climbed just 4.2 per cent.
The blame fall this time on the Chinese New Year…as pundits at Goldman Sachs sayas that the  "apparent weakness in export data seems to be inconsistent with (1) signs of stronger global growth (our global leading indicator is at a multi-year high), and (2) strong early readings of exports from neighboring economies such as Korea".
The yield on 10-year U.S. notes climbed for an eighth session and most government debt in Europe followed suit.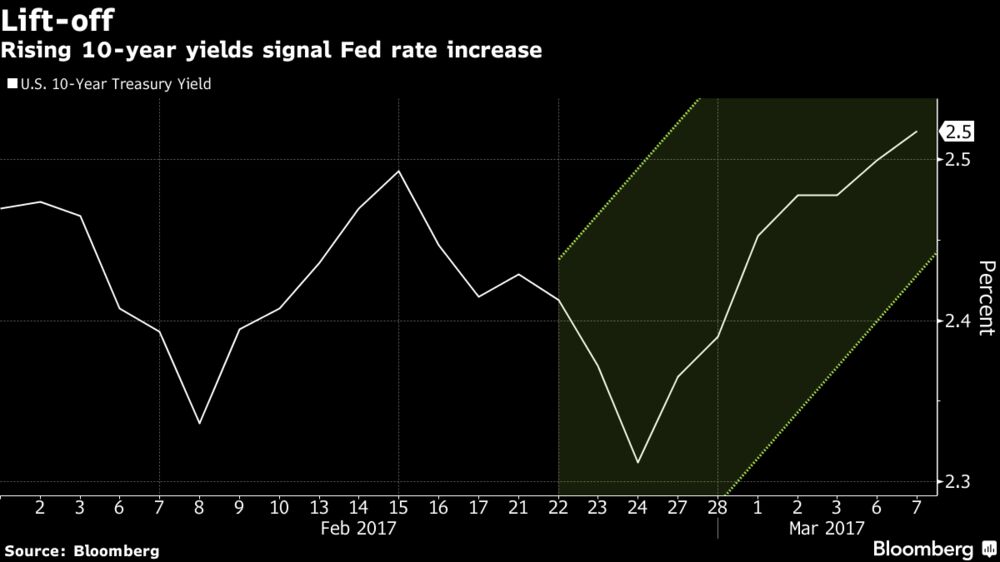 Padhraic Garvey, London-based global head of debt and rates strategy at ING Groep NV. "The bigger issue is the realization that we're facing into a Fed hike event and a reasonably positive environment from a European growth perspective."
main moves in markets, from Bloomberg:
Asia
Most Asian stocks fell amid lower trading volume. The Topix retreated even as data showed Japan's economy expanded more than initially reported in the fourth quarter. Chinese shares traded in Hong Kong climbed as a report showed imports surged on seasonal factors.
Stocks
The Stoxx Europe 600 added 0.2 percent as of 10:25 a.m. in London, after declining a fourth straight session on Tuesday.
S&P 500 Index futures pared earlier declines to trade little changed. The benchmark index lost 0.3 percent on Tuesday, completing the first back-to-back declines since January. Health-care shares declined after Republicans released details of a replacement for Obamacare and the president tweeted about lowering drug costs for Americans.
Currencies
The Bloomberg Dollar Spot Index rose 0.2 percent, heading for a third day of gains.
The British pound slipped 0.3 percent to $1.2163, falling for a third day, and the euro fell 0.1 percent to $1.0557.
Bonds
The dollar rally early in London hours pressured U.S. Treasuries through last week's lows. The 10-year sector underperformed ahead of tonight's auction, with yields climbing two basis point to 2.54 percent.
German bonds dropped, following Treasuries, with 10-year yields rising three basis points, while short-dated bonds held yesterday's gains. Long-dated French bonds dropped from the open with 10-year yields quickly rising as much as seven basis points, before paring losses.
Commodities
Gold for immediate delivery dropped 0.2 percent to $1,213.49 an ounce after earlier touching the lowest since Feb. 3.
West Texas Intermediate crude lost 0.6 percent to $52.80 a barrel as U.S. industry data showed crude stockpiles expanded, adding to an inventory overhang.