WTI Oil falls below $ 50
ECB Meeting may signal end of QE
European Stocks Trade lower on Thursday
China stocks dip on inflation data,Oil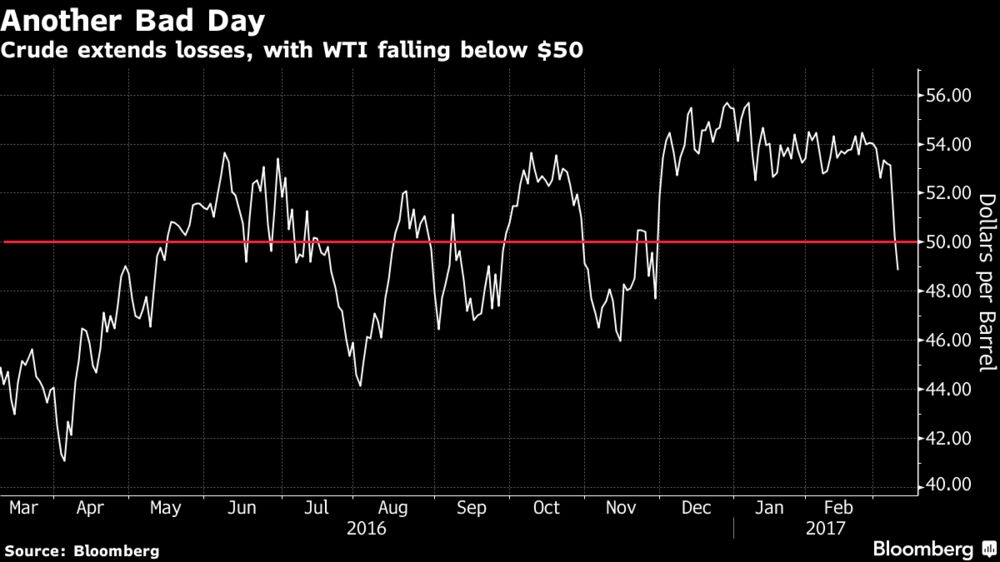 The dollar strengthens as FeD interest rate increase is given for granted, Euro maintaining positions, central banks are on focus with oil retreating giving up earlier gains, metals down.
Oil companies are on  the spotlight as have joined the big fallers on the market selloff being unfolded today, with Shell down 3% following the drop in the crude price. Mining stocks are being hit hard too.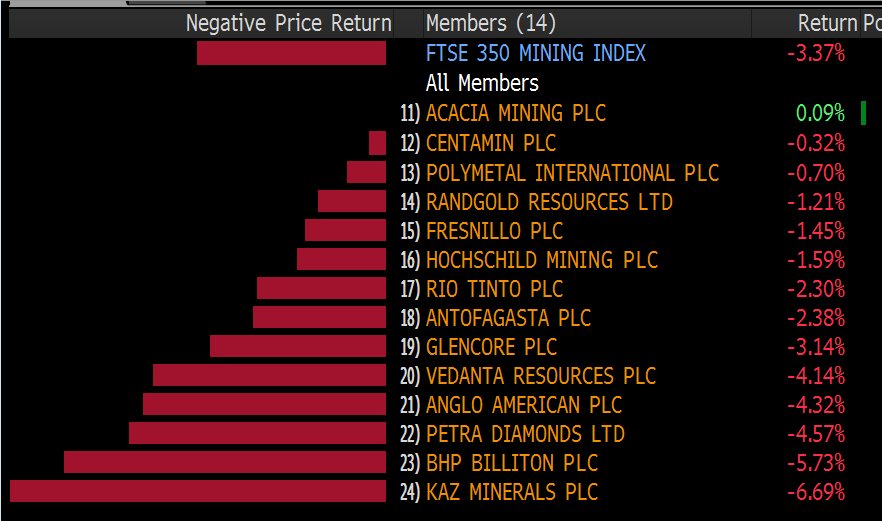 Fund managers dumped energy stocks in response to the price decline, with the S&P 500 energy sector falling 2.5 per cent, its steepest one-day drop since mid-September, taking its year-to-date losses to 8.5 per cent.
"The market has been facing two major headwinds — a continued supply overhang and an overhang of speculative length," said Andy Lebow at Commodity Research Group. "Both factors came to the fore [on Wednesday]".
The US crude inventory report landed a day after Khalid al-Falih, Saudi Arabia's oil minister, cautioned that an agreement struck by Opec and non-members such as Russia to curb output was helping revitalise the US shale market and could undermine efforts to stabilise crude prices.
In Asia The Shanghai Composite Index closed down 24 points, or 0.7%, at 3,217 on Thursday amid a plunge in oil prices, after latest data showed Chinese producer prices rising at the fastest pace since September 2008, while consumer prices were much weaker than expected. Hong Kong's Hang Seng dropped 281 points, or 1.2%, to 23,502 around 4:30 PM HKT
Main risks pictured below, Shares, bonds and commodity prices have all weakened since Monday, the cost of insuring bonds has gone up, and most currencies have lost ground against the US dollar.
Global macro risks: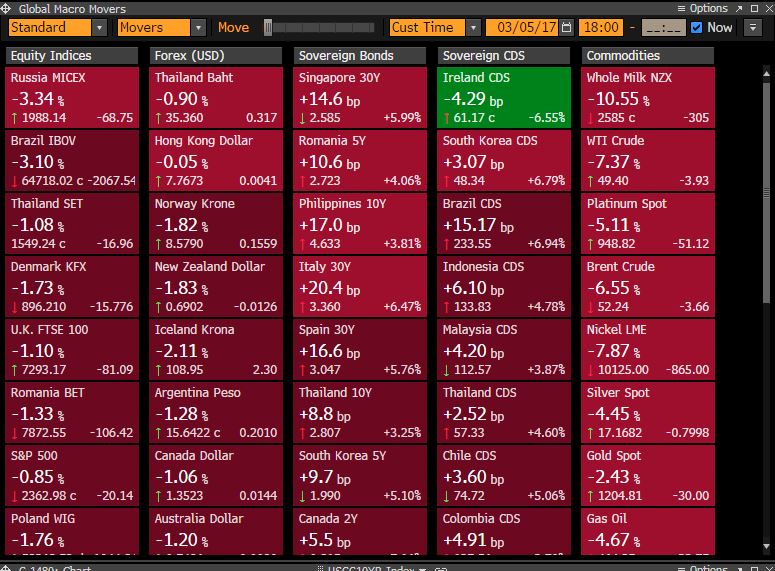 As a string of indicators from improving U.S. jobs data to rising euro-area inflation points to strengthening global growth, investors are positioning for higher U.S. interest rates and looking for signs of an end to European stimulus. While economists surveyed by Bloomberg predict the ECB will reiterate that its monthly bond-buying program will run until at least December, traders will be on alert for a more hawkish tone from President Mario Draghi, Bloomberg reports
European Stocks Trade Lower On Thursday 
The FTSE 100 fell

40 points, or 0.5%,

to 7,295 around 8:30 AM London time on Thursday February 9th. Also, other major indexes across Europe traded lower, dragged by a sharp fall in oil prices the previous day while investors remained cautious ahead of ECB's policy decision.
The DAX 30 retreated

34 points, or 0.3%

, to 11,934;
the CAC 40 declined

13 points, or 0.3%,

to 4,948;
the FTSE MIB dropped

70 points, or 0.4%

, to 19,414;
while the IBEX 35 rose

34 points, or 0.3%

, to 9,884.
There's a generally nervous mood in the markets, as the rally that begin after the US election fades.
Chris Beauchamp of IG sums up the mood in The Guardian:
Signs of a broad-based risk off mentality are cropping up like spring daffodils at present. Yesterday's plunge in oil prices took most of the attention, but the other major warning signal was the rout in junk bonds; like stocks these have gained significantly since the election, and like stocks they enjoyed more gains in February. The heavy selling in the high yield ETF over the past week sounds another alarm for equity bulls.

To add to the signs of doom, mining shares in London are in full-blown retreat, as a stronger dollar and falling commodity prices take their toll
What's ahead for the markets:
Mario Draghi is expected to keep QE going until the end of the year with underlying price pressures muted. The ECB's policy decision will be announced at 1:45 p.m. Frankfurt time and Draghi will hold a press conference 45 minutes later.
Official U.S. jobs data for February are due Friday. Employers probably added around 200,000 workers to payrolls, in line with the average over the past six months and a sign of steady job growth, economists forecast.
Here are the main moves in markets:
Asia
Declines in Asia were led by the Hang Seng China Enterprises Index in Hong Kong, which fell the most since Dec. 15. Japanese equities gained, supported by a weaker yen. The yuan reversed losses after hitting its weakest against the dollar in two months.
Stocks
The Stoxx Europe 600 Index retreated 0.4 percent as of 11:03 a.m. in London, with energy companies and miners posting declines.
Futures on the S&P 500 fell 0.1 percent after the benchmark index lost 0.2 percent on Wednesday.
Currencies
The Bloomberg Dollar Spot Index rose 0.1 percent after gaining 0.4 percent Wednesday.
The British pound fell 0.1 percent as the euro added 0.2 percent.
Bonds
Yields on 10-year U.S. Treasuries traded fractionally higher at 2.5616 percent after adding 25 basis points over the past eight days.
German bonds were choppy ahead of the ECB meeting.
French bonds dropped at the open, leading to some speculation Asian investors were selling the debt, given the timing. Losses pared as focus turned to the latest Harris poll, showing Emmanuel Macron overtaking Marine Le Pen in the first round of the French presidential election.
Peripheral bonds were steady. Long-dated Italian bonds slid after yesterday's auction announcement for next week, which include 15- and 30-year bonds.
Commodities
WTI crude dropped 2.8 percent to $48.86 a barrel. It tumbled more than 5 percent the previous session to the lowest close since Dec. 7.
Gold fell 0.3 percent to $1,205.25 an ounce, declining for a fourth day.
s