Asian and European markets followed WS slide
Markets leveling up to Trump true trades
Back to risk havens: Yen ,Bonds Gold up
US Futures lower after selloff
Volatility: that´s the culprit
"this is a mini correction, investors should be buying it" That´s the mantra of the  asset manager in the financial business, please do not take away your money, is our business too. Whether  it´s true or not is a matter of time but nothing new here. Now it´s the turn to look more carefully at the reasons, if any, of the Trump forward euphoria, and realice that there´s not just one side of the uptrend gauges that indicate the "make America great again" will be for some, that it´s more about  politics and what can be done.
Stocks in Europe and Asia pulled back after major U.S. indexes posted their steepest decline of the year, as investors re-evaluated their 'Trump trade' optimism.
Financial and commodity shares led the selloff as the benchmark index in Europe fell a third day, following markets in Asia. Futures on the S&P 500 showed the gauge is poised to extend its decline from Tuesday, when it sank more than 1 percent for the first time since October. Emerging-market stocks halted an eight-day winning streak. A rally in government bonds continued and gold and the yen both extended gains. Base metals tumbled, with iron ore approaching a bear market says Bloomberg.com
Developing doubt about the Trump administration's ability to deliver on its pro-growth policy agenda—at least any time soon—has upended a strategy that had been a winner since November's U.S. election says The WSJ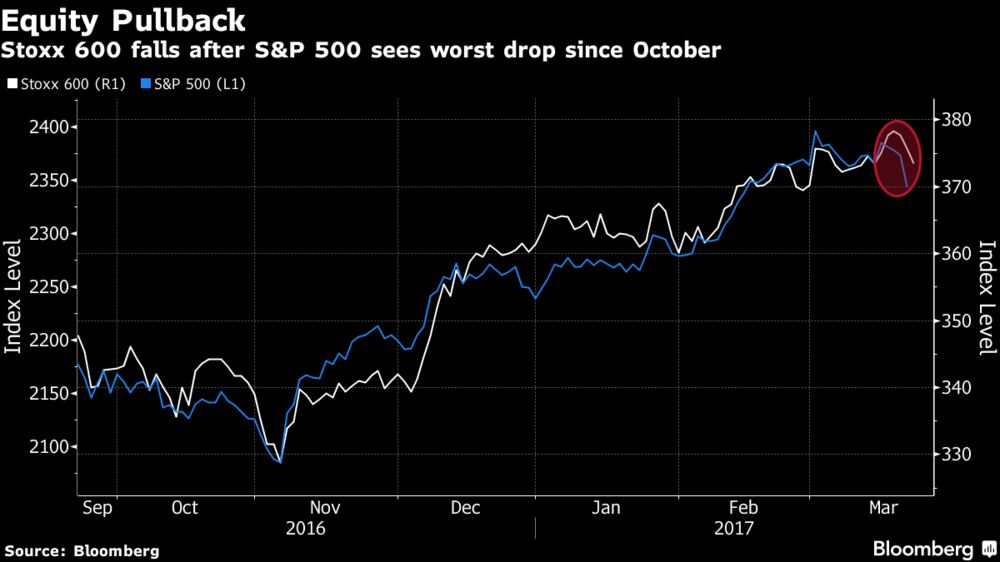 It would be very premature to call an end to the Trump Trade. It would even be a little presumptuous to attribute the US stock market's worst day since before the election to the president's current political difficulties. But the Trump trade is coming in for its biggest reassessment to date. Meanwhile, overblown negativity towards Europe is in imminent danger of becoming overblown positivity.
Thanks to a sharp recovery for the euro, combined with the weakness in US stocks, European stocks (as represented by the FTSE-Eurofirst 300) have now outperformed the S&P 500 since the US election says the FT.
Main moves in markets:
Stocks
The Stoxx Europe 600 Index dropped 0.7 percent as of 8:07 a.m. in New York, the biggest decrease in about a month.
The MSCI Emerging Market Index fell 0.9 percent in its first retreat in almost two weeks.
The U.K.'s FTSE 100 Index sank 0.8 percent to the lowest in two weeks.
Futures on the S&P 500 fell 0.2 percent.
Currencies
The Bloomberg Dollar Spot Index rose 0.1 percent in its first advance in more than a week.
The British pound and euro both fell 0.2 percent.
The Japanese yen rose 0.4 percent to 111.31 per dollar, hitting the strongest in about four months with its seventh straight increase.
Bonds
The yield on 10-year Treasuries declined one basis point to 2.41 percent, the lowest in more than three weeks.
France's 10-year yield fell four basis points to the lowest in a week. Germany's dropped four basis points.
Commodities
West Texas Intermediate oil fell 1.4 percent to $47.60, dropping for a third day as data showed U.S. crude supplies climbed.
Copper fell 0.7 percent to $5,738 per metric ton, the lowest in more than a week.
Iron ore sank 3.9 percent, the largest drop in more than three months.
Asia
The MSCI Asia Pacific Index dropped 1.4 percent as benchmark indexes in Tokyo and Sydney slid the most since Trump's election. Japan's Topix lost 2.1 percent as the yen rose for a seventh day, touching the highest since November.
A measure of Chinese shares traded in Hong Kong lost 1.8 percent after closing at the highest in almost 17 months on Tuesday.