Oil Down for 3rd Week, OPEC Meets in Kuwait
Markets eyeing the Trump healthcare magic
European shares extend weekly decline
European stocks gave up some of Thursday's gains before a U.S. health-care vote dominating market sentiment. Oil rose for the first time this week as OPEC members prepared to meet for a review of production cuts.
Many investors view the health-care bill as a barometer of the Trump administration's ability to implement its wider policy agenda.
Reflation trades sparked by Trump's election have faltered in March as the administration remains far from delivering on pro-growth policies that boosted stocks and the dollar. The White House wrangled with House Republicans throughout Thursday to secure enough votes to pass the first major piece of legislation under the 45th president, seen as a key test of his ability to push through promised tax cuts and infrastructure spending.
Governments bonds and the dollar stalled, while futures pointed to a 0.2% opening rise for the S&P 500. Markets in Asia mostly advanced, but European stocks edged lower, tracking Thursday's modest pullback on Wall Street.
Investors Need to Wake Up to Europe's Surprising Good Health:
Eurozone economy continues to gain pace. PMI surprised to the upside, jumps to 56.7, consistent w/ GDP growth of 3%.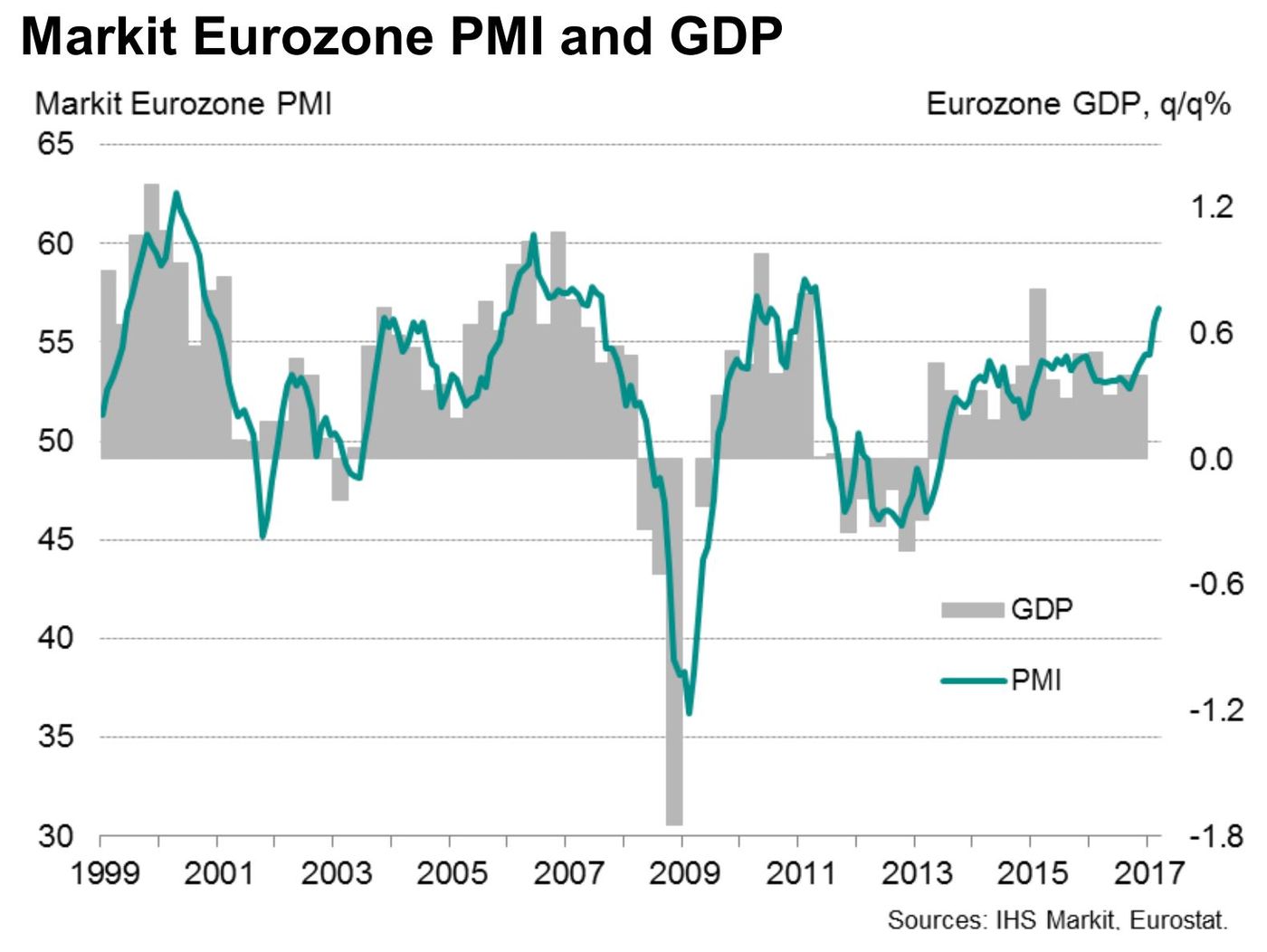 It is the highest reading since April of 2011 as export orders jumped and payrolls were the highest in nearly six years. In contrast, output growth eased slightly and price pressures intensified. A weakened euro was widely reported to have exacerbated the impact of increased global prices for many commodities, notably oil and energy as well as food and metals.
Stocks:
In Europe, the Stoxx 600 is down 0.3 per cent as financials struggle.
Earlier in Asia, Japan's Topix, which had lost 2.1 per cent on Wednesday and stalled on Thursday, recovered 0.9 per cent.
Banks led Australia's S&P/ASX 200 index to close 0.8 per cent higher as a number of lenders announced increases in certain mortgage rates in response to higher funding costs.
Hong Kong's Hang Seng rose 0.1 per cent while China's Shanghai Composite added 0.6 per cent to close at its best level of the year as gains for infrastructure stocks outweighed concerns about tightening liquidity in the financial system.
Forex
The dollar is mixed after its recent sell-off. The Dollar index (DXY) fell on Wednesday to a six-week low of 99.55 amid heightened concerns about the Trump agenda, and is less than 0.1 per cent softer at 99.70 in the current session.
The euro is gaining 0.2 per cent to $1.0798 after surveys showed businesses across the eurozone at their most chipper in six years.
The British pound, which had been boosted this week by stronger than expected inflation and retail sales data, is seeing some profit-taking and slipping 0.3 per cent to $1.2485.
Fixed income
Hopes that the Trump agenda will not be derailed and will help boost the US economy are discouraging buyers of US government debt.
The 10-year US Treasury yield, which moves opposite to the bond price, is up one basis point to 2.42 per cent and
the more monetary policy sensitive 2-year yield is adding 2bp to 1.26 per cent.
European paper is a bit firmer, with German benchmark Bund yields easing 1bp to 0.42 per cent and UK gilts down 2bp to 1.21 per cent.
Commodities
Gold, which has performed strongly in the first part of this week as the US dollar sold off, is flat at $1,245 a troy ounce.
Oil prices are striving to rally from a slump that on Wednesday saw Brent crude hit a near four-month low of $49.71 a barrel amid worries that increasing US production was countering Opec output cuts. Brent, the international benchmark, is adding 0.4 per cent to $50.77 a barrel and West Texas Intermediate, the main US contract, is up 0.6 per cent to $47.97.