Global Stocks Slide, S&P Futures Tumble Below 50 DMA
"Trump Trade" Collapses
And the Euro: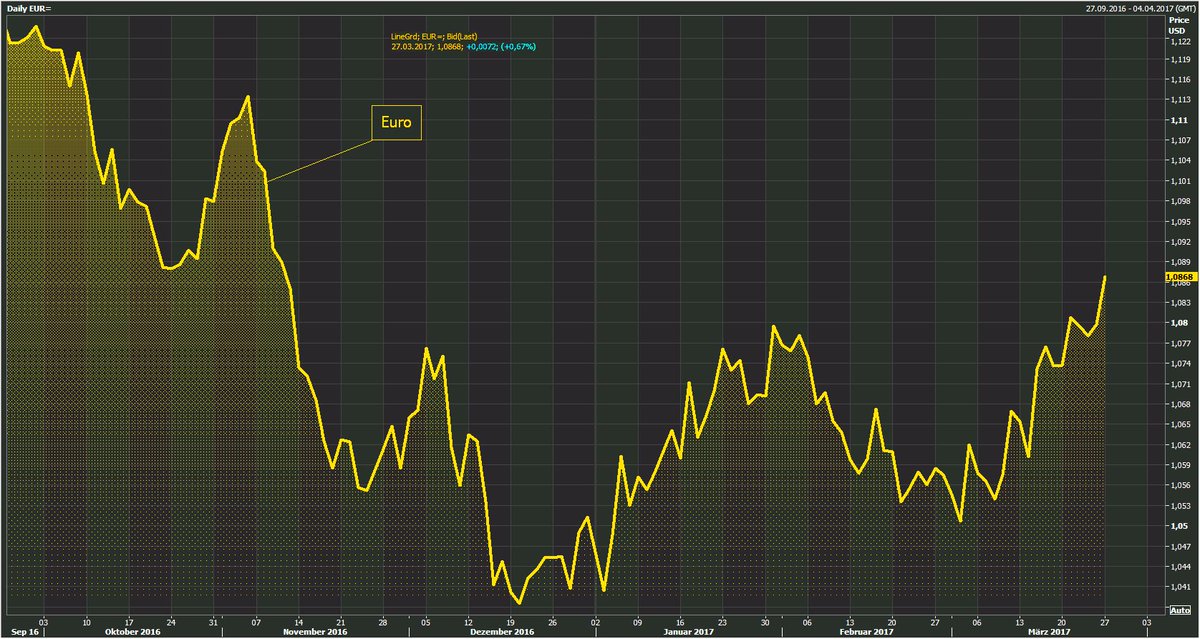 Euro€ jumps to highest since Nov.Dollar down as investors seek way out after 5 months "party"
USD dollar rates against :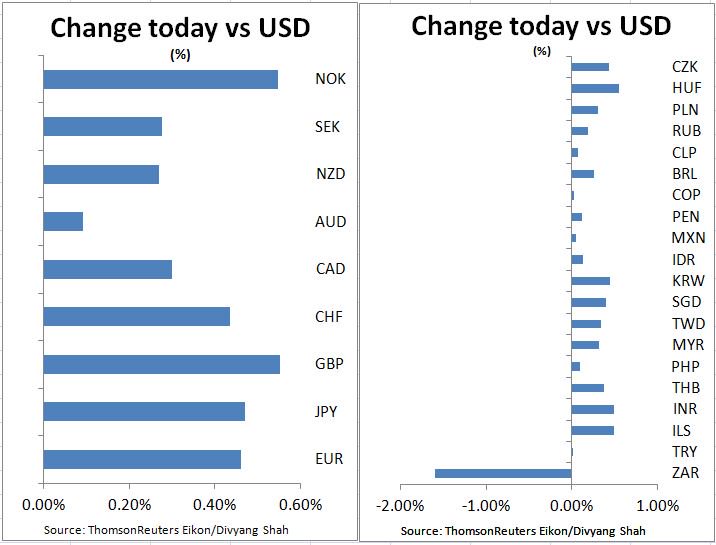 South Africa rand hard hit on political SA moves
Today's Markets
In Asia, Japan -1.4%. Hong Kong -0.7%. China -0.1%. India -0.6%.
In Europe, at midday, London -0.8%. Paris -0.3%. Frankfurt -0.8%.
Futures at 6:20, Dow -0.7%. S&P -0.9%. Nasdaq -0.8%. Crude -0.9% to $47.52. Gold +0.7% to $1257.60.
Ten-year Treasury Yield -3 bps to 2.37%
Economy/Politics
After the collapse of their effort to repeal the Affordable Care Act, President Trump and Republicans in Congress will change their focus this week to an overhaul of the tax code, the first in three decades.
Mr. Trump is faced with leading a badly divided Republican Party that no longer has Barack Obama to unify against.
"The time has come to defeat globalists," French presidential candidate Marine Le Pen told a rally on Sunday, stating "the EU will die because the people do not want it anymore." "It must be done in a rational, well-prepared way," she later told Le Parisien. "I don't want chaos… the euro would be the last step because I want to wait for the outcome of elections in Germany."
Turkey may hold a second referendum on whether to continue with European Union accession talks, following a planned vote on April 16 that could give President Erdogan sweeping new powers. The news comes a day after Erdogan vowed to review all political and administrative ties with the EU, including a deal to curb illegal migration, but maintain economic relations with the bloc.
German business morale hit its highest level in nearly six years in March, adding 1.2 points to reach 112.3, suggesting executives in Europe's largest economy are brushing off concerns about the upcoming national election. In the weekend's local election in Saarland, Angela Merkel's CDU Party polled almost 41% of the votes, while the resurgent left SPD party got 30%.
Hong Kong's electoral committee has picked a staunchly pro-China candidate, Carrie Lam, to lead the city in voting that underscores Beijing's growing political influence on the former British colony. In 2014, parts of the city were paralyzed when tens of thousands of protesters blocked major roads for nearly three months to demand Beijing allow full democracy.
Police detained hundreds of protesters across Russia on Sunday, including opposition leader Alexei Navalny, after thousands took to the streets to demonstrate against corruption and demand the resignation of Prime Minister Dmitry Medvedev. It was the biggest show of defiance since a 2011-2012 wave of demonstrations rattled the Kremlin and led to harsh new laws aimed at suppressing dissent.
A joint committee of ministers from OPEC and non-OPEC oil producers has agreed to evaluate whether a global pact to limit supplies should be extended by six months. At a weekend meeting in Kuwait, the committee requested a technical group and the OPEC Secretariat "review the oil market conditions and revert… in April, 2017 regarding the extension of the voluntary production adjustments."
Stocks
It's a busy week for competition authorities in Brussels. The $140B merger between Dow Chemical (NYSE:DOW) and Dupont (NYSE:DD) is expected to win approval, while a veto is anticipated for the €29B tie-up of LSE (OTCPK:LNSTY) and Deutsche Boerse (OTCPK:DBOEY). Antitrust officials are also expected to bless a second agrichemical megamerger – ChemChina's purchase of Syngenta (NYSE:SYT) – next week.
Westinghouse Electric could file for bankruptcy protection as early as tomorrow and is seeking support from South Korea's Korea Electric Power (NYSE:KEP), sources told the Nikkei. The U.S. nuclear unit of Toshiba (OTCPK:TOSYY) reportedly plans to meet with American utilities today, looking to continue construction on two behind-schedule nuclear power plants during bankruptcy.
Tesla will begin taking orders for its solar roof tiles next month, a product unveiled before the company's acquisition of SolarCity. Tesla (NASDAQ:TSLA) CEO Elon Musk revealed no new details on cost, but previously said the new roof tiles will cost less to manufacture and install than a traditional roof, even before savings from the power bill.
Hoping to speed up development, Royal Dutch Shell (RDS.A, RDS.B) and Anadarko Petroleum (NYSE:APC) may let a 10-year joint venture in the Permian Basin expire to split their properties. The divorce and re-parceling of acreage would let each company drill and develop new wells at its own pace in the hottest development area of the U.S. oil industry.
Just weeks after President Trump ordered a review, the world's largest asset managers have called on U.S. officials to delay landmark laws set to govern America's $16T retirement industry. BlackRock (NYSE:BLK) and Vanguard are warning that the so-called fiduciary rule, which is due to come into force next month, risks confusing investors and adding unnecessary financial costs.
UPS's legal fight with New York has gone up in smoke. A federal judge said the shipping giant ignored "red flags" that its brown trucks were being used to transport millions of untaxed cigarettes from Indian reservations and will determine the award as soon as next month. A similar suit is also pending against UPS rival FedEx (NYSE:FDX).
Iran has imposed sanctions on 15 American companies for alleged human rights violations and cooperating with Israel, just days after the U.S. slapped penalties on 30 foreign entities for transferring sensitive technology to Tehran. The firms include United Technologies (NYSE:UTX), ITT Corp. (NYSE:ITT), Raytheon (NYSE:RTN), Re/Max Real Estate (NYSE:RMAX), Oshkosh (NYSE:OSK) and Elbit Systems (NASDAQ:ESLT).
A committee of 63 aviation specialists from across China has agreed the C919 is technically ready for its maiden flight, Xinhua reports. China's first national passenger jet aims to challenge the dominance of Boeing's (NYSE:BA) 737 and Airbus's (OTCPK:EADSY) A320 in the global commercial aviation market. COMAC has already received 570 orders for C919 planes.
More sources have revealed that American Airlines (NASDAQ:AAL) is considering taking a stake in China Southern Airlines (NYSE:ZNH), boosting routes between the world's two largest travel markets. The potential deal would make American the second U.S. carrier to own part of a Chinese airline after Delta bought 3.55% of China Eastern Airlines for $450M in 2015.
A PR disaster or dress code standards? Two young girls were barred from a United Airlines (NYSE:UAL) flight on Sunday because they were wearing leggings, a decision that drew an uproar on social media and customer threats to boycott the airline. United later clarified that as "pass riders," or relatives of employees, the girls did not meet its dress policy, but released a statement entitled "To our customers… your leggings are welcome!"
Following a high-impact crash in Tempe, Arizona, UBER is suspending its self-driving car program. The accident occurred when the driver of a second vehicle "failed to yield" to the Uber car while making a turn, according to Tempe Police Sgt. Josie Montenegro. Even so, the company is grounding driverless vehicles in Arizona, Pittsburgh and San Francisco pending the outcome of an investigation.
Amazon is mulling opening stores that sell furniture and home appliances, sources told the NYT. In an ironic twist, Amazon (NASDAQ:AMZN) is considering using the stores as showrooms to help sell items online that consumers might want to touch and feel. Some of the innovations being explored by Bezos and team include augmented/virtual reality, automation at checkout and robots.
BT has been slapped with a £42M fine from Ofcom and has set aside £300M to repay telecom providers, marking the largest penalty the U.K. regulator has ever handed down. It found BT's Openreach division had cut compensation payments to providers, including Vodafone (NASDAQ:VOD), for delays in installing high-speed lines between early 2013 and late 2014.
Investor sentiment towards Snap appears to be changing. Goldman Sachs and Jefferies have both issued Buy ratings on the stock, while JPMorgan started coverage at Neutral, after SNAP was hit with a flurry of Sell and Hold ratings when it first listed. Snap shares are still down around 7% since their debut, but remain above their IPO price. SNAP +2.5%premarket.
Hollywood studios are getting ready to upend decades of tradition by making movies available at home less than 45 days after their big-screen release. According to WSJ, the only question for so-called premium video-on-demand is when and on what terms it starts, not whether it happens. Related tickers: TWX, FOX, CMCSA, SNE, VIA, AMC, RGC, NFLX