Global Markets tick higher and moves past Trump uncertain Policies
US dollar back from lows
Europe flat slightly up 
South African rand and government bonds extended losses
UK said to back away from "hard-no-deal Brexit"
Global stock markets inched higher Tuesday, and the dollar held firm, as markets steadied after the Dow Jones Industrial Average recorded its longest losing streak in nearly six years.
The rand tumbled on the prospect of South Africa's President Jacob Zuma firing his finance .
Europe's STOXX 600 rose 0.4 percent helped by financials and pharmaceutical stocks.minister.
The dollar index against a basket of major currencies edged up 0.1 percent to 99.252 after plumbing a trough of 98.858 overnight, its lowest level since Nov. 11.
European markets are still up
Asian markets have posted solid gains today as investors moved on from worrying about Donald Trump's healthcare setback.
The Australian index jumped by 1.5%, Japan's Nikkei rose by 1.1%, and there were gains in Hong Kong too.
APAC Closing Prices:
Asian market sentiment improved as the region's major indices shrugged-off the subdued Wall Street lead and traded mostly positive. ASX 200 (+1.1%) outperformed with the index led by financial and energy sectors, while Nikkei 225 (+1.1%) was underpinned as exporters found early respite from the recent JPY advances and with participants noted be on the bid ahead of ex-dividend dates.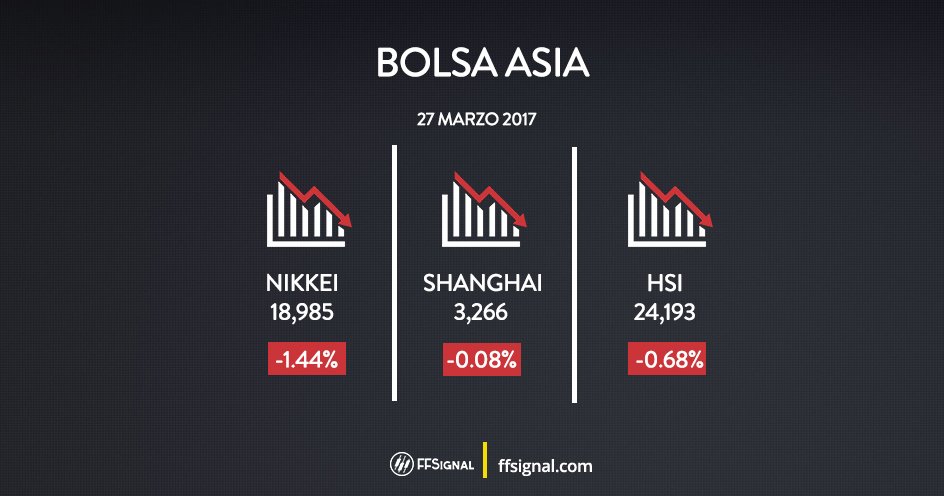 The resumption of demand for risk assets signals investors are still pinning hopes on Trump's ability to push through tax cuts and regulatory changes, pledges that helped trigger a reflationary upswing in global markets after his election.
European stocks rose 0.3% in early trade, buoyed by a rise in mining shares, while futures markets pointed to small opening gains on Wall Street. Asian markets were broadly higher, led by gains in energy and mining stocks in Japan and Australia.
Equity Markets
1. European elections and trade wars are less of a "tail risk" according to the latest Merrill Lynch survey of investors. On the other hand, a potential correction in the global bond markets, a delay in corporate tax cuts, or the Fed's early start on balance sheet reduction now pose more of a concern, says the WSJ
Higher rates (as well as weaker earnings) are expected to end the 8-year bull market.
Based on the same survey, how do US stock valuations compare to those in other regions?
Credit
High-yield credit spreads have widened over the past few days on softer equity markets and the weakness in oil. Will we see buyers stepping in at these levels as the search for yield continues? Here is the HY CDX spread (a standardized "index" of HY CDS).
Commodities
Moody's sees steel prices declining after the recent inventory restocking.
Related to the above, nickel prices have been moving lower.
With the seasonal restocking completed in some sectors, will we see the Baltic Dry index* peaking soon?
* the index provides "an assessment" of the price of moving the major raw materials by sea. the index covers Handysize, Supramax, Panamax, and Capesize dry bulk carriers carrying a range of commodities including coal, iron ore and grain
Currencies
The rand slid 1.9 percent to 12.9826 against the dollar at 7:23 a.m. in New York following Monday's 2.5 percent decline. Prior to this drop, the currency had gained 9.5 percent year-to-date, making it a top emerging-market performer.
The British pound and euro were little changed against the dollar
The Bloomberg Dollar Spot Index rose 0.1 percent after dropping 0.4 percent Monday.
Other key events this week:
The start of two years of Brexit negotiations will be formally triggered by a letter from Theresa May, U.K. prime minister, on Wednesday that will kick off two years of negotiations to withdraw from the European Union.
Proposals to design and build Trump's promised 2,000-mile border wall between the U.S. and Mexico are due March 29.
Hungary, Mexico, South Africa and Thailand are among countries setting interest rates.
Sources: FT, Bloomberg, The WSJ, The Guardian,Trading economics, Handelsblatt, Welt N24, Reuters, Wikipedia
alviguerafin@gmail.com