Global Markets inched higher
U.S. stock market futures  flat.
Sterling climbed on strong PMI data
Crude extended its advance, before official data that's expected to show U.S. inventories retreating from a record.
The Stoxx Europe 600 Index hold onto Tuesday's gain as it struggled to find fresh momentum  as miners and oil companies climbed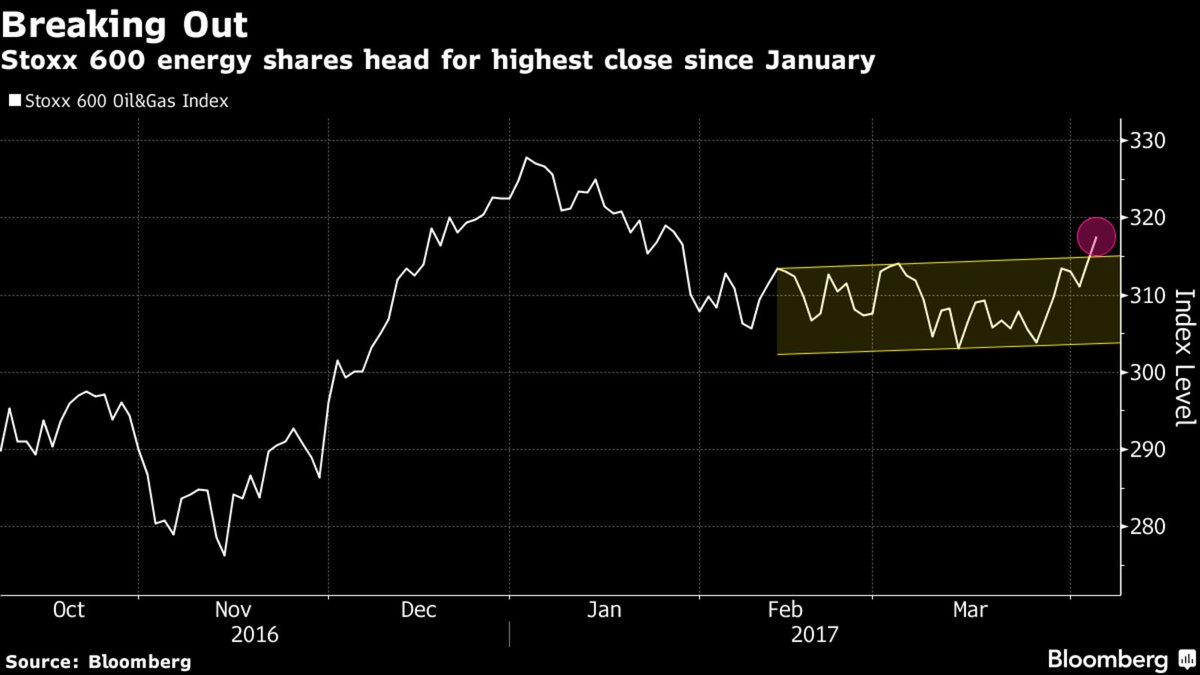 The dollar was little changed, 10-year U.S. Treasuries edged higher and futures for the S&P 500 pointed toward a slightly lower opening.
Oil hits its highest price in nearly a month as optimism grows about the global glut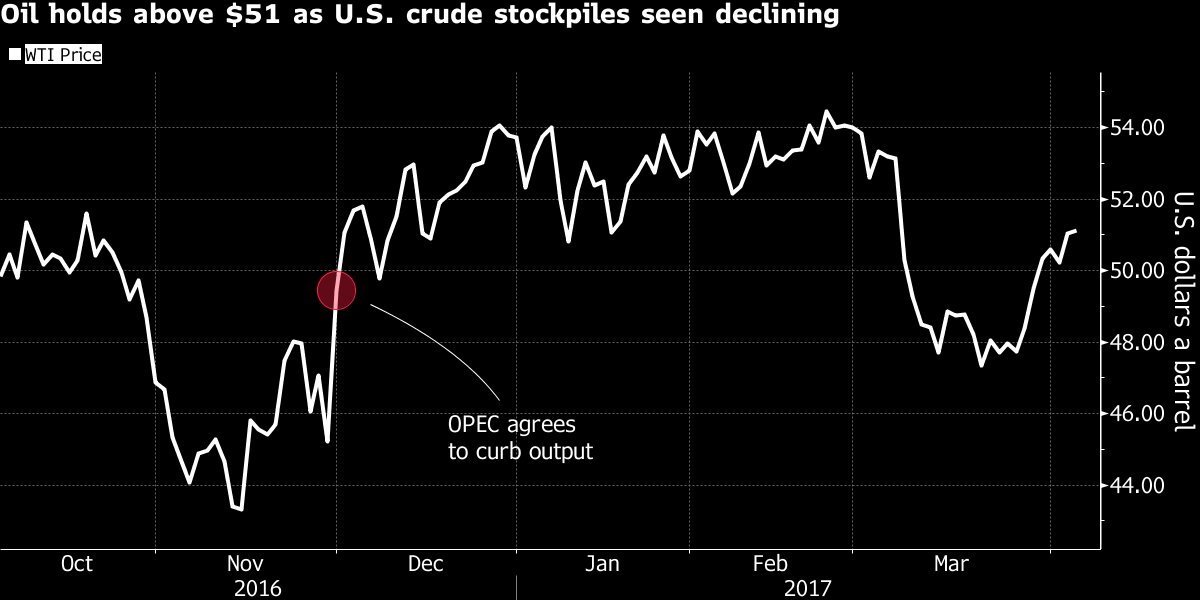 U.S. Trade Gap Shrinks as Exports Rise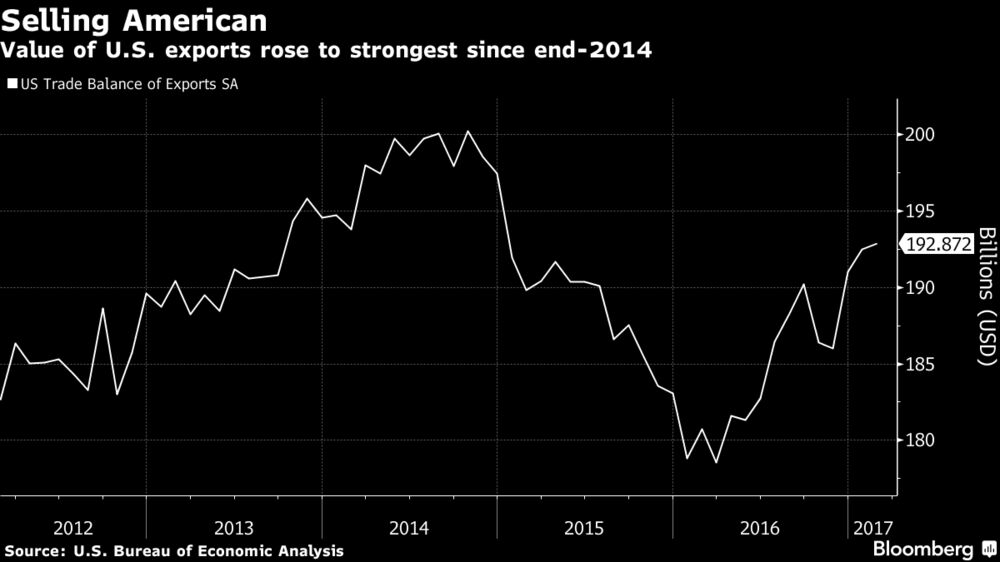 The U.S. trade gap with China shrank in the first two months of the year but remains far higher than a decade ago, part of a mixed trade outlook that sets the stage for potentially tense talks between President Trump and Chinese President Xi this week.
After eliminating the effects of price fluctuations, which generates the numbers used to calculate GDP, the gap narrowed to $59.7 billion from $65.1 billion
Imports decreased 1.8 percent to $236.4 billion
Exports increased 0.2 percent to $192.9 billion, the highest since December 2014

Value of shipments of motor vehicles and parts from the U.S. was the highest since July 2014
Investors and markets are largely in a holding pattern, awaiting the next major catalyst to either end or extend the global rally that pushed stocks to a record last month, says Bloomberg, ans as a major of data releases like the payrolls report on Friday, may offer clues to the strength of the world´s biggest economy.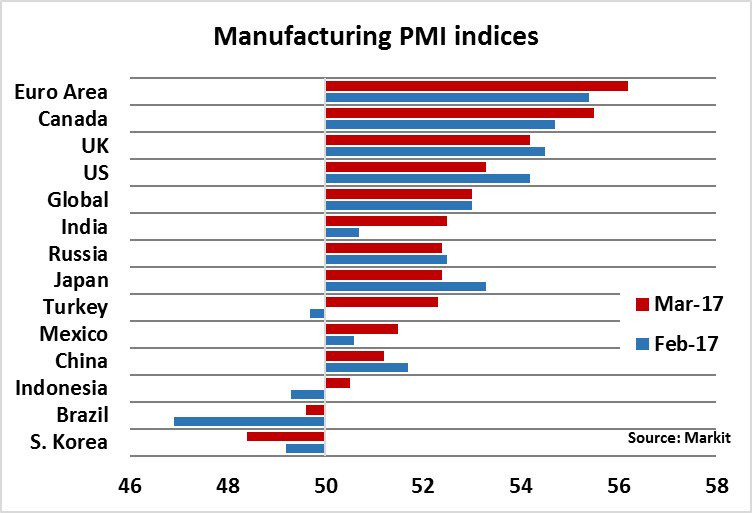 Eurozone growth at near six-year high as Germany and France accelerate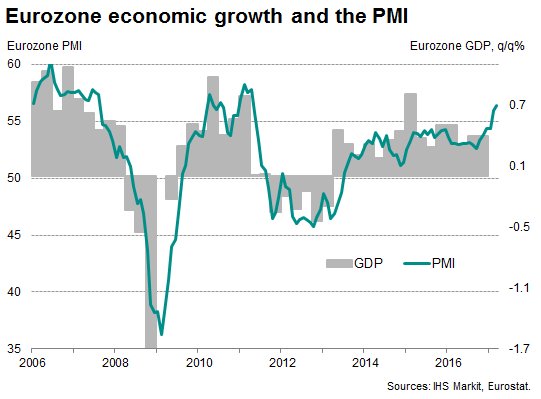 "Price pressures remain elevated, and look likely to feed through to higher consumer prices in coming months, but it seems likely that the ECB will hold its accommodative policy stance until at least later this year. These survey numbers nevertheless shorten the odds of policy being tapered in early-2018.
The economic outlook also brightened in March. Business optimism rose to a fresh series-record high, improving at service providers and remaining relatively elevated at manufacturers too.
Markets drivers and moves, from Bloomberg:
Stocks
The Stoxx Europe 600 fluctuating between gains and losses, and was little changed at 7:23 a.m. in New York.
Futures on the S&P 500 Index fell less than 0.1 percent. The underlying gauge advanced 0.1 percent on Tuesday.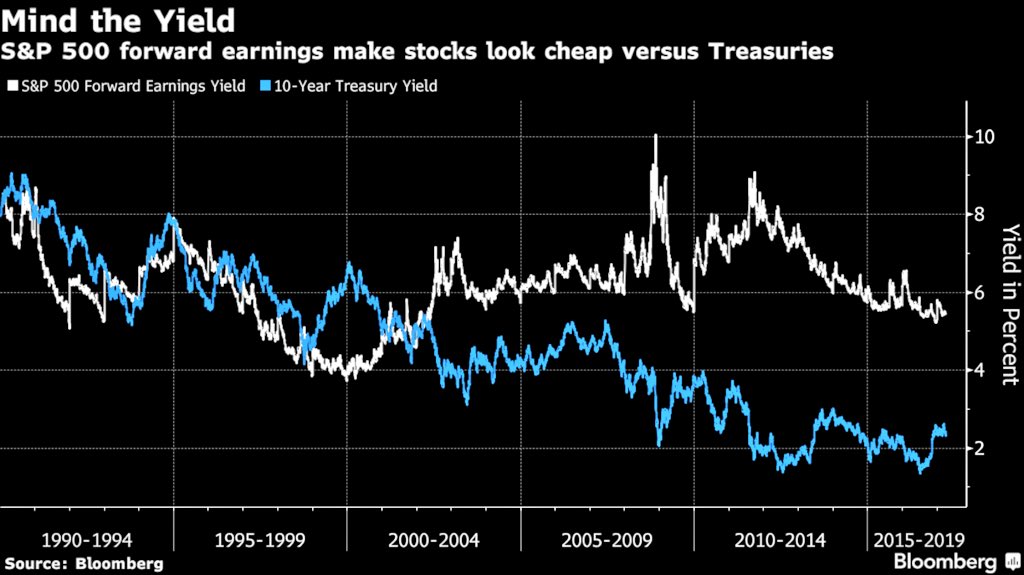 Currencies
The Bloomberg Dollar Spot Index was little changed after a two-day gain. The euro edged lower to $1.0666.
The pound climbed 0.3 percent to $1.2472, advancing for the first time in three days as U.K services grew faster than economists expected.
The South African rand jumped as much as 1.1 percent before falling 1 percent.
Bonds
The yield on 10-year Treasury notes dropped one basis point to 2.35 percent after rising four basis points on Tuesday.
French bonds benefited from a small relief rally after anti-euro presidential candidate Marine Le Pen was seen to have struggled in a televised debate. The 10-year yield dropped two basis points.
Commodities
The Bloomberg Commodities Index rose to a one-month high, buoyed by oil and base metals.
West Texas Intermediate crude climbed 1 percent to $51.56 a barrel, adding to Tuesday's advance.
Base metals increased after a plan to develop an economic zone near Beijing boosted the outlook for demand, with zinc climbing 2.3 percent as a smelter in Peru was also affected by flooding.
Gold declined 0.2 percent to $1,253.50 an ounce after a three-day advance.
Asia
The Shanghai Composite Index rose 1.5 percent, the most since August, while Taiwan's Taiex advanced 1.4 percent as both markets reopened after a holiday. China announced Saturday it would develop an economic zone outside Beijing, prompting prospective buyers to throng to the region.