Today's Markets
In Asia, Japan +0.7%. Hong Kong flat. China -0.5%. India -0.2%.
In Europe, at midday, London -0.2%. Paris -0.7%. Frankfurt -0.3%.
Futures at 6:20, Dow +0.1%. S&P flat. Nasdaq +0.1%. Crude +0.7% to $52.63. Gold -0.2% to $1255.00.
Ten-year Treasury Yield Flat at 2.37%
Economy/Politics
Crude oil prices are moving higher to start the week off. A strong level of demand and continued global uncertainty after the U.S. missile strike in Syria have traders in a buying mood. WTI crude oil futures +0.75% to $52.63/bbl at last check. Brent crude +0.85% to $55.71/bbl. U.S. gasoline prices sit at their highest level in eight months. The most recent data from Lundberg Survey showed an average of $2.4327 per gallon, while AAA reported an average price at the pump of $2.389 per gallon.
U.S. officials are ratcheting up criticism of Russia in front of Secretary of State Rex Tillerson's visit later this week to the nation. U.S. Ambassador to the United Nations Nikki Haley said nothing "is off the table" in dealing with potential sanctions against Russia. Tillerson is expected to ask Russia to back off supporting Syrian leader Bashar al-Assad and confront officials over election tampering.
Proximity to Russia is bolstering defense expenditure across eastern Europe, right at a time when Donald Trump is signaling U.S. military backing could depend on those nations paying their way inside NATO.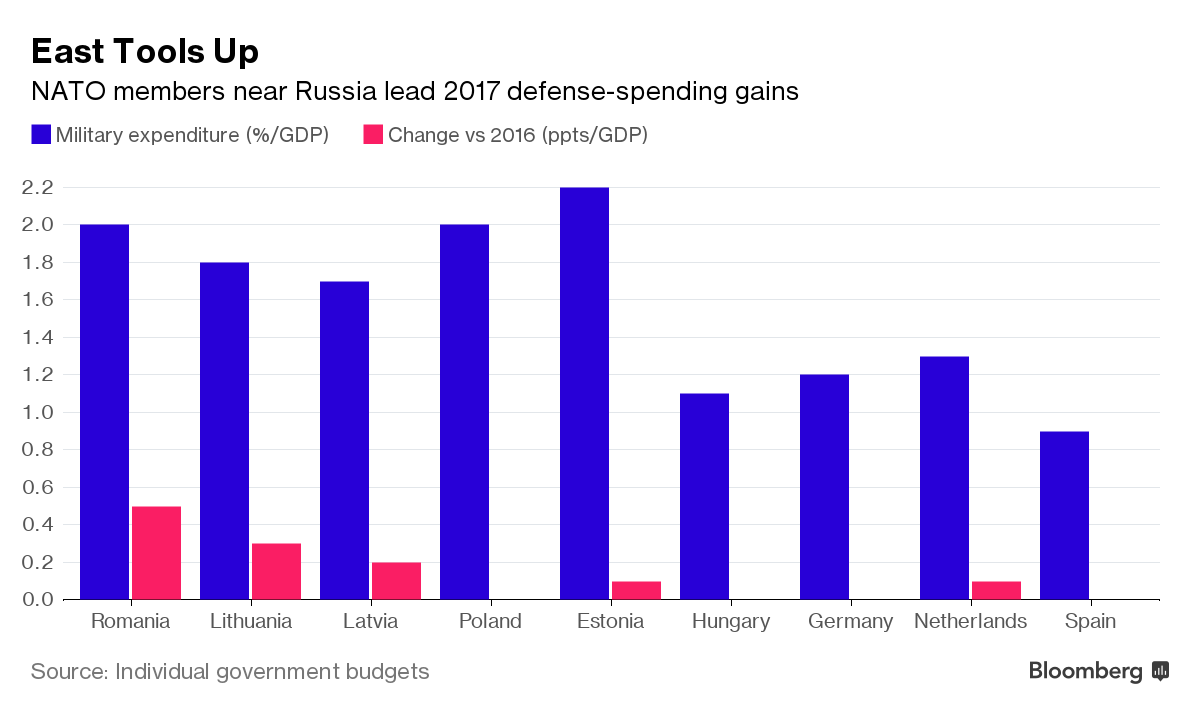 The anti-corruption crackdown in China rose to a new level over the weekend after the head of China's insurance regulator fell into the spotlight. China Insurance Regulatory Commission leader Xiang Junbo was charged with serious disclipinary violations, a phrasing typically associated with graft. Xaing has led the insurance regulator since 2011 and has been vocal about finding "financial crocodiles" while on the job.
Japanese Prime Minister Shinzo Abe and President Trump are in agreement to stay in close coordination on North Korea after talking yesterday. Abe also offered support for the U.S. resolve to prevent the proliferation of chemical weapons in a reference to the U.S. missile strike in Syria. Though Abe and Trump are expected to clash on trade issues in the future, their relationship is off to very comfortable start.
Concerned that a default of Venezuela would ensnare the state oil giant in legal problems, administration officials have been scrounging together resources to meet foreign bond payments after a plunge in oil exports sunk the economy into a depression and sparked runaway inflation and widespread shortages.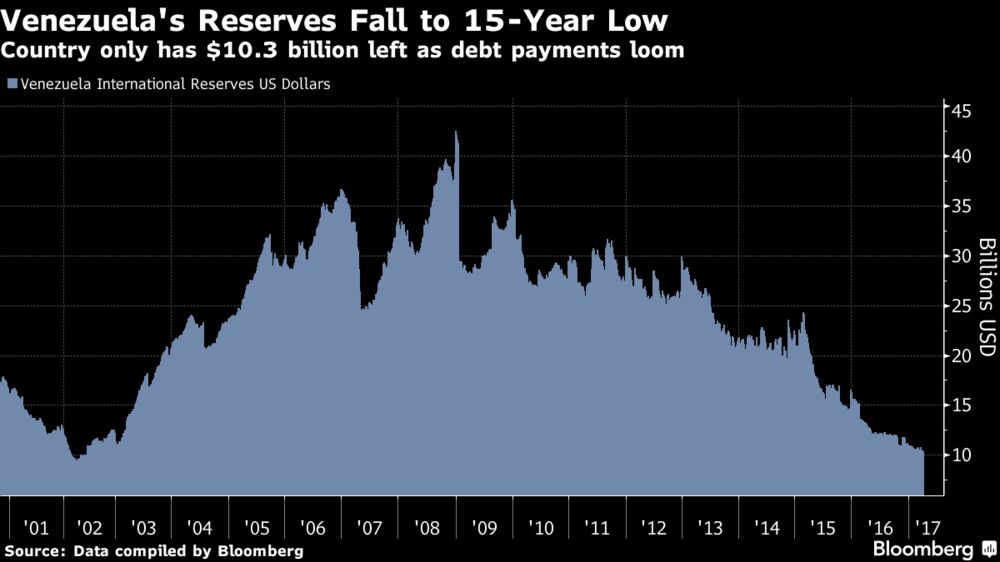 Investors are showing a higher level of interest in "macro" hedge funds as they look to navigate the topsy-turvy political landscape with their investments. Macro funds lost assets over the last few years, but are charging back with European elections and Donald Trump's agenda difficult to hedge against. "With volatility coming back and monetary supply tightening, we believe it could be a great environment for macro managers," notes Citi Private Bank's Eric Siegel.
Fedspeak alert: Federal Reserve Chair Janet Yellen gives a talk this afternoon at the University of Michigan with some intriguing issues hanging in the wind. Will Yellen give a road map to how the Fed plans to shed the $4.5T in bonds it holds on its balance sheet? And what will she say on the leak of confidential information to Medley Global by Richmond Fed President Jeffrey Lacker? On a side note, Yellen reportedly met with Medley Global Advisors back in 2011 and 2012.
Stocks
Regulators in the U.K. are investigating Barclays (NYSE:BCS) over how CEO Jes Staley handled a whistleblower case. The company's board has already concluded that Staley mistakenly tried to determine the identity of the author of a whistleblower letter. Staley's compensation was cut dramatically as a result of his action
An unconfirmed report out of China indicates that Tesla (NASDAQ:TSLA) plans to build a wholly-owned factory in the Guangdong region, with an announcement potentially coming sometime this year. It's unclear if the Chinese government would approve of a plant that wasn't owned through a joint venture with a local company. The story on the factory was published by the Southern Metropolis Daily, a paper that often clashes with Beijing authorities.
Food brands for sale: Reckitt Benckiser (OTCPK:RBGPF, OTCPK:RBGLY) is looking to sell foods assets, including the French's mustard business and Frank's hot sauce brand. The company is looking to raise cash to help pay for its acquisition of Mead Johnson Nutrition (NYSE:MJN). McCormick (NYSE:MKC), Unilever (UN, UL) and Ajinomoto Co. (OTC:AJINF, OTCPK:AJINY) are said to be in the mix for the Reckitt brands.
It's on to plan B at Mondelez International (NASDAQ:MDLZ) amid activist investor unrest. The company confirms that it is searching for a successor to CEO Irene Rosenfeld, including looking at external candidates. The new twist from Mondelez follows its failed pursuit of Hershey and reports indicating the food giant is uninterested in merging with Kraft Heinz (NASDAQ:KHC).
The proposed concessions to the FTC by Walgreens Boots Alliance (NASDAQ:WBA) in its acquisition bid for Rite Aid (NYSE:RAD) include selling 1,200 stores and allowing 100 Rite Aid executives to jump over to Fred's. The company is also considering unloading some buildings at Rite Aid's HQ in Camp Hill, Pennsylvania, to Fred's (NASDAQ:FRED) to sweeten the deal. Fred's confirmed its interest in acquiring the stores during its earnings conference call last week. Shares of Fred's were up 11% last week.
Amid a routine probe into whether Alphabet's Google (GOOG, GOOGL) is complying with anti-discrimination laws, the Department of Labor found the company systematically pays female employees less than their male counterparts. Company officials deny the claim, saying that the Department of Labor has't provided any data to back up the allegation.
Members of the Porsche-Piech clan that controls Volkswagen (OTCPK:VLKAY) will no longer be eligible to serve as executives of the carmaker, Porsche (OTCPK:POAHY) Chairman Wolfgang Porsche told Frankfurter Allgemeine Zeitung. His comments come after Ferdinand Piech sold the bulk of his stake in Porsche, which owns 52.2% of the voting shares in VW, to his younger brother Hans Michel Piech.
The U.S. box office continues to hum right along. Fox (NASDAQ:FOXA) and Dreamworks Animation movie Boss Baby took in $26.3M over the weekend, and now stands at close to $90M since its debut. Disney's (NYSE:DIS) Beauty and the Beast raked in $25M to edge closer to $1B worldwide. Smurfs: The Lost Village stumbled in with a $14.1M opening. The U.S. box office is up 5.5% to $3.198B this year through April 9 to top most estimates from media analysts. Next weekend, Universal's (NASDAQ:CMCSA) The Fate of the Furious is expected to bring in over $100M for its debut.
On the corporate calendar, the lockup expiration for shares tied to the Planet Fitness (NYSE:PLNT) secondary offering is today. Management roadshows for Clearside Biomedical (NASDAQ:CLSD), Concert Pharmaceuticals (NASDAQ:CNCE) and Curis (NASDAQ:CRIS) could add to volatility. Shareholders with TIO Networks (OTC:TNCGF) are due to vote on the company's acquisition by PayPayl (NASDAQ:PYPL).