U.S. Futures Flat as Investors Seek Clues on Economy

Dollar and Oil Gain as Risks Linger
U.S. futures and European stocks were little changed Monday at the start of a week that investors hope will deliver fresh clues on the strength of the U.S. economy.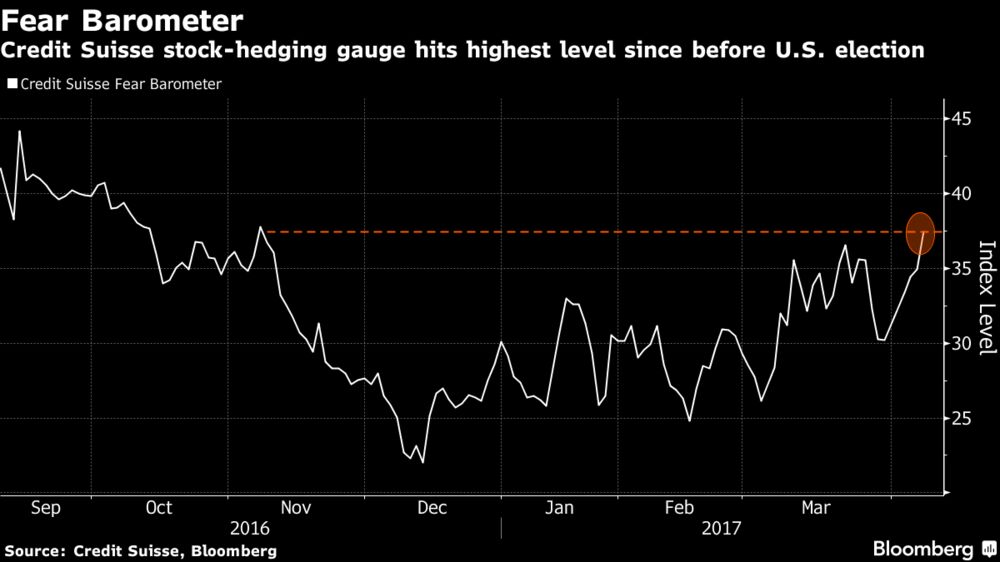 A Credit Suisse gauge tracking how much investors are paying for equity protection has rallied.
Investors are contending with a number of crosscurrents as they consider whether U.S. stocks can push back toward the record highs reached in early March says the WSJ
Since then, the Dow Jones Industrial Average has dropped over 2%.
Futures for the S&P 500 reversed an advance after an American aircraft carrier bound for Australia was diverted to North Asia, sparking a selloff in South Korea on speculation the U.S. could take a more aggressive stance against its northern neighbor, informs Bloombreg.
Global stocks falling as investors weigh looming security risks.
Top U.S. officials dialed up their criticism of Moscow and blasted Syrian leader Bashar al-Assad, heightening tensions in advance of Rex Tillerson's visit to Moscow this week, says the WSJ.
The dollar edged higher with Treasuries and oil advanced.
French bonds retreating ahead of the election.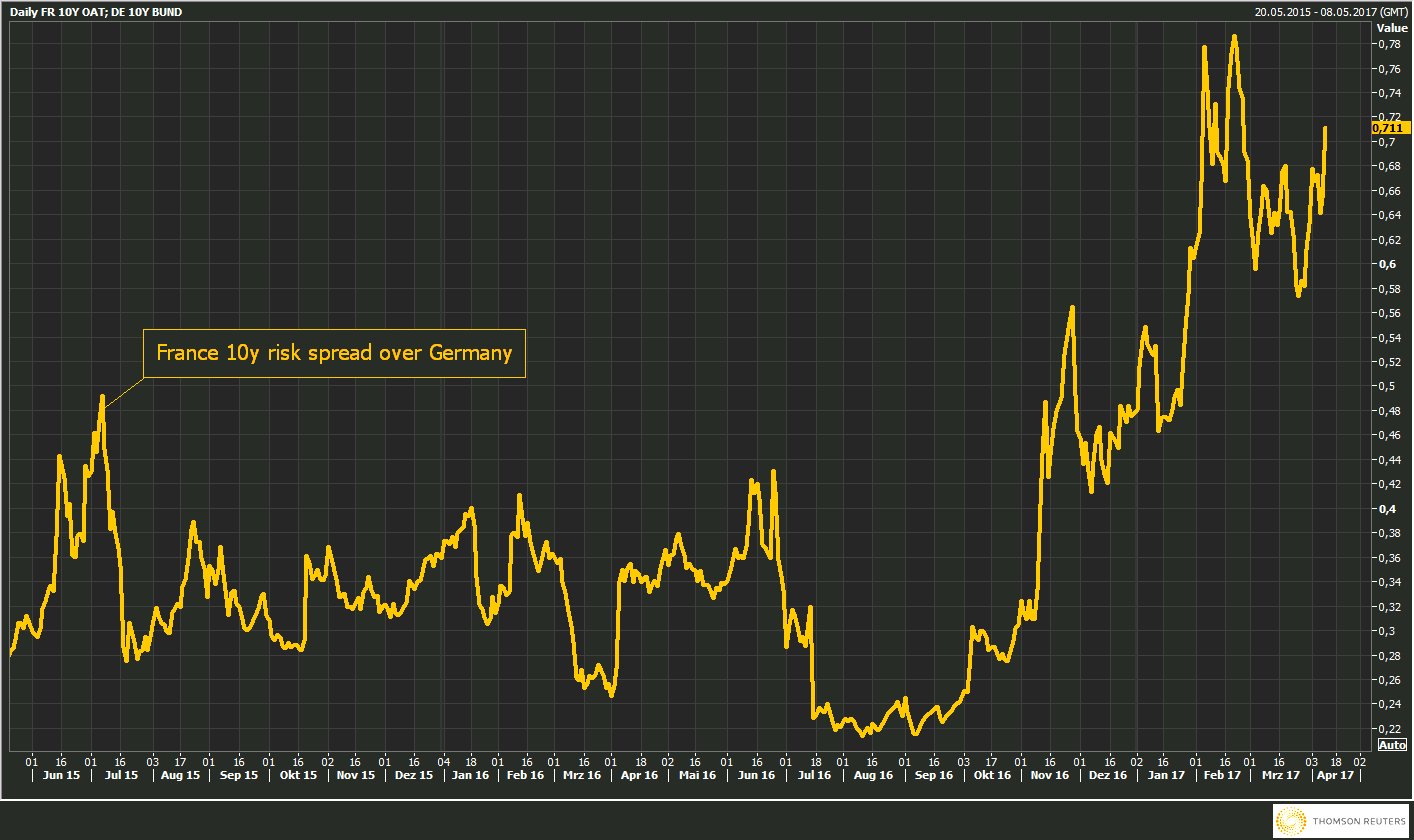 France risk premium over Germany jumps as odds for an 'apocalypse scenario' w/ far-right Le Pen vs far-left Melechon in 2nd round has rise
The main focus this week is likely to be the U.S. corporate earnings season, with investors looking for solid company results to propel stocks higher.
"The market is looking for a validation of this stronger growth story, both in the U.S. and around the world," said David Stubbs, a global market strategist at J.P. Morgan Asset Management. "As long as we see that, there's nothing to stop the market from going higher."
This week  also:
U.S. bank earnings also begin with Citigroup, JPMorgan and Wells Fargo early Thursday.
U.S. Secretary of State Rex Tillerson will meet with Russian counterpart Sergei Lavrov in Moscow, and is expected to press the Kremlin about chemical weapons in Syria.
Fed Chair Janet Yellen speaks Monday in Ann Arbor, Michigan. Fed Bank of Minneapolis President Neel Kashkari will participate in a Q&A at a meeting of the Minnesota Business Partnership on Tuesday.
The U.K. economy is in focus. Inflation probably slowed in March, tomorrow's report may show, though the headline rate should pick up in coming months. Employment figures are likely to have remained steady on Wednesday, while wage growth slowed.
Main markets moves:
Currencies
The Bloomberg Dollar Spot Index added 0.1 percent at 8:27 a.m. in New York, after advancing 0.3 percent on Friday. The euro weakened 0.2 percent.
Stocks
The MSCI All-Country World Index fell 0.1 percent, while the Stoxx Europe 600 Index was little changed. France's CAC 40 Index dropped 0.4 percent.
Futures on the S&P 500 rose 0.1 percent. The underlying gauge lost 0.3 percent last week.
Bonds
The yield on 10-year Treasuries was little changed at 2.39 percent, after climbing four basis points on Friday.
France's 10-year yield rose four basis points to 0.93 percent. That compared to the bund benchmark yield at 0.23 percent, little changed from the previous session.
Commodities
Gold fell 0.4 percent to $1,249 per ounce.
West Texas Intermediate crude rose 1.3 percent to $52.93 a barrel, after climbing more than 1 percent in each of the previous two sessions. WTI has gained for five straight days, the longest winning streak of the year.
Iron ore futures slipped 2.1 percent after falling into a bear market on Friday.
Asia
Equities in Tokyo and Sydney climbed with traders in the Asia Pacific region taking their first chance to react to worse-than-forecast U.S. hiring data.
The Kospi slipped the most in more than five weeks and the won was one of the biggest losers among major currencies as geopolitical concerns lingered in South Korea.