Stocks  in Europe flat inching higher
U.S futures points to a flat opening fo S&P
Asia session ended mixed
Global stocks bounced back Wednesday from earlier losses prompted by geopolitical concerns, as investors' focus shifted to signs of strengthening economic growth.
The Stoxx Europe 600 Index rose for the first day in three, boosted by auto shares after Daimler said first-quarter profit almost doubled on surging demand.
Global equity markets are entering a key period, with the earnings season ramping up against a backdrop of mounting geopolitical tensions around Syria and North Korea as well as elections in Europe.
Demand for havens sees gold hit $1,275 an ounce, Vix tops 15, despite no drop in the S%P 500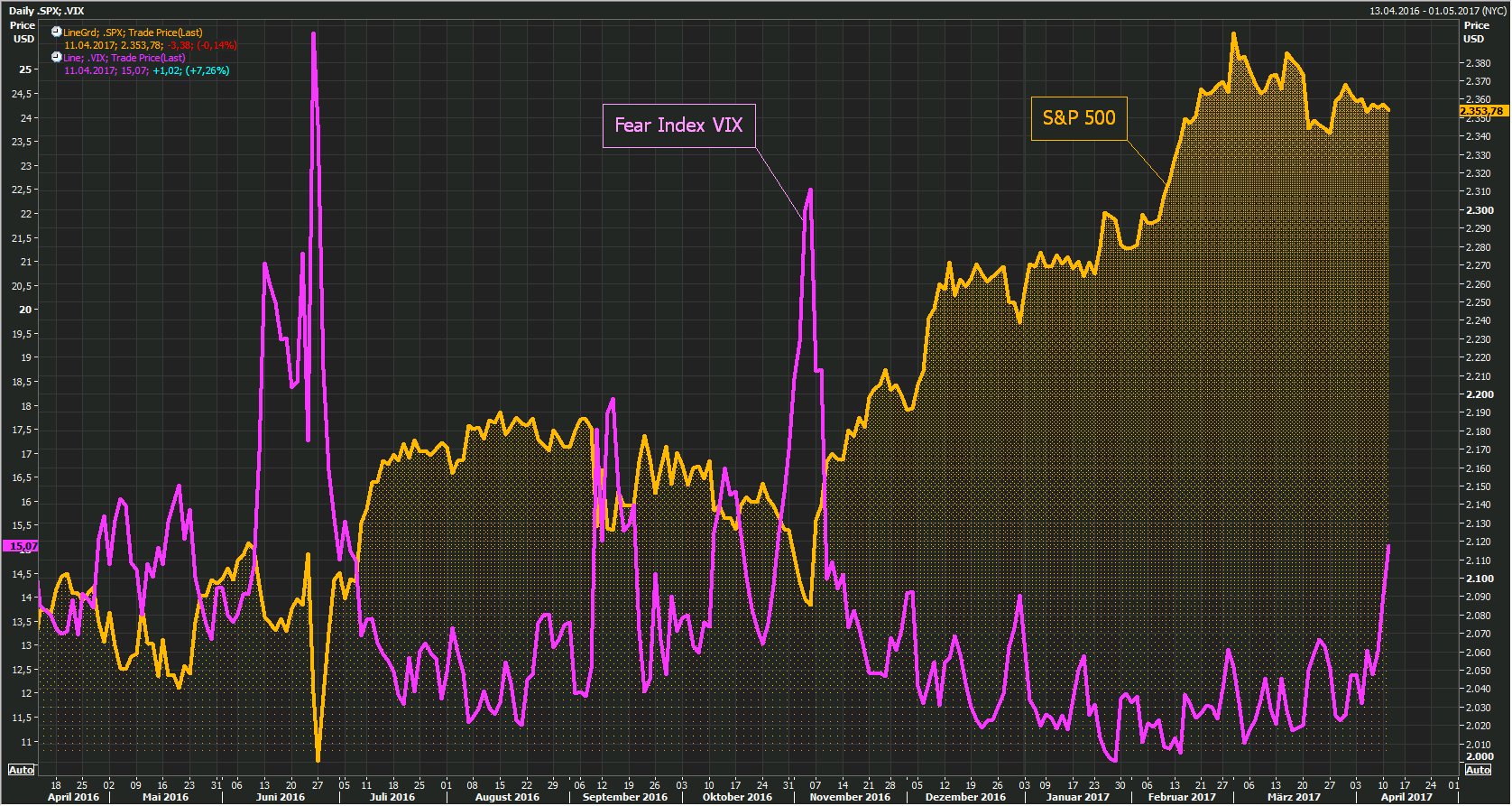 Meanwhile, Chinese President Xi Jinping called on the U.S. for a peaceful resolution with North Korea, which has warned it would launch a nuclear attack if provoked by the United States, as a U.S. Navy strike group headed toward the western Pacific.
US 10y yields drop to lowest in 5 months amid risk aversion.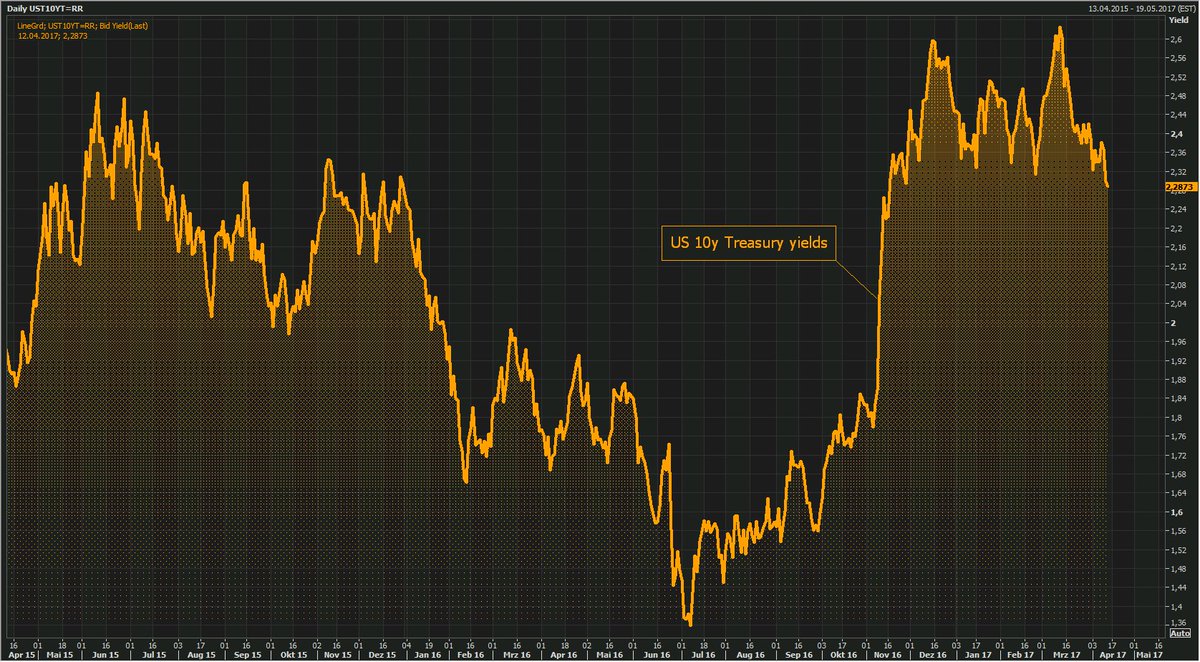 UK: Inflation outpaced regular wage growth in February
Brexit blow to workers as real pay starts to fall again
Frances O'Grady, general secretary of the TUC, has called on the Prime Minister to "act urgently" to avoid a new living standards crisis.
She said:
Pay packets are taking a hammering from rising inflation and falling wage growth. We now need urgent action to stop another living standards crisis. Working people will want to know when Theresa May is going to do something to help.

We need more investment in skills and infrastructure to build strong foundations for better paid jobs. And it's time to scrap the pay restrictions hitting midwives, teachers and other public servants.
Taking the month of February alone (the ONS prefers to use a three-month rolling average), regular pay growth excluding bonuses was just 1.9%, well below the 2.3% inflation rate.
Stokcs
Wall Street's rally off session lows on Tuesday, and the pick up in S&P 500 futures, is helping the pan-European stock market climb 0.6 per cent, helped by a broad range of sectors.
Earlier in Asia, Tokyo bore the brunt of a stronger yen, with the Topix index shedding 1 per cent as energy and financials struggled. Toshiba dropped 1 per cent a day after warning of "substantial doubt" about its ability to stay in business.
Hong Kong's Hang Seng index was up 0.9 per cent, while on the mainland the Shanghai Composite fell 0.5 per cent as recently rallying infrastructure stocks lost momentum.
Commodities
Oil prices are continuing their rally, with Brent crude up 0.7 per cent to $56.60 a barrel, the benchmark's most expensive level since March 7. West Texas Intermediate, the main US contract, is up 0.5 per cent to $53.69, also its highest price in five weeks. Brent fell below $50 a barrel on March 22 amid fears that Opec production cuts were being counteracted by increased US output. But oil bulls are back in control after the US missile strike on Syria highlighted the potential for supply disruption in the Middle East.
Currencies
The Bloomberg Dollar Spot Index was little changed as of 11:25 a.m. in London.
The euro was also steady at $1.0602 after gaining for two days.
The yen fell less than 0.1 percent to 109.68 against the dollar, erasing an earlier gain of 0.3 percent.
Asia

South Korean stocks and the won gained for the first time in seven days, and Hong Kong equities erased losses to rally in late trading.
Japan's Topix fell to the lowest level of the year as exporters and banks tumbled on the yen's earlier strength.