Safe Havens seen higher on GeoPol stresses
Dollar lower, Treasuries steady, Gold climbing
Yen strengthens 
China stronger data internal policies working
With many markets closed , Dollar, Yields, Futures Under Pressure Following Weak US data,after Friday's disappointing CPI and retail sales data and the weekend's North Korea jitters, the mood has stabilized in light trading with Asian stocks advancing, Europe mostly closed for Easter Monday and S&P futures fractionally lower at 2,325 in early New York trading.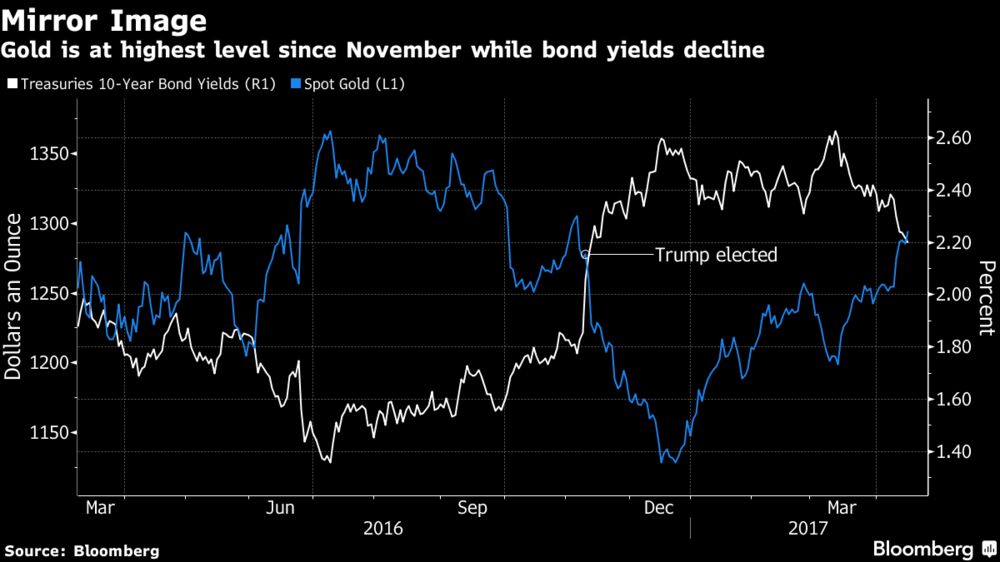 Macro news have been piling up over the past long week end from U.S. inflation data shaking prospects of Fed ´rate hikes pace, to North Korea tensions on ballistic missiles, and the Turkey questioned outcome referendum. Investors will be bracing for more to come as French presidential elections first round where Macron and Le Pen likely to dispute first round and corporate earnings season maturing.
Higher growth returned to China as policies to stimulate the economy gathered steam even as Beijing juggled measures to rein in financial risk.
China reported growth of 6.9% in the first quarter, its fastest pace since the third quarter of 2015, fueled by credit and infrastructure spending as well as a stubbornly booming property market informs the WSJ.
Economists say they expect the momentum to carry the world's second-largest economy into the second quarter before running out of steam. "They banked growth in the first half, so they can afford to have it slow later," said IHS Markit economist Brian Jackson.
1 trillion yuan=$145.2 billion *A measure of overall lending †January-February data combined. Sources: Wind Info (financing); WSJ analysis of Wind Info data; National Bureau of Statistics (GDP growth)
China's central bank has gradually tightened credit using short-term lending instruments, wary of rapidly rising debt and growing speculation in asset markets. That, along with increased mortgage and purchase restrictions, are expected to weaken the property market in coming months—which accounts for 25% to 30% of China's economy including related industries, according to DBS—with knock-on effects for construction and raw-material firms.
Today's Markets
In Asia, Japan +0.1%. Hong Kong -0.2%. China +0.1%. India -0.1%.
In Europe, at midday, London closed for holiday. Paris closed for holiday. Frankfurt closed for holiday.
Futures at 6:20, Dow -0.1%. S&P -0.1%. Nasdaq -0.1%. Crude -0.8% to $52.76. Gold +0.2% to $1291.50.
Ten-year Treasury Yield Flat at 2.21%.
Stocks
Ant Financial raised its offer for MoneyGram International (NYSE:MGI) to ~$1.2B, winning the backing of MGI's board as it beat out a rival offer from Euronet Worldwide (NASDAQ:EEFT). Ant, the finance affiliate of Alibaba (NYSE:BABA), increased its bid to $18/share in cash from $13.25, and agreed to assume or refinance MGI's debt; EEFT last month offered $15.20/share for MGI. Ant could still face potential political obstacles, with U.S. lawmakers urging the Committee on Foreign Investment in the U.S. to conduct a full review of the deal.
In a first for the company, Apple (NASDAQ:AAPL) has secured a permit for autonomous vehicle testing in California, joining a number of rivals, including Google (GOOG, GOOGL). Tesla (NASDAQ:TSLA), Uber (Private:UBER) and General Motors (NYSE:GM). The move shows Apple progressing beyond testing on private tracks and simulators, and it will open the firm's heavily secretive self-driving car effort (named Project Titan) up to more public scrutiny, as reports will now need to be filed with the state. For Google's part, its Waymo operation has driven more than 2.5M miles on public roads, including about 636K miles in California. It is also testing autonomous cars in Washington, Arizona and Texas.
An out of control well in Alaska's Prudhoe Bay has stopped leaking oil but continues to spray natural gas, operator BP and state authorities say. Crews have been unable to fully shut down the well on Alaska's North Slope, which was discovered on Friday; the amount of oil that had been released reportedly is "minor" compared with the volume of natural gas leaking from the well. BP's Prudhoe Bay operations account for ~55% of Alaska's oil and gas production. The Trans-Alaska pipeline system, which runs from Prudhoe Bay south to Valdez, is not affected by the incident and is operating normally.
United Airlines is changing its policy on booking its own flight crews onto its planes following the recent fiasco in which a man was forcibly dragged off an overbooked flight to clear a seat for an airline employee. UAL says it will ensure that crews riding on its aircraft as passengers are booked at least 60 minutes before departure, avoiding the removal of passengers from their seats after already boarding the plane. Competing airlines are following with their own changes; Delta (NYSE:DAL) customer service agents are now authorized to dole out as much as $2,000 to a passenger who gives up a seat, while a high-level supervisor can pay out as much as $9,950 in some cases. Meanwhile, a couple on the way to their wedding this weekend claims they were kicked off their United flight.
Expect drug price growth to slow, Barron's cover story says, noting that investors should be wary of "serial price-hikers" who could find it tough to keep up with Wall Street forecasts as a result. Since 2008, prices for the most commonly used branded prescription drugs have soared 208%, compared with a 14% rise in consumer prices. Until recently, investors have fared well with shares of AbbVie (NYSE:ABBV), Amgen (NASDAQ:AMGN) and Biogen (NASDAQ:BIIB), but now they should consider companies like Regeneron Pharmaceuticals (NASDAQ:REGN) and Vertex Pharmaceuticals (NASDAQ:VRTX) that are increasing revenue by launching new drugs and growing patient populations, Barron's says.
BJ's Wholesale Club is putting itself up for sale, and Amazon (NASDAQ:AMZN) has expressed "modest internal interest," according to the NY Post. BJ's recently scrapped ambitions for an IPO because of Wall Street's growing worries over the retail sector, so CVC Capital Partners and Leonard Green & Partners, the buyout firms that took BJ's private six years ago, are pressing ahead for an outright sale that could fetch more than $4B, according to the report. Buyout firms are expected to take a look, while AMZN is said to have also recently discussed evaluating BJ's as an acquisition target, but the report says it is not known if the company actually would bid on the chain if it goes on the block.
A weekend NY Times article describes Vanguard's exceptional growth. In the last three calendar years, investors sank $823B into Vanguard funds, in a scale that becomes clear when it is compared with the rest of the mutual fund industry – more than 4,000 firms in total. All of them combined took in just a net $97B during that period, Morningstar data shows. Vanguard, in other words, scooped up about 8.5x as much money as all of its competitors. Vanguard's assets under management have skyrocketed to $4.2T from $1T seven years ago, according to the company, with ~$3T invested in passive index-based strategies and the rest in funds that rely on an active approach to picking stocks and bonds.