European Stocks firm ,French yields fall
Markets complacent on French election as expect Macron ultimately on Top
European and Asian stock markets mixed after Wall Street rally-
Global markets appeared mostly calm on Friday, before the first round of France´s tight presidential election, after a scare on the streets of Paris, with  French bond yields hitting a three-month low and the euro treading water.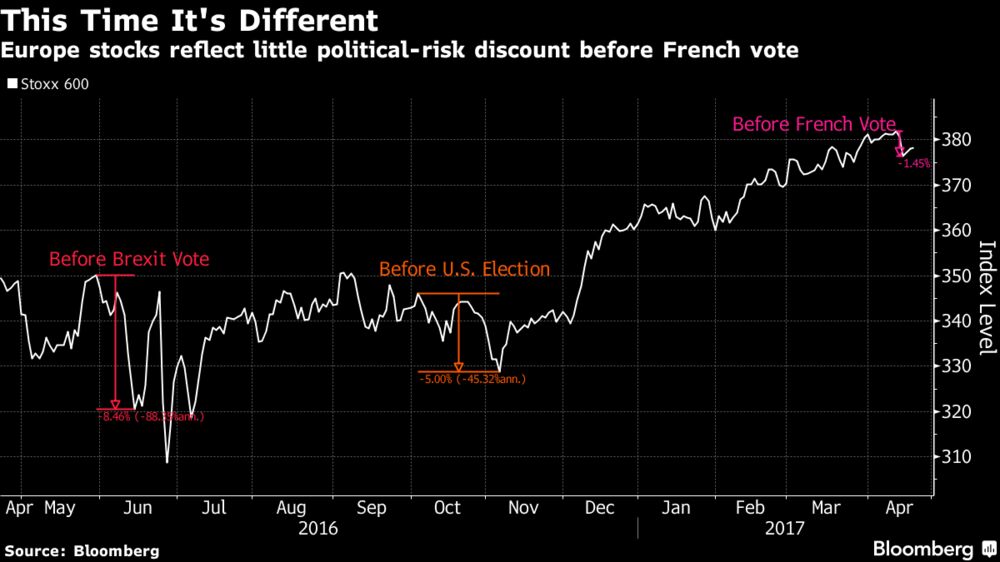 In a departure from the selloffs that preceded the U.K. referendum last June and the U.S. election in November, European stocks are showing little investor concern in the run-up to the French presidential election. That's because the Stoxx Europe 600 Index is pricing in expectations of a pickup in global growth rather than a political-risk discount, strategists at Deutsche Bank AG wrote in a note.
But with about 30% of voters undecided where its vote will go, the uncertainty scenario is as present as ever with all the post surprises that can materialize given that undecided vote.
Traders said this was on concern the attack could sway the vote in favor of far-right anti-immigrant candidate Marine Le Pen, whose anti-European Union stance is of concern o many in the markets.
Although falling yields usually indicate investors seeking safety, in the case of the election uncertainty lower French yields imply a more steady-as-she-goes approach to the future.
Investors seem relatively confident that while Le Pen might well win enough votes on Sunday to make the second round on May 7, she will then be comfortably beaten, probably by the market-friendly, centrist candidate Emmanuel Macron.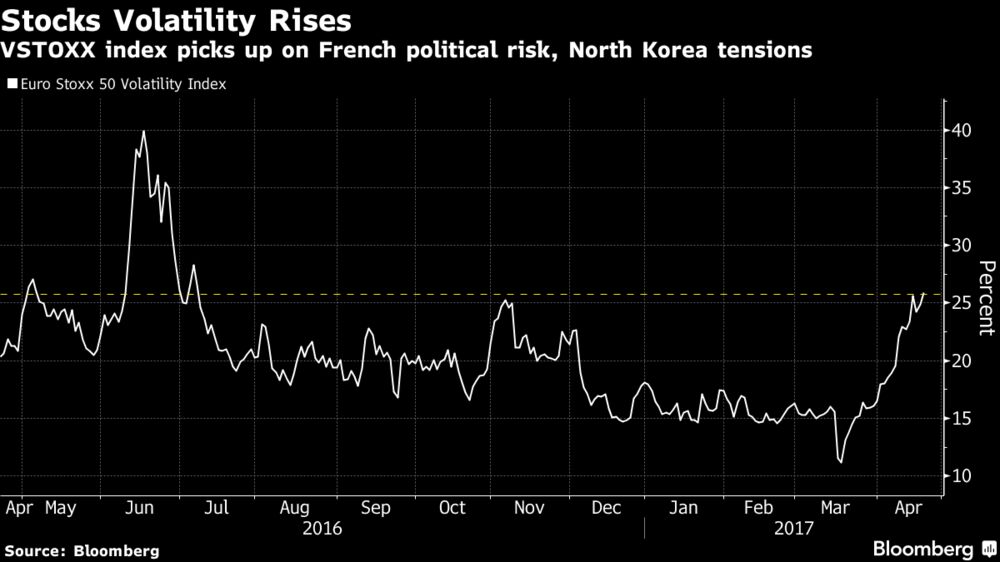 Heightened stock volatility has been spurred by investors' need to protect against political risk into and following the first round
Asian stocks ended the week on a positive note, unscathed by a U.S. trade probe on Chinese steel exports.
Japan's Topix capped its best week since early February after BOJ Governor Haruhiko Kuroda said he will keep accommodative policy in place.
Asian equities have been some of the weaker performing markets of late with Topix -6.7% and SHCOMP -3.6% from their respective '17 highs. Much of the move off the highs in the Topix coincided with the expected strengthening of the Yen as they have a long established strong negative correlation.
Donald Trump is now facing headwinds from US business: 162 tech companies, including industry giants Amazon, Uber and Google parent-company Alphabet, filed a brief with the federal appeals court in Virginia to protest the administration's restrictive travel laws. Good! A modern company offers not only products but also values. And enlightened capitalism is not just about making profit but also about taking a stance.
Asian markets and U.S. stock futures advanced slightly as officials said President Donald Trump would sign three documents Friday to advance his administration's push to reduce tax and regulatory burdens.
Main markets moves:
Stocks
Futures on the S&P 500 rose 0.1 percent as of 8:34 a.m. in New York. The underlying gauge rose 0.8 percent Thursday, with American Express surging nearly 6 percent to pace gains in the financial group after its results topped estimates.
The Stoxx Europe 600 gained 0.3 percent, while miners posted the biggest advance of 1.1 percent.
Currencies
The Bloomberg Dollar Spot Index was little changed and is poised for a weekly decline of 0.2 percent.
The euro weakened 0.2 percent to $1.0698. Sterling also fell 0.2 percent to $1.2787.
Bonds
French 10-year yields were little changed at 0.93 percent. Bunds gained, with the yield on the benchmark due in a decade one basis point lower at 0.24 percent.
Treasury yields were little changed at 2.23 percent.
Commodities
West Texas Intermediate little changed at $50.73 a barrel. Gold fluctuated before little changed at $1282.40 per ounce
Iron ore futures climbed 5.1 percent.