Global Markets keep rising on European euphoria.
Safe assets on sale : gold , yen Bunds down
Yields gap on French German Gov Bonds tightens further
Trump Wants Tax Plan to Cut Corporate Rate to 15%
S&P Futures Rise To Within 1% Of Record
"Markets have pretty much priced out the risk of a Le Pen victory, and rightly so, because the first round of the elections has shown that the polls in France were correct…and this increases the confidence in the polls for the second round…It's highly likely that (Macron) is going to win." said at Commerzbank.
European shares measured by the STOXX 600 index edged up by 0.2 percent, after rising 2.1 percent on Monday. French shares  pulled back 0.1 percent, having risen 4.1 percent on Monday in their biggest daily gain since August 2012.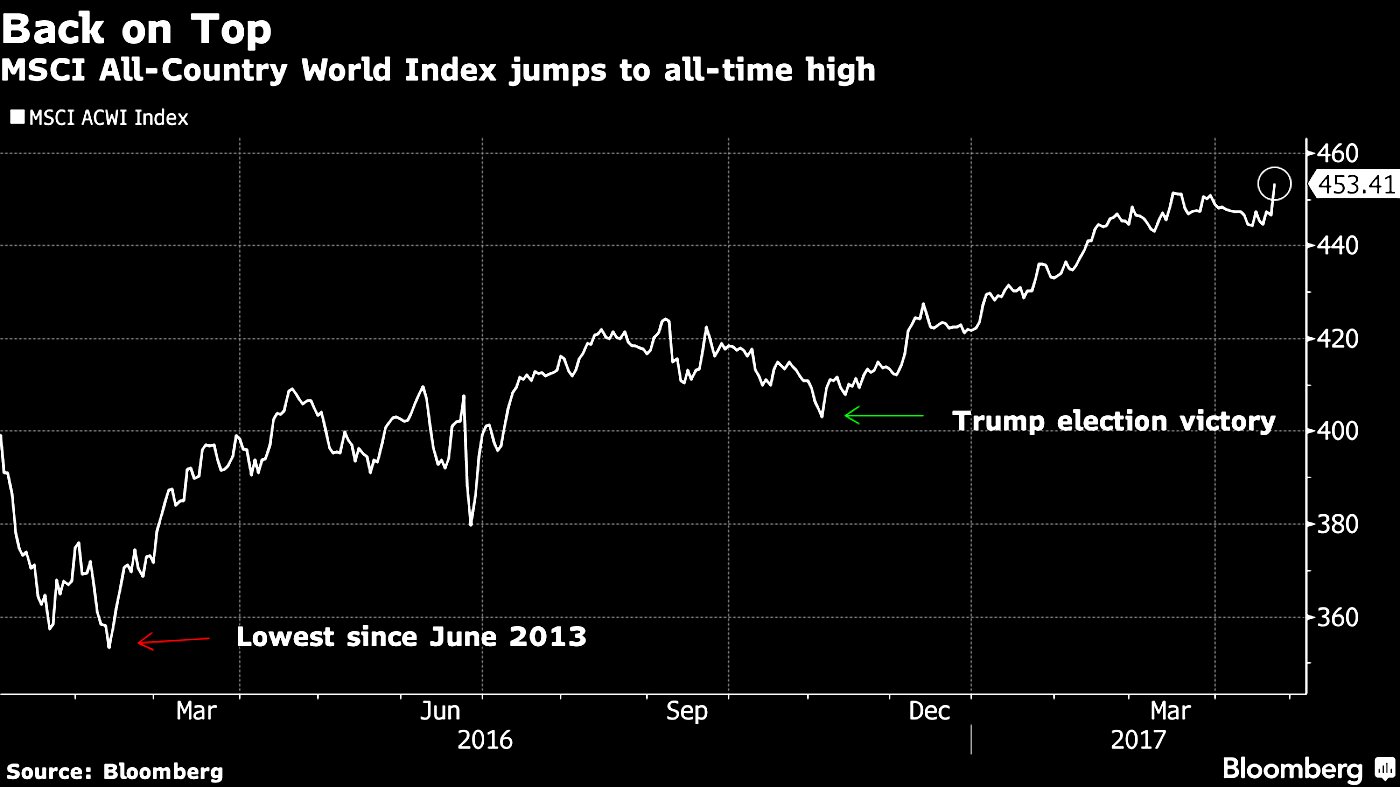 MSCI All World Index hits fresh life-time high as markets euphoria persists after French vote. Risk sentiment also boosted by Trump tax cut hope…
French – German bond spreads tightened dramatically.
Global markets cheered the French election results as sentiment shifted to "risk-on." Here is how the major asset classes performed.
MSCI's broadest index of Asia-Pacific shares outside Japan rose 0.6 percent, hovering near its highest level since June 2015 hit earlier in the session, on its fourth straight day of gains.
Japan's Nikkei .N225 rose more than 1 percent to a three-week high. South Korea's KOSPI .KS11also advanced 0.7 percent to its highest level since April 2015.
These gains helped push MSCI's world stocks index, comprising shares from 46 countries  to a fresh all-time high after chalking up its biggest rise since shortly after Britain's vote last June to leave the European Union.
Trump Wants Tax Plan to Cut Corporate Rate to 15%
The WSJ informs that President Donald Trump has ordered White House aides to draft a tax plan that slashes the corporate tax rate to 15%, even if that means a loss of revenue, according to people familiar with the directive.
Trump plans to cover the drop in corporate tax with tariffs on imports
Mr. Trump's call for a 15% corporate tax rate puts him below the low end of recent proposals. Former President Barack Obama sought a 28% rate for most companies. A 2014 Republican plan had a 25% corporate rate. And House Republicans want a 20% rate, with the cost covered by including a border-adjustment feature that taxes imports and exempts exports. Mr. Trump's White House has sent mixed messages about whether it would support the border-adjustment plan.
The gap in corporate tax rates between the U.S. and other countries is smaller under a measure that looks at taxes as a share of income after deductions and other breaks, also known as the average rate. In 2012, the U.S. average tax rate was 29%, according to a recently released CBO study. That still ranked third-highest in the G20, and the U.S. rate was more than 10 percentage points above Australia, Canada, Germany and the U.K.
The actual tax rates paid by companies vary widely, with global high-tech and pharmaceutical companies paying relatively low rates and retailers and primarily domestic firms paying higher rates.
Other markets movers this week, from Bloomberg
Alphabet Inc., Microsoft Corp., Amazon.com Inc., Twitter Inc., Intel Corp., Credit Suisse Group AG, Barclays Plc, Bayer AG, Daimler AG and Total SA are among major companies releasing results this week.
The Bank of Japan is widely expected to keep the settings on its monetary easing program unchanged at the end of a two-day policy meeting on Thursday. Though inflation remains well below the central bank's 2 percent target, it's ticking up.
The European Central Bank sets monetary policy later that same day. With officials indicating little chance of a policy change, the focus will be on any signals from President Mario Draghi that the ECB is starting to discuss an exit from its extraordinary stimulus.
U.S. GDP is due at the end of the week. It's projected to show the economy expanded at a 1.0 percent annualized rate in the first quarter, the weakest pace in a year.
Stocks
The Stoxx Europe 600 Index gained 0.3 percent as of 6:25 a.m. in New York. The gauge jumped 2.1 percent to the highest since August 2015 on Monday.
Stocks in Japan and Hong Kong led a rally in Asia, jumping more than 1 percent. China equities climbed from a three-month low on speculation that a selloff over concerns of a regulatory crackdown were overdone. Australia and New Zealand were closed for Anzac Day.
Futures on the S&P 500 added 0.2 percent. The index climbed 1.1 percent Monday to within 1 percent of its all-time closing high.
Currencies
The euro rose 0.1 percent to $1.0892 after touching the highest level in five months yesterday.
The yen fell 0.6 percent to 110.43 per dollar. The currency dropped 0.6 percent in the previous session.
The Bloomberg Dollar Spot Index added 0.1 percent, after slipping 0.5 percent Monday.
The Canadian dollar dropped 0.4 percent as Trump intensified a trade dispute with Canada, slapping tariffs of up to 24 percent on imported softwood lumber.
Bonds
U.S. bonds headed for a fifth day of declines, with yields on 10-year Treasuries climbing three basis points to 2.31 percent.
The yield on French 10-year notes rose three basis points to 0.86 percent, after tumbling 11 basis points in the previous session.
German benchmark yields added four basis points to 0.37 percent.
Commodities
Gold lost 0.4 percent to $1,271.15 after slipping 0.6 percent on Monday.
Oil advanced 0.4 percent to $49.43, rebounding from six straight days of losses before U.S. government data that's forecast to show crude stockpiles fell for a third week.