Europe Stocks advance: strong earnings in banking, energy
France election contender MAcron and corporate results send stocks higher
Market prices in Fed June rate hike
Worries over China: metals and oil oversupplied 
European stocks and S&P 500 futures climbed Thursday on upbeat corporate results and even some see signs of a firming economy, and it seems that a  steep drop in commodity prices have been left aside brushing it off.
the drop in iron ore prices was the biggest so far this year.
Iron ore traded in China plunged limit down (-8%) in the afternoon session, with Rubber also limit down (7% lower), and steel rebar, coke, coking coal tumbling over 6% on concerns a crackdown on Wealth Management Products and shadow banking in general – in addition to the worst service sector PMI print in nearly a year – could result in a hard-landing for the Chinese economy (something both PIMCO and Kyle Bass warned about in the past 24 hours)
The Euro Stoxx 50 index gained for a third day and the Stoxx Europe 600 and FTSE 100 also headed higher after first-quarter earnings from companies including HSBC Holdings Plc and Royal Dutch Shell Plc beat analysts' estimates.
A rebounding European economy and a string of upbeat earnings are prompting firms from Morgan Stanley to Deutsche Asset Management to boost allocations to the region's stocks.
"We see more value in Europe versus the U.S.," Deutsche Asset's global head of research Phil Poole said in an interview with Bloomberg
Helping European risk sentiment was the polls for the French election showing the more stablishment backed Macron ahead of far righr Le Pen,  sent short-term French bond yields to their lowest in five months, with encouraging euro zone data also helping the mood.  The most recent Oddschecker data showed that the market now gives Macron a 90% probability of victory.
Yields on 10-year German government bonds rose to 0.365% from 0.327% on Wednesday while French yields edged up a bit less to 0.756% from 0.737%. Investors had sold French debt and bought German debt earlier in the year to protect against the chance that the country could elect a euroskeptic candidate and ultimately leave the currency union. Yields move inversely to prices.
The WSJ Dollar Index, which tracks the dollar against a basket of currencies, was last down 0.1% after rising 0.5% on Wednesday. U.S. 10-year Treasury yields rose to 2.335% Thursday from 2.309%.
A Caixin reading on China's service-sector activity hit its lowest level in nearly a year for April on Thursday, adding to concerns about the country's economic health, though it remained in expansion territory.
"China has been gradually but appreciably tightening credit," said Tina Byles Williams, chief investment officer at FIS Group, noting that is slowly showing up in economic data and metal prices. "I don't see catastrophe, but I do think there's a lot of complacency in emerging market assets around China," she said.
Events
As Brexit talks begin, the European Union is expected Thursday to publish legislative proposals that would force London's euro clearing operations to either accept EU oversight or relocate to the continent.
Voters in France go to the polls Sunday for the second round of presidential elections.
Main moves in markets, from Bloomberg :
Currencies
The Bloomberg Dollar Spot Index fell 0.1 percent as of 10:33 a.m. in London, after gaining 0.4 percent Wednesday. It weakened against all but two of its Group of 10 peers.
The euro added 0.4 percent to $1.0927, while the pound gained 0.3 percent.
The yen lost 0.1 percent to 112.75 per dollar.
Stocks
The Stoxx Europe 600 Index advanced 0.4 percent, while the FTSE 100 jumped 0.3 percent.
Futures on the S&P 500 Index rose 0.3 percent.
Commodities
Iron-ore futures slid 5.3 percent.
Copper futures dropped 0.4 percent extending Wednesday's worst tumble since 2015.
Oil declined 0.7 percent to $47.46 a barrel.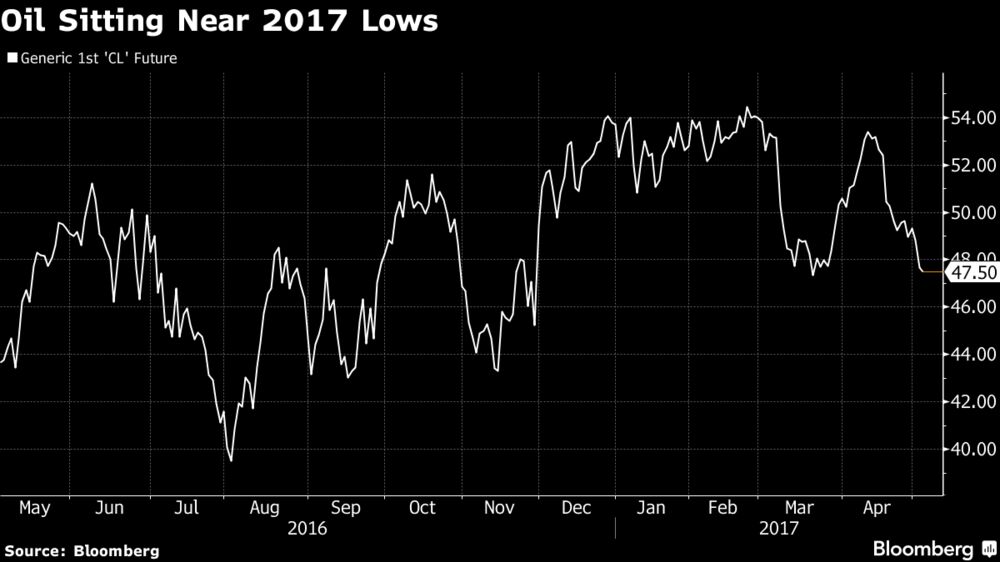 Copper retreating: Copper was among the biggest losers Wednesday, falling as much as 3.6 percent after stockpiles climbed more than expected.