Stock markets mixed as S&P 500 stalls below 2,400
European stocks declines on corporate results
U.S. stock indexes pulled back Thursday, dragged by disappointing earnings results that weighed on shares of consumer discretionary companies.
"Right now, there's a sense that things are pretty good economically and from an earnings perspective, and that should continue" said Brad McMillan, chief investment officer at Commonwealth Financial Network.
"Investors are more willing to move into the market, and less skittish to downturns."
Among clients, "we're starting to see retail investors wanting to take more risk," he added to the WSJ.
Stocks fell in Europe as investors locked in gains on this year's strong run, and raft of corporate results. While companies including Telefonica, UniCredit and Maersk reported good earnings,the Stoxx 600 climbed this week to highest on record,trading paterns were signaling a pause, Bloomberg reports.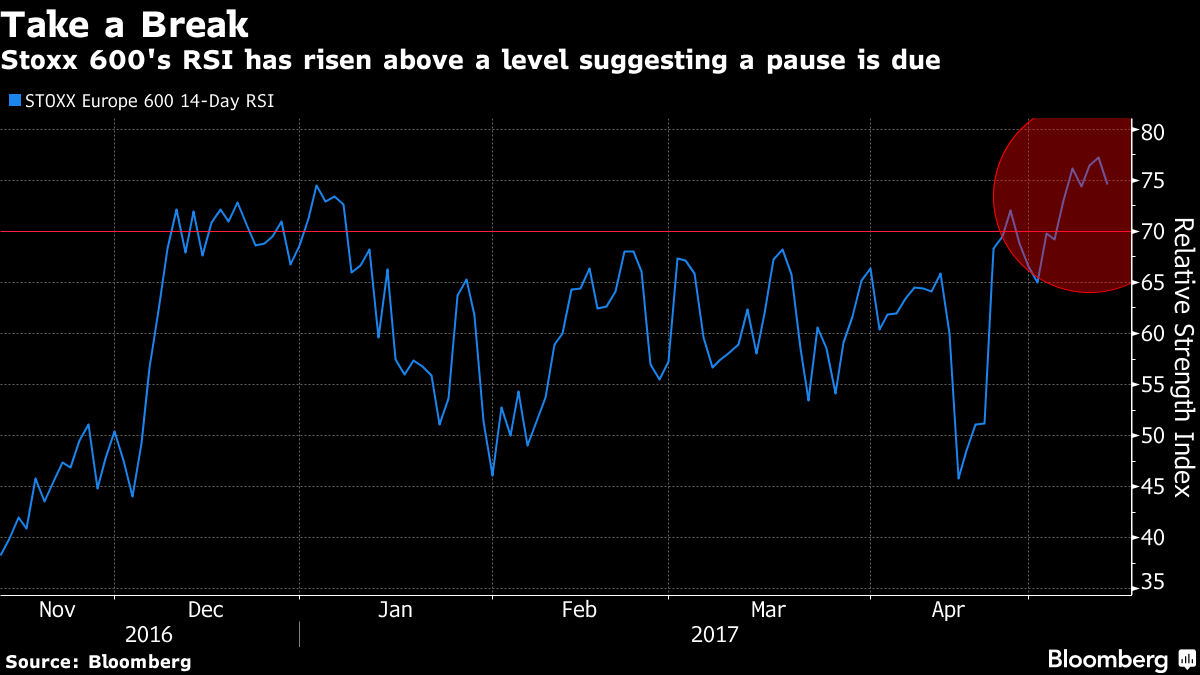 The RSI provides a relative evaluation of the strength of a security's recent price performance, thus making it a momentum indicator. Traditional interpretation and usage of the RSI is that RSI values of 70 or above indicate that a security is becoming overbought or overvalued, and therefore may be primed for a trend reversal or corrective pullback in price
The pan-European STOXX 600 index fell 0.5 percent, led lower by financials. Asia-Pacific shares outside Japan, as measured by MSCI rose 0.4 percent and Japan's Nikkei rose 0.3 percent on Thursday.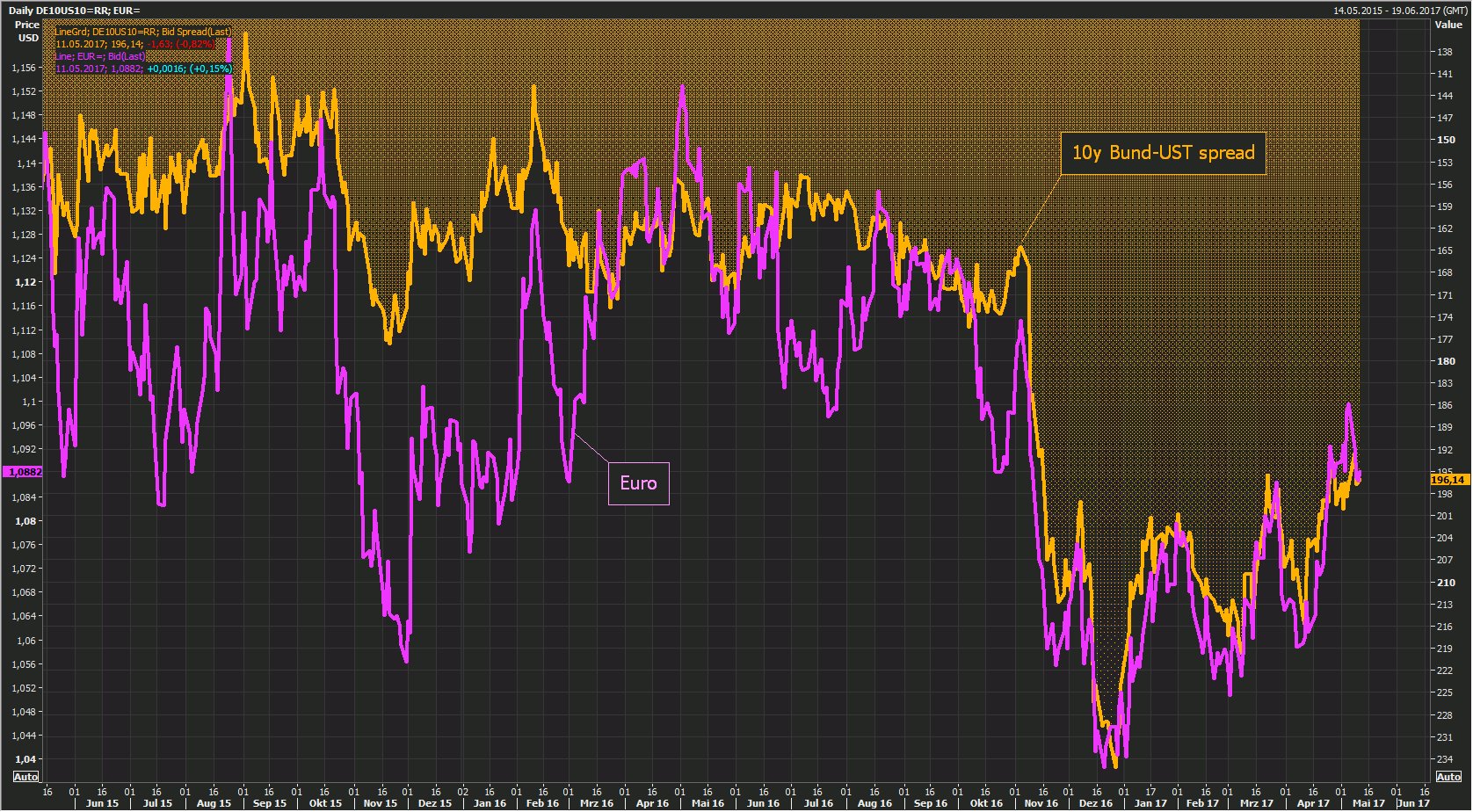 Euro rises to almost $1.09 as 10y Bund/UST yield spread keeps shrinking and Goldman has upped Euro forecast.
While company earnings and economic data are painting a picture of robust global growth and political risk has eased following France's presidential election, investors are showing a lack of conviction as global equities trade at record-high levels and volatility evaporates. "Investors are trying to make sense of contradictory forces," said Ben Kumar ( Seven Investment Management).
As stocks fell, government bonds strengthened, with the yield on the 10-year U.S. Treasury note slipping to 2.405%, according to Tradeweb, from 2.414% Wednesday. Yields fall as bond prices rise.
The Stoxx Europe 600 index is close to a level where previous ascents have repeatedly stalled. But earnings and global growth could help Europe keep climbing.
European earnings have been a disappointment for years now. But the first-quarter results season so far has been strong. Crucially, earnings estimates for 2017 have been upgraded slightly, while recent years have seen consistent downgrades by this point, Morgan Stanley notes. Unloved sectors have started to show signs of life: European bank stocks have outperformed this year; Spanish stocks, still far below their precrisis peak, are up 17%.
Europe should also benefit as a play on global growth, given the region's exposure to emerging markets. Even with some concerns emerging around China and commodities prices again, the global growth outlook is still solid.
At the peak in 2015, the Stoxx 600 traded on a lofty 17 times forward earnings; it is now at 15.6 times.  European companies need to keep performing and delivering.
Euro hike rate % probabilities in near term: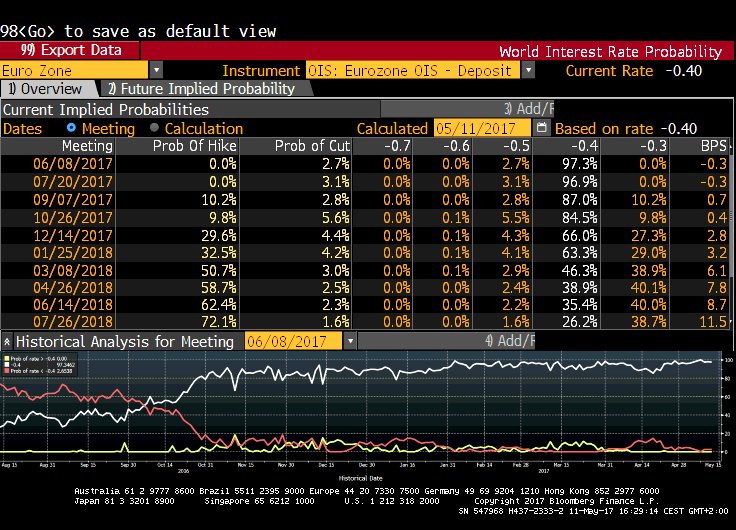 #ECB's Constancio says loose policy for longer is safer bet. Markets see first rate hike in Mar/Apr 2018
Main markets moves:
Stocks
The Stoxx Europe 600 fell 0.5 percent as of 8:45 a.m. in New York, after gaining 0.2 percent Wednesday to the highest level since August 2015.
Futures on the S&P 500 slipped 0.3 percent after the underlying gauge rose 0.1 percent Wednesday to an all-time high.
Currencies 
The euro fell 0.2 percent to $1.0845 as the Bloomberg Dollar Spot Index added 0.1 percent. Sterling lost 0.6 percent.
The kiwi fell 1.5 percent to 68.35 U.S. cents. The Reserve Bank of New Zealand kept its benchmark rate unchanged and said it will keep rates there for an extended period in expectation that inflation will slow.
The Canadian dollar dropped 0.7 percent after Moody's Investors Service downgraded six Canadian banks.
Bonds
The yield on 10-year Treasury notes fell one basis points to 2.40 percent after rising for the past three sessions.
German benchmark yields rose two basis points to 0.44 percent.
Commodities
West Texas oil rose 0.9 percent to $47.75 a barrel after jumping more than 3 percent Wednesday.
Gold added 0.1 percent to $1,220.88 following the longest losing streak since October.
Iron ore on SGX AsiaClear in Singapore fell as much as 4.5 percent to $59 a ton, the lowest since October amid a clampdown on leverage in China, the top consumer, and expanding global supply.
Asia
Asian equity markets climbed to multi-year highs, with South Korea reaching a fresh record while the Nikkei 225 Stock Average approached the 20,000 level. Chinese shares erased earlier losses.
The kiwi fell as much as 1.8 percent after New Zealand's central bank chief downplayed rising price expectations.