Oil rally lift stocks .

Crude rises as Russia, Saudi Arabia favor longer output deal.

S&P 500 futures pare advance as dollar retreats fourth day.

Puttin blames US security services over cyber attacks.
West Texas Intermediate jumped more than 3 percent after Saudi Arabia and Russia said they'd extend a production-cut deal longer than expected.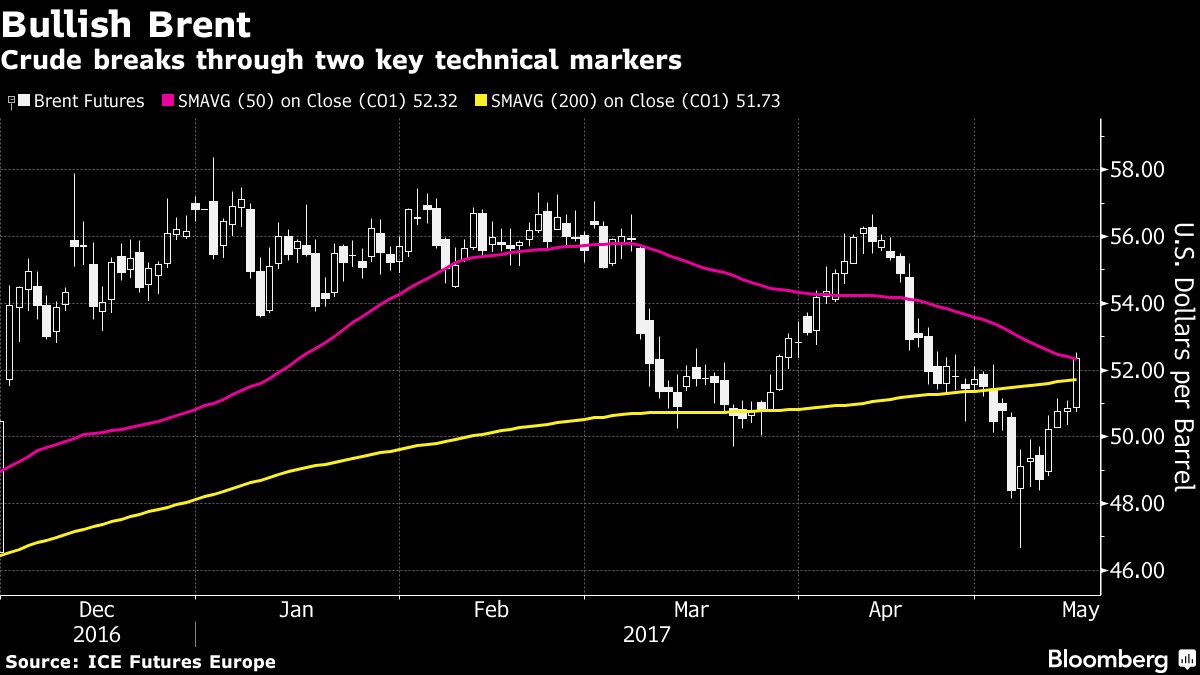 Oil futures rose sharply Monday. The benefits of stabilization will be seen by a waider joining countries and their effort, sais OPEC . The oil cartel is set to make a final decision about whether to extend the agreement at an OPEC meeting on May 25.
Today's Markets
In Asia, Japan -0.1%. Hong Kong +0.9%. China +0.2%. India +0.4%.
In Europe, at midday, London +0.1%. Paris -0.3%. Frankfurt -0.2%.
Futures at 6:20, Dow +0.1%. S&P +0.1%. Nasdaq flat. Crude +2.7% to $49.15. Gold +0.3% to $1231.90.
Ten-year Treasury Yield flat at 2.33%
PHOTO:

YONHAP/EUROPEAN PRESSPHOTO AGENCY
Governments and companies reported Monday more infected computers stemming from a global cyberattack that wreaked havoc through the weekend, as IT departments around the world kicked off a fourth day trying to determine the scope of damage and recover from it.
At least 150 countries hit by Wannacry cyber virus
More than 200K computer affected
UK´s NHS healh national service , Renault, FedEx, among companies affected.
The spread was easily spread due to the easy way to use it.
Russia had nothing to do with a massive global cyberattack, President Vladimir Putin said Monday, criticising the US intelligence community for creating the original software, AFP reports.
"As for the source of these threats, Microsoft's leadership stated this directly, they said the source of the virus was the special services of the United States," Putin said.
"A genie let out of a bottle of this kind, especially created by secret services, can then cause damage to its authors and creators," Putin said on the sidelines of an international summit in Beijing.
"This completely doesn't concern Russia."
The US has accused Russia in the past of mounting several cyberattacks.
Markets main movers:
Stocks
The S&P 500 Index rose 0.2 to 2,396.37 as of 9:32 a.m. in New York. It ended last week down 0.4 percent, its first loss since mid-April
The Stoxx Europe 600 retreated 0.2 percent as of 9:05 a.m. in New York, after touching the highest level since August 2015 last week.
Commodities
WTI jumped 3.5 percent to $49.54 a barrel, after climbing 3.5 percent last week.
Gold rose 0.6 percent to $1,235.43 an ounce, extending gains to a third day.
Copper increased 1.2 percent while aluminum rose 1 percent. Zinc added 1 percent after a three-day slide.
Currencies
The Bloomberg Dollar Spot Index slipped 0.4 percent after falling 0.4 percent Friday. The yen was little changed, and the euro added 0.4 percent to $1.0970.
The Australian and Canadian dollars strengthened 0.8 percent and the Mexican peso 0.9 percent, while South Africa's rand gained 1.4 percent.
Bonds
The yield on 10-year Treasury notes rose one basis point to 2.34 percent, after dropping six points Friday when the weaker-than-expected CPI report buoyed bond prices.
Benchmark yields in France rose three basis points and those in Germany climbed two basis points.
Asia
China shares trading in Hong Kong rallied to the highest level since March, as President Xi Jinping's plans for an international infrastructure program overshadowed data showing slower growth in factory output and investment.
Tokyo shares almost erased earlier losses as the yen weakened and investors assessed a wave of corporate earnings.
Stocks
JPMorgan has agreed to purchase a building in Dublin with room for 1,000 staff as Ireland continues a major campaign to attract firms in the wake of Brexit. It has been mainly competing with Paris and Frankfurt to attract financial firms. "This new building gives us room to grow and some flexibility within the EU," said JPMorgan's (NYSE:JPM) Carin Bryans.
Google is changing how it enforces its ad policies: AdSense will now remove adverts on a page-by-page basis, instead of targeting entire websites that violate its standards. Since Google (GOOG, GOOGL) and its publishers share ad revenue, the more "surgical" approach will mean more money for the both of them and fewer disruptions.
The FTC kicked off 2017 by targeting Qualcomm (NASDAQ:QCOM) over allegedly anti-competitive behavior, and unsurprisingly, companies the chipmaker competes with agree. Intel (NASDAQ:INTC) and Samsung (OTC:SSNLF) have filed briefs supporting the agency's lawsuit, stating Qualcomm uses its dominant position in the mobile processor industry to squeeze others out.
The WSJ claims that The Legend of Zelda will follow in the footsteps of Animal Crossing, Super Mario and Fire Emblem as the next big name Nintendo (OTCPK:NTDOY) franchise heading to your mobile device. But the titles have yet to add significantly to Nintendo's bottom line. It earned less than ¥20B ($176.4M) from smartphone games in the fiscal year ended March 2017.
Potentially derailing a much-needed capital injection, Western Digital (NYSE:WDC) is seeking international arbitration to stop partner Toshiba (OTCPK:TOSYY) from selling its chips unit without consent. A legal battle could delay or put an end to the auction that could fetch some $18B and has attracted suitors such as KKR, Foxconn (OTC:FXCOF) and Broadcom (NASDAQ:AVGO).
Despite the fresh setback, Toshiba (OTCPK:TOSYY) shares climbed 3.4% in Tokyo, buoyed by news that progress is being made towards capping some of its nuclear liabilities in the U.S. The owners of the unfinished Vogtle plant in Georgia – led by Southern Co. (NYSE:SO) – have come to a preliminary agreement to limit Toshiba's guarantees on the much-delayed power project at about $3.6B.
Scientific instruments maker Thermo Fisher is in talks to buy drug ingredients producer Patheon (NYSE:PTHN). An agreement could be announced as early as this week, Bloomberg reports, but there's no certainty a deal will be reached. Patheon is worth about $3.8B based on its current share price, while Thermo Fisher (NYSE:TMO) has a market value of about $67B.
Escalating a fight with UBER, Alphabet's (GOOG, GOOGL) Waymo has signed a collaboration agreement with LYFT to bring autonomous vehicle technology into the mainstream. The two will work on pilot projects and other product development efforts. The alliance also makes Waymo a GM partner, by way of Lyft's work with (and investment by) the auto giant.
SpaceX is aiming to launch a fourth Inmarsat-5 (OTCPK:IMASY) satellite into space tonight, marking the heaviest load lofted by a Falcon 9 rocket to date. The departure comes two weeks after the last SpaceX (Private:SPACE) mission, matching a three-year-old company record for the shortest time between consecutive launches. It's targeting two per month for all of 2017 and once a week by 2019.