Oil extended rally supporting Asia bourses holding close to record highs.
Asian stocks look stretched as they holds at two – year highs.
Euro hits highest exchange against dollar since Nov 2016.
European shares slip on Trump´s intelligence "sharing".
The dollar weakened for a fifth day and the euro surged to the highest since November after a report U.S. President Donald Trump revealed classified information to Russia's top diplomat. Crude extended gains as confidence grew that output cuts will be extended.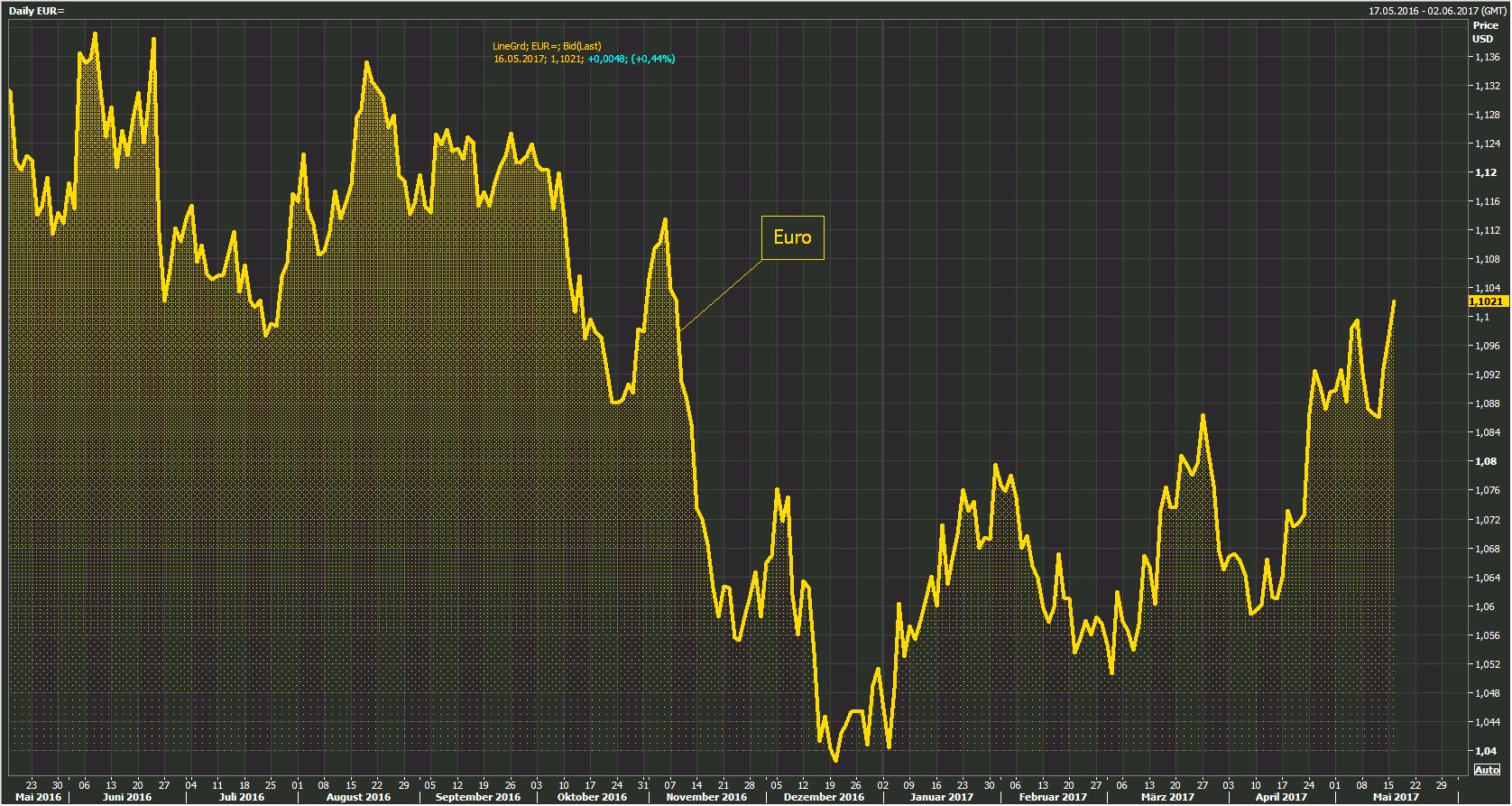 Euro just hits $1.1023, highest since Nov2016 ahead of GDP data.

Investors are now less bullish on the global reserve currency.
Domestic US issues are one contributing factor. Recent economic data suggest the world's biggest economy is emerging from another first-quarter soft patch with less vigour than hoped. Meanwhile, the ability of President Trump to deliver his mooted growth-boosting agenda is seen to be stymied by heightened political animus in Washington.
Reports that U.S. President Donald Trump shared intelligence secrets obtained from a close U.S. ally with Russia's foreign minister and ambassador last week could have knock-on effects for stocks, according to some analysts.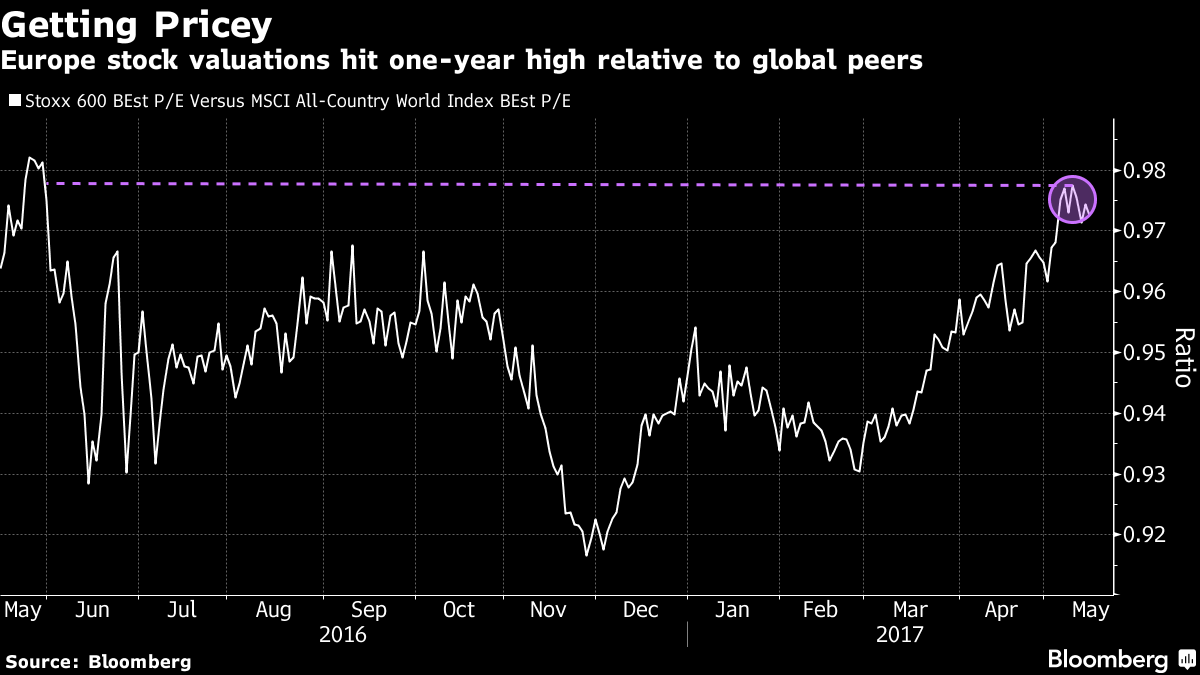 Investors have been watching Mr. Trump's legislative progress closely, less for its content, and more as a measure of how successful he is likely to be in passing broad tax reforms. In a plan proposed in April, Mr. Trump called for a 15% tax rate for all businesses.
"Without tax reform the market looks expensive. With it, the market perhaps isn't as expensive as it looks," said Andrew Acheson, portfolio manager at Pioneer Investments. "I think it is potentially vulnerable to disappointment or delay." says the WSJ.
U.K. inflation figures for April came in higher than expected at 2.7%, the highest reading since 2013. Analysts had expected consumer prices to have risen 2.6%.
Sterling rose to as high as $1.295 immediately after the figures were released, up 0.36% against the dollar, but the move was shortlived, with the pound back to $1.286 shortly afterwards, down 0.2%.
Eurozone GDP growth came in at 0.5% in the first quarter of the year, in line with what analysts had forecast, and unchanged from the reading in the fourth quarter of 2016.
Government bond yields were little changed in the eurozone, with 10-year German bund yields rising to 0.428%, after closing at 0.395% Monday.
In Asia-Pacific markets, Chinese stocks ticked higher, with the Shenzhen A Share index up 2.1%. Korea's KOSPI index ended up 0.2%.
Japan's Nikkei 225 index rose 0.25%, but closed just shy of the 20,000 mark, which it last reached in 2015.
A boost from commodity-exposed stocks lifted Australia's S&P/ASX 200 by 0.24%.
What to watch:
In the U.S., data on industrial production and housing starts are scheduled for Tuesday.
The IEA comes out with estimates of April OPEC production the same day.
OPEC's internal Economic Commission Board meets in Vienna Wednesday to discuss the market in preparation for the group's formal meeting on May 25.
Wednesday's U.K. labor report may reveal pay rose 2.1 percent, down from 2.2 percent.
Singapore exports and Malaysia CPI for April are also due Wednesday, and the Australian jobs report a day later.
Japanese GDP for the first quarter will be out on Thursday.
Commodities
West Texas Intermediate Oil added 0.7 percent to $49.19 a barrel, after surging 2.1 percent Monday. Crude is on the longest winning streak in more than a month.
Gold rose 0.3 percent to $1,234.10 an ounce, up for a fourth session.
Bonds
The yield on 10-year Treasuries was little changed at 2.34 percent after climbing two basis points Monday.