Global Markets Rebound ending a Volatile Week
Commodities and WS help Global stocks inch higher
European Shares follow Wall Street higher.
Just a few days after the biggest rout in US stocks in many months and after Brazil stock market triggered  all alarms  and a circuit braker  halted the market when  losses  wiped out almost 9% of Bovespa market cap, traders are back to work and looking the turmoil from the rearview mirror .
S&P futures are set for a green open, up 0.2%, in line with Asian and European markets, all looking to close the week on a positive note.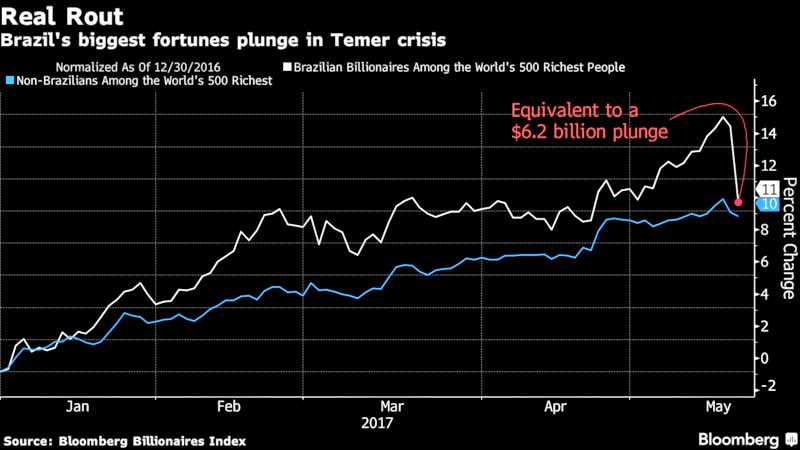 Some comparison of the losses that hit the Brazilian market yesterday; Brazil's biggest fortunes plunge $6.2bn after reports of leaked Temer testimony.
Fresh signs of a healthy economy and support from corporate earnings have also kept many investors encouraged about the stock market after this week's wobble. Shares of Deere climbed 6% in premarket trading after the company raised its sales growth and profits forecasts for the year , reports the WSJ
Stocks in Europe advanced, paring their worst week since November. Gold resumed gains after briefly halting a five-day rally, while the dollar fell as emerging-market currencies rebounded from a selloff sparked by calls for Brazilian President Temer to resign over allegations of cover -up.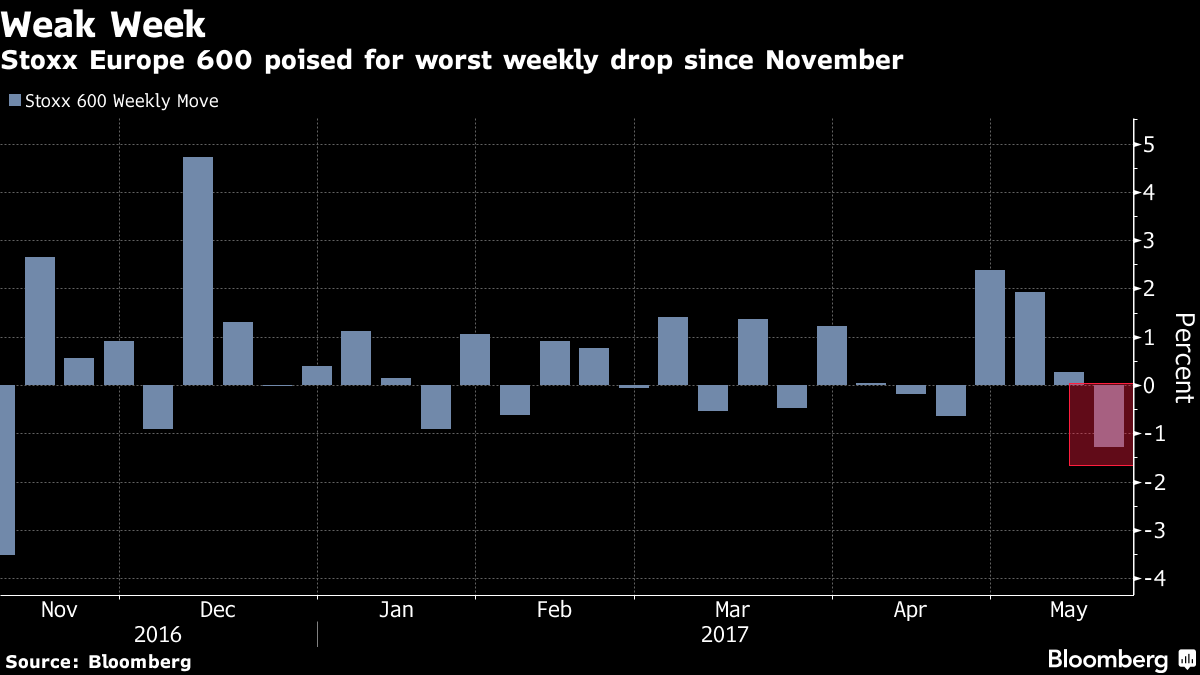 A climb in commodity prices supported the upbeat tone Friday, sending shares of energy and mining companies higher, in an eventful week so far for 2017 that started wit stocks at record highs but the saw one of the sharpest cross-assets routs in some time.
Safe-haven gold headed higher again for its best week since April and the dollar back on the slide after falling to its lowest level since Trump's U.S election victory in November.
One catalyst for today's return of optimism is crude oil, with Brent rising above $53, and WTI back over $50 for the first time since late April, on growing optimism grows that OPEC and other nations will extend output cuts at exporter group's meeting in Vienna next week.
"Everything has turned upside down – European political risks have faded, the economy is looking strong, while in the U.S. everybody is worried," said DZ Bank strategist Daniel Lenz, quoted by Reuters.
Asian stocks rose, with the MSCI Asia Pacific Index up less than 0.1%, with more stocks advancing than declining. Japan's Topix index climbed 0.3 percent, after sliding 1.3 percent on Thursday. The gauge lost 1.3 percent for the week. The Hang Seng Index rose 0.2% and the Shanghai Composite was little changed.
In government bonds,10-year Treasury yields rose to 2.248% from 2.233%, while German bund yields climbed to 0.370% from 0.349%. Yields move inversely to prices.
Greek 10-year yields fell to 5.645% from 5.667% after Greece's Parliament approved a raft of fresh austerity measures and economic reforms needed for a cash payment to meet upcoming debt obligations.
The WSJ Dollar Index, which tracks the dollar against a basket of 16 currencies, was down 0.4%. The euro was up 0.7% at $1.1178 while the British pound was up 0.6% at $1.3010.
Global Markets Snapshot this morning:
S&P 500 futures up 0.2% to 2,369
STOXX Europe 600 up 0.4% to 390.88
Nikkei up 0.2% to 19,590.76
Topix up 0.3% to 1,559.73
Hang Seng Index up 0.2% to 25,174.87
Shanghai Composite up 0.02% to 3,090.63
Sensex up 0.08% to 30,458.19
Australia S&P/ASX 200 down 0.2% to 5,727.41
Kospi up 0.07% to 2,288.48
German 10Y yield rose 1.5 bps to 0.358%
Euro up 0.4% to 1.1147 per US$
Brent Futures up 1.2% to $53.15/bbl
Italian 10Y yield fell 0.6 bps to 1.855%
Spanish 10Y yield fell 0.7 bps to 1.56%
Brent Futures up 1.2% to $53.15/bbl
Gold spot up 0.2% to $1,249.22
U.S. Dollar Index down 0.3% to 97.55
In Emerging Markets:
Trouble in Brazil meant worries for investors that have seen in this episode how quickly things can turn around in the emerging markets and what was seen as an upbeat tendency, has become the worst-case scenario reverting YTD gains .
Here a summary of Emerging markets currency moves: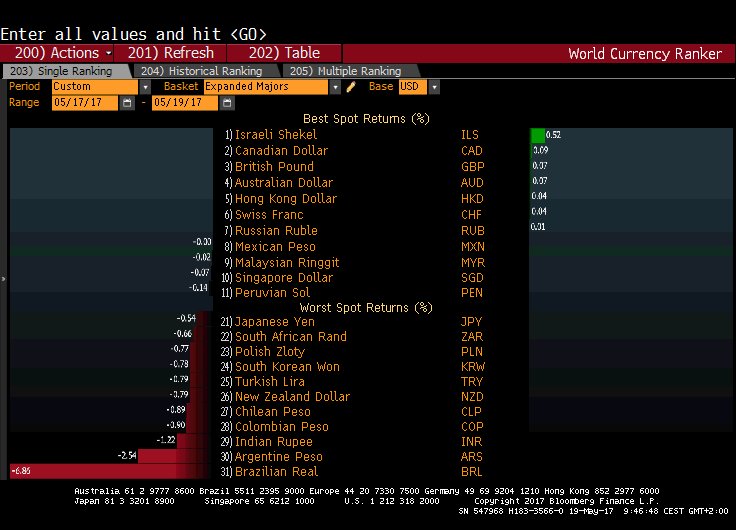 In Jakarta, stocks soared as much as 3 percent after S&P upgraded Indonesia to investment grade, revising its credit rating from BB+ to BBB-, stable outlook, due to better fiscal metrics.
Meanwhile Mexico Central bank has raised interest rates by a quarter percentage point Thursday, a further indication that the central bank is worried about rising inflation that hit an eight-year high last month.
The overnight interest-rate target now stands at 6.75%, the highest since March 2009. The central bank has raised the rate six meetings in a row since September.
Since September, the Bank of Mexico has raised rates by 2.5 percentage points, widening the spread between local and U.S. yields in an effort to make the peso more attractive for investors and avoid a persistently weak currency from making imports more expensive.
So far, economic growth seems not to have been affected by the interest-rate increases, as Mexico's exports benefited from a weak peso that makes local products more competitive abroad. Mexico's economy has shown resilience, expanding at an annualized rate of 2.4% in the first quarter, according to preliminary estimates.
The peso has recovered around 17% against the U.S. dollar since hitting a record-low level in late January, as investors have been more confident that a renegotiation of the North American Free Trade Agreement could benefit both the U.S. and Mexico. But observers don't rule out episodes of tension between the two countries in coming months. The Trump administration notified Congress on Thursday that it intends to renegotiate the deal, and formal talks are expected to begin as early as August.
But the central bank said private investments have been affected by the uncertainty over trade relations between Mexico and the U.S., clouding the growth outlook for the year.