Global stock markets firmer after rebound in Wall Street.
U.S. futures point to a flat opening looking for catalyst.
Sterling falls on Brexit fears.
Euro up as Merkel says €uro is too weak.
As speculation grows that production cuts  by OPEC will be extended into next year, oil price extended rally into its fourth day.
Crude climbed to the highest in a month as Saudi Arabia's energy minister said all producers participating in a deal to limit output agree on extending the cuts by nine months, reports Bloomberg.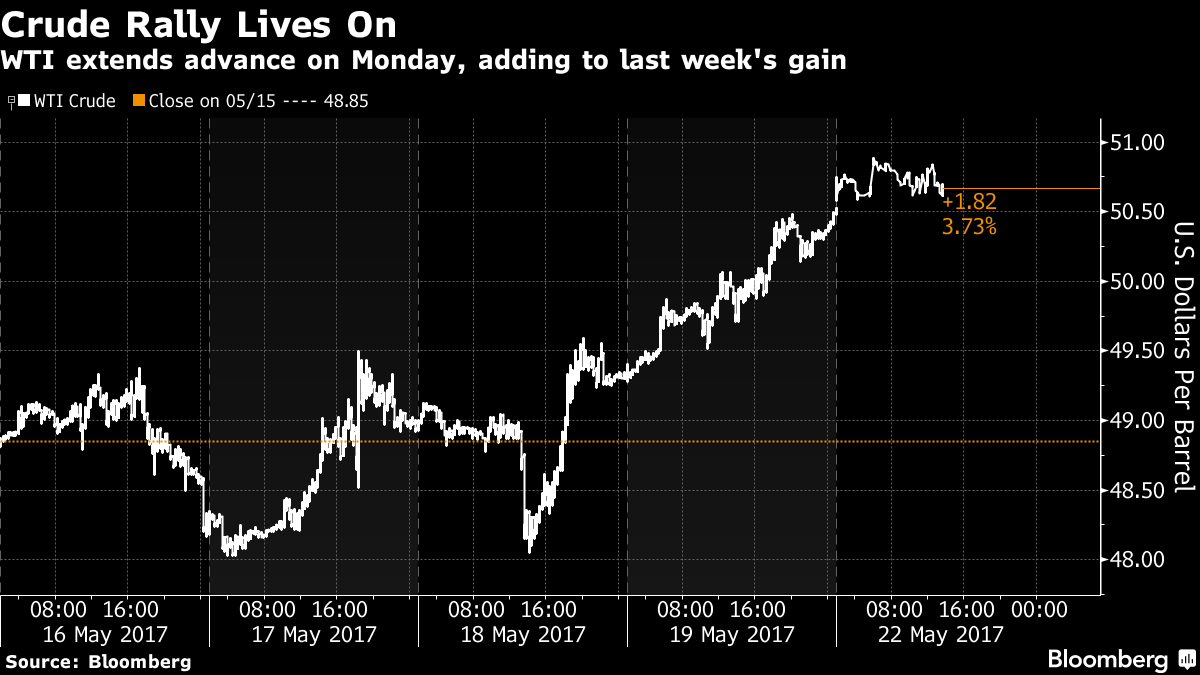 European shares, the euro and the pound all stumbled on Monday as rumblings in Spain, Britain and Brussels reminded investors that the region still has plenty of political uncertainty left in the tank for the rest of the year.
The euro  and Spanish stocks .IBEX and bonds all saw a soft start as one of the most outspoken critics of Mariano Rajoy's PP ruling and one of Europe´s  parties with more members being investigated by the judges on graft and corruption charges, and Spain's austerity policies returned to front the opposition Socialists.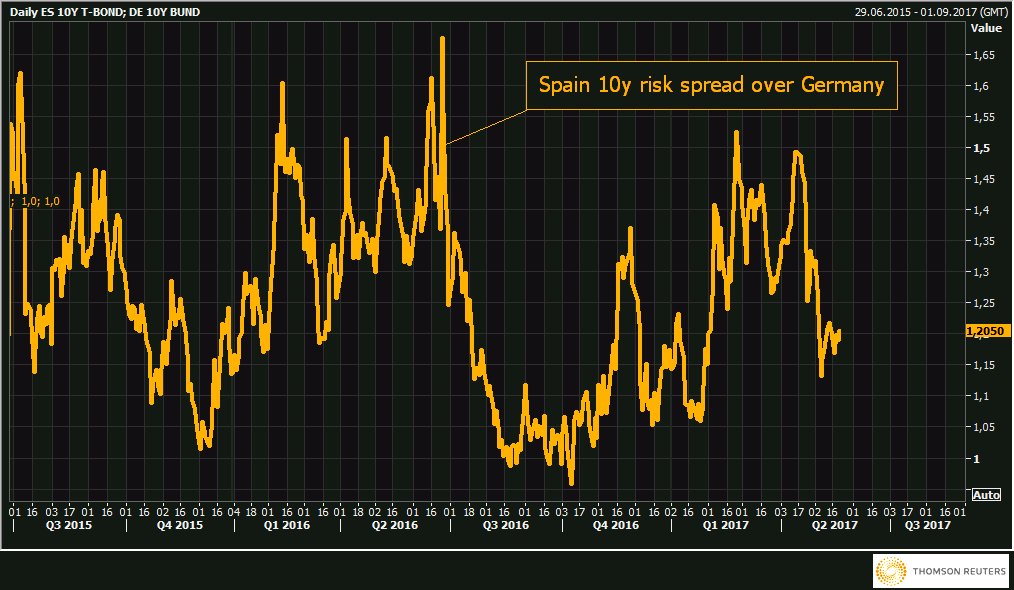 #Spain 10y risk premium over #Germany rises as hardliner Pedro Sanchez is back as socialist party leader after winning socialist primaries. Spanish 10Y spreads to German bonds rose as much as 4bps to 125 bps on the news, while the Ibex 35 index -0.3%, versus an unchanged print for the Stoxx Europe 600 index.
In Brussels, eurozone finance ministers will (once again) discuss Greece's bailout at a eurogroup meeting.
The Greek government is fervently hoping that they will agree to release crucial bailout loans, following the latest package of austerity measures approved by Greek MPs last week.
Greece faces €7bn of debt repayments in July, so it really needs fresh bailout loans pronto (so it can pay the money back to its creditors…).
The most important woman in the FX market: Euro jumps after German chancellor Merkel said that Euro is too weak.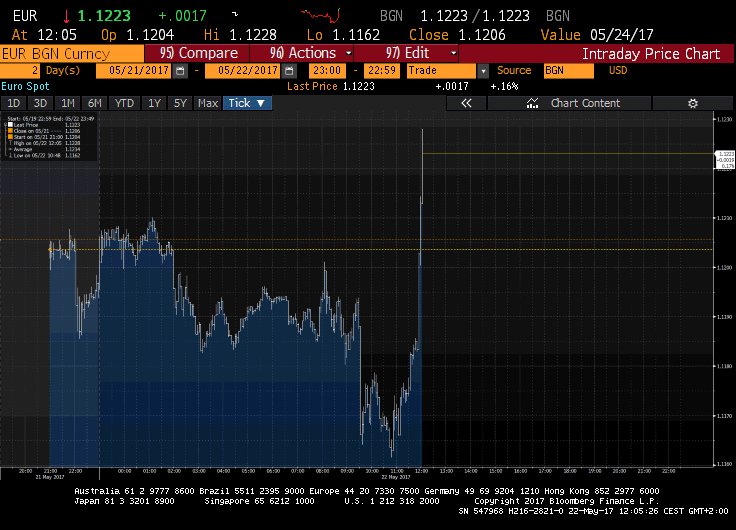 Merkel explained that Germany's record trade surplus was partly due to the European Central Bank's expansionary monetary policy, which has driven down the euro.
This chart, from Bloomberg, shows how the pound is suffering its biggest fall against the dollar since the start of May (the month, not the PM…)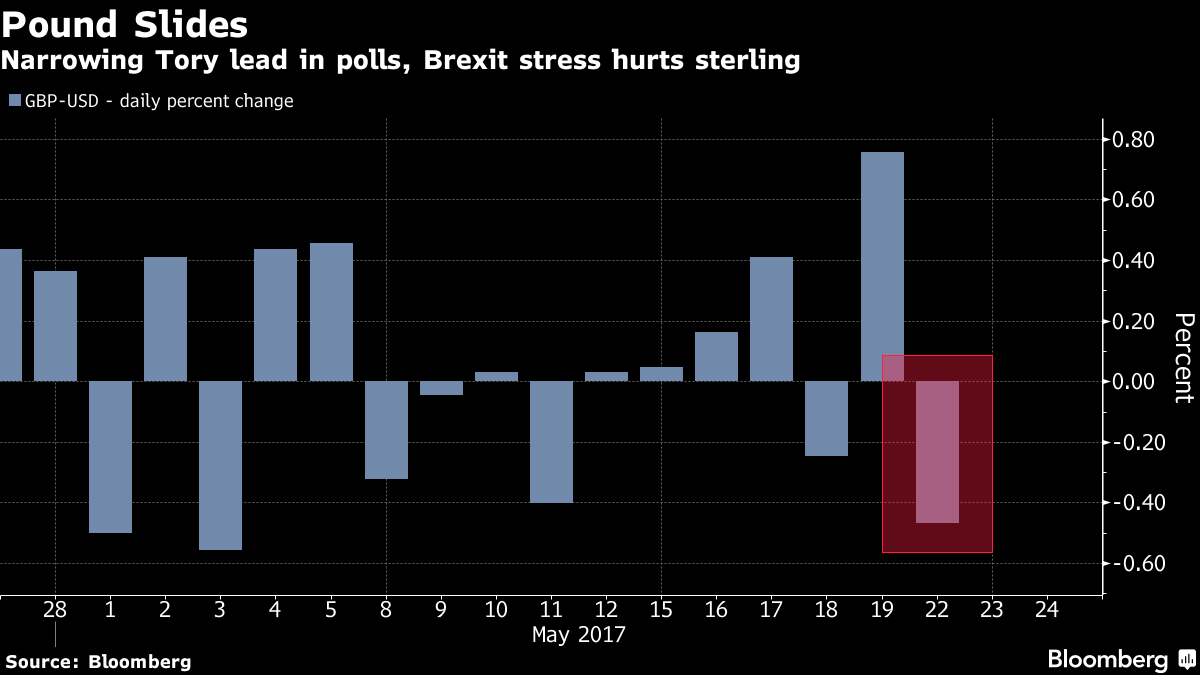 Sterling weakened against all its major peers as the latest Opinium Research survey showed the opposition Labour Party cutting May's Conservative Party lead to 13 points from 15 points a week earlier.
The pound fell 0.5 percent to $1.2974 as of 8:39 a.m. in London. The pair broke above the crucial $1.30 mark last week, reaching the highest since September, and closed above that level on Friday. Sterling weakened 0.2 percent versus the euro.
In Asia, early trading, a one-month high for oil and bounce in the dollar triggered Asia's best session in weeks overnight.
Japan's Topix gained 0.5 per cent, with Takata shares up by 17 per cent, their daily limit, as the airbag maker continued to rally after reaching a $553m settlement with carmakers relating to flawed airbags.
Hong Kong's Hang Seng advanced 0.9 per cent, pushed up by market heavyweight Tencent as the Chinese tech giant rose 2.8 per cent to a record high. However, mainland China's Shanghai Composite was down 0.5 per cent as brokerages and the real estate sector were pressured by increased government regulations.
Fixed income  Government bond prices are mostly softer, nudging yields higher, as the calmer tone across markets reduces demand for perceived haven assets.
The US 2-year bond yield, which is particularly sensitive to monetary policy, is up two basis points to 1.29 per cent ahead of Wednesday's release of the Federal Reserve's minutes from its latest rate-setting meeting.
Last week's market wobble caused investors to chop the probability of a Fed interest rate rise in June from a near 100 per cent certainty to about 80 per cent at one stage, according to Bloomberg calculations. It is back to 100 again and investors will be keen to see whether the minutes contain any commentary that would shift expected Fed policy trajectory.
Global Market Snapshot
S&P 500 futures little changed at 2,381.70
STOXX Europe 600 up 0.2% to 392.35
MXAP up 0.8% to 151.92
MXAPJ up 0.8% to 496.05
Nikkei up 0.5% to 19,678.28
Topix up 0.5% to 1,567.65
Hang Seng Index up 0.9% to 25,391.34
Shanghai Composite down 0.5% to 3,075.68
Sensex up 0.5% to 30,619.98
Australia S&P/ASX 200 up 0.8% to 5,771.21
Kospi up 0.7% to 2,304.03
German 10Y yield rose 0.3 bps to 0.371%
Euro down 0.3% to 1.1170 per US$
Brent Futures up 1% to $54.14/bbl
Italian 10Y yield fell 1.1 bps to 1.844%
Spanish 10Y yield rose 1.1 bps to 1.59%
Gold spot down 0.1% to $1,254.69
U.S. Dollar Index up 0.3% to 97.38