S&P 500 Index's fourth straight gain short of record peak
Euro down from 6 months peak vs dollar
Brent oil rises for fifth day in a row
Treasuries continue to lose ground
Firmer tone of dollar keeps gold subdued
Investors are looking ahead to the release of minutes of the Federal Reserve's May meeting on Wednesday.
Dividend-paying stocks lifted the S&P 500 Tuesday, putting it on course for a fourth consecutive session of gains.
The euro struggled to hold on to early gains against the dollar and sterling even as the latest batch of economic reports confirmed the eurozone's strong growth momentum of recent months.
European equities also had a broadly positive session while on Wall Street, the S&P 500 continued to inch back towards its recent record high. Oil prices maintained their firm trend ahead of this week's Opec meeting in Vienna but the mildly "risk-on" tone of the markets left the yen, gold and US Treasuries slightly lower.
The S&P 500 briefly topped 2,400 points for the first time since the markets' plunged last Wednesday. Since then, the three major indexes have risen for three straight session.
But that recovery stuttered on Tuesday as investors assessed the details of President Donald Trump's first full budget plan as well as some weak economic data.
Trump's budget called for a hike in infrastructure and military spending, but also a raft of politically sensitive cuts, including to healthcare and food assistance programs for the poor, with the aim of chopping government spending by $3.6 trillion and balancing the budget over the next decade.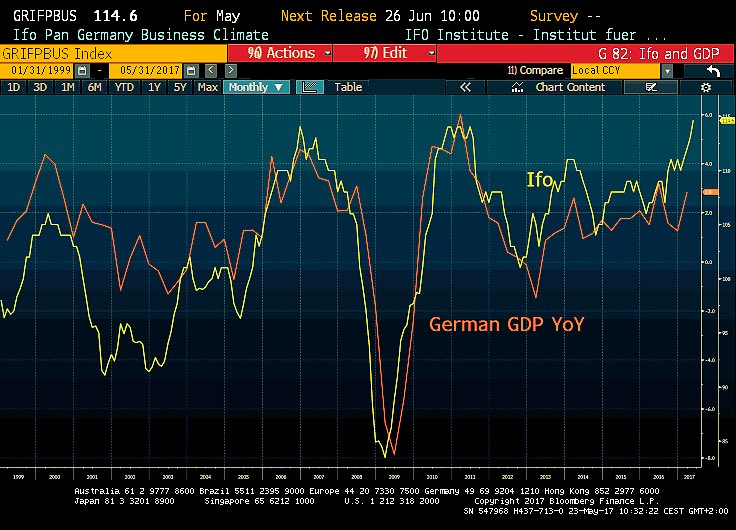 German business confidence at the highest level on record. Euphoric Ifo index points to GDP growth of 5% plus.
Confidence is building in the European economy, with data on Tuesday confirming the German economy is firing on all cylinders and France's is gathering momentum, while a euro-area Purchasing Managers' Index showed manufacturing in the bloc expanded at the fastest pace in more than six years. That's bolstering the case for investing in the region as political turmoil in Washington rumbles on, diverting attention from President Trump's spending and tax plans reports Bloomberg.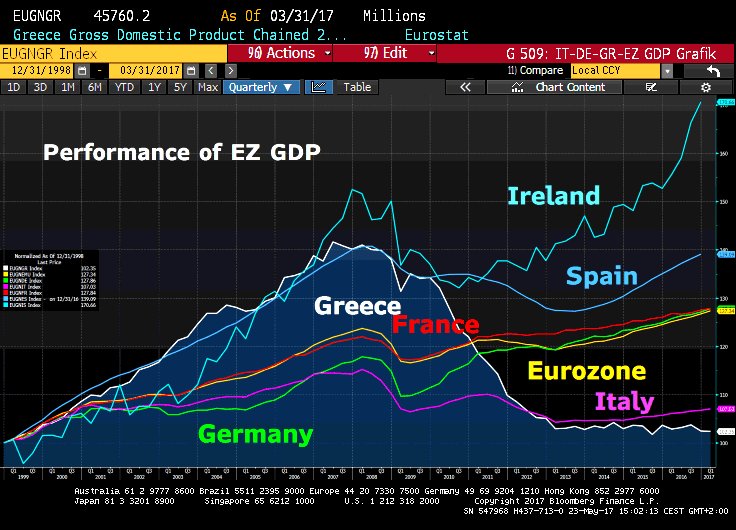 "Europe's growth numbers aren't knocking the skin off the ball, but they are less volatile and it's doing relatively well compared to the U.S., U.K. and Japan," said Bill Blain, head of capital markets at London-based Mint Partners. "More than a few global investors have lost faith in the U.S. recovery and Trump jump."
the Stoxx Europe 600 rose 0.2%, led by gains in shares of banks and technology firms, as investors looked past a blast at a concert hall in Manchester late Monday.
The British pound was 0.1% lower against the U.S. dollar recently, while some initial buying of havens such as government bonds from earlier in the session eased.
Asian markets settled mostly lower, with the Shanghai Composite Index down 0.5% and the Shenzhen Composite Index losing 2.1%.
Japan's Nikkei Stock Average fell 0.3% and Australia's S&P/ASX 200 declined 0.2%.