Fed ´s Hike "soon" from FOMC minutes
Asia stocks hit 2y high after dovish FOMC minutes
Moody´s China downgrade points to mounting debt
Europe Shares Reverse Gains on OPEC News
European stocks reversed early gains Thursday as an update from major energy producers prompted steep swings in oil prices.
The Stoxx Europe 600 erased the morning's advance to trade flat as falls in energy and mining companies offset gains in utilities companies. Brent crude oil fell more than $1 a barrel after Saudi Arabia's energy minister said that there was no need for deeper cuts to production at this point, at a closely watched meeting of the Organization of the Petroleum Exporting Countries, says the WSJ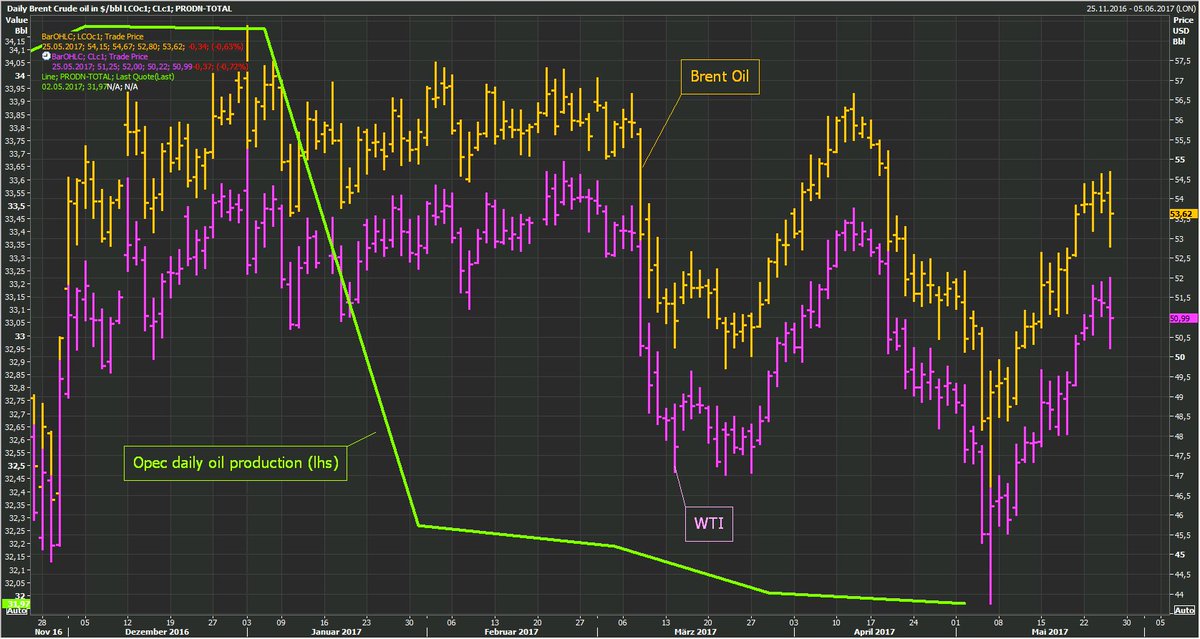 : #Oil lower as #OPEC agrees to extend oil prod cuts for 9mths,, Reuters reports
Moody's rating action on Wednesday also reinforced a widely held belief that China needs to do more to address its mounting debt levels and slowing economic growth.
Moody's Investors Service cut China's sovereign credit rating on Wednesday, citing expectations that the country's financial strength will deteriorate as debt rises and the economy slows.
China has enjoyed a favorable credit rating for decades, thanks to its high level of foreign reserves and little external debt. But the rapid growth of domestic debt in recent years, especially in the corporate sector, has reached a level that is starting to erode China's creditworthiness, analysts said—especially at a time when the economy is expected to grow at a slower pace.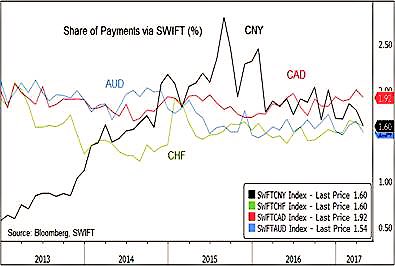 Share of SWIFT payments in CNY slipped further in Apr, w/ 1.60% lowest since Oct2014. Share for CNY matched by CHF & barely >AUD.
Moody's said in its downgrade that "we expect China's growth potential to decline to close to 5% over the next five years," a notable deceleration. China's economy expanded 6.7% in 2016, and hit a recent peak of 10.6% in 2010.
Fed´s "unloading" plan:
However, the main factor in markets overnight was the minutes of the Fed's May 2-3 meeting. They showed policymakers agreed they should hold off on raising rates until it was clear a recent slowdown in the U.S. economy was temporary, though most said a hike was coming soon.
Fed staff proposed a plan to wind down the more than $4 trillion of debt securities amassed as part of efforts to stimulate the economy. In a move some investors cited as reassuring, the plan included a limit on how much would be allowed to fall off the balance sheet each month.
Federal funds futures imply traders see an 83 percent chance of a rate rise in June and a 46 percent probability of two increases by the end of 2017, according to the CME Group's FedWatch tool, via Reuters.
Upcoming events:
Britain's political leaders will resume national campaigning on Friday for the June 8 election.
South Africa releases its monetary policy decision later Thursday.
Main movers, via Bloomberg
Commodities 
Crude was trading 1.5 percent lower at $50.61 a barrel as of 6:30 a.m. in New York, after touching the highest level in more than a month.
Gold slipped 0.2 percent to $1,256.75 an ounce.
Stocks
The Stoxx Europe 600 erased a decline to rise 0.1 percent.
Futures on the S&P 500 rose 0.3 percent. The underlying gauge rose 0.3 percent Wednesday.
Currencies
The Bloomberg Dollar Spot Index edged higher by 0.1 percent after falling 0.3 percent on Wednesday.
The euro erased a gain to trade little changed at $1.1217. The British pound fell 0.2 percent to $1.2955.
Bonds
The yield on 10-year Treasury notes was little changed at 2.25 percent after losing three basis points on Wednesday.
French and German 10-year yields fell three basis points.