Italian bank worries linger on
Subdued holiday Markets onMonday
Pound recovers some ground after polls´ hammering of Conservatives.
With markets in the U.K., U.S. and China all closed for public holidays, volumes were depressed across the board and most moves were muted.
The pound posted the biggest gain among G-10 currencies, though not enough to erase Friday's plunge when polls showed the coming election may be closer than expected.
European share prices were a touch lower [.EU], led by a half-percent fall in banking shares as worries over recapitalizations of regional Italian lenders bled over into a second week.
Weekend reports that Italy's main parties could converge on a proportional electoral law also pointed to growing chances of an early election that carries the risk of a win for the anti-establishment 5-Star movement.
As a result Italian stocks fell more than those in other European markets on Monday due to worries over an early vote, with the FTSE MIB sliding to nearly  one month lows.
The biggest loss, however, is in the Italian bank stock sector, which slid by 3%, its biggest drop in 4 months.
Speaking at a CDU election rally in Munich, Merkel said that Europe "must take its fate into its own hands" or as the AFP put it, "Merkel warns US, Britain no longer reliable partners."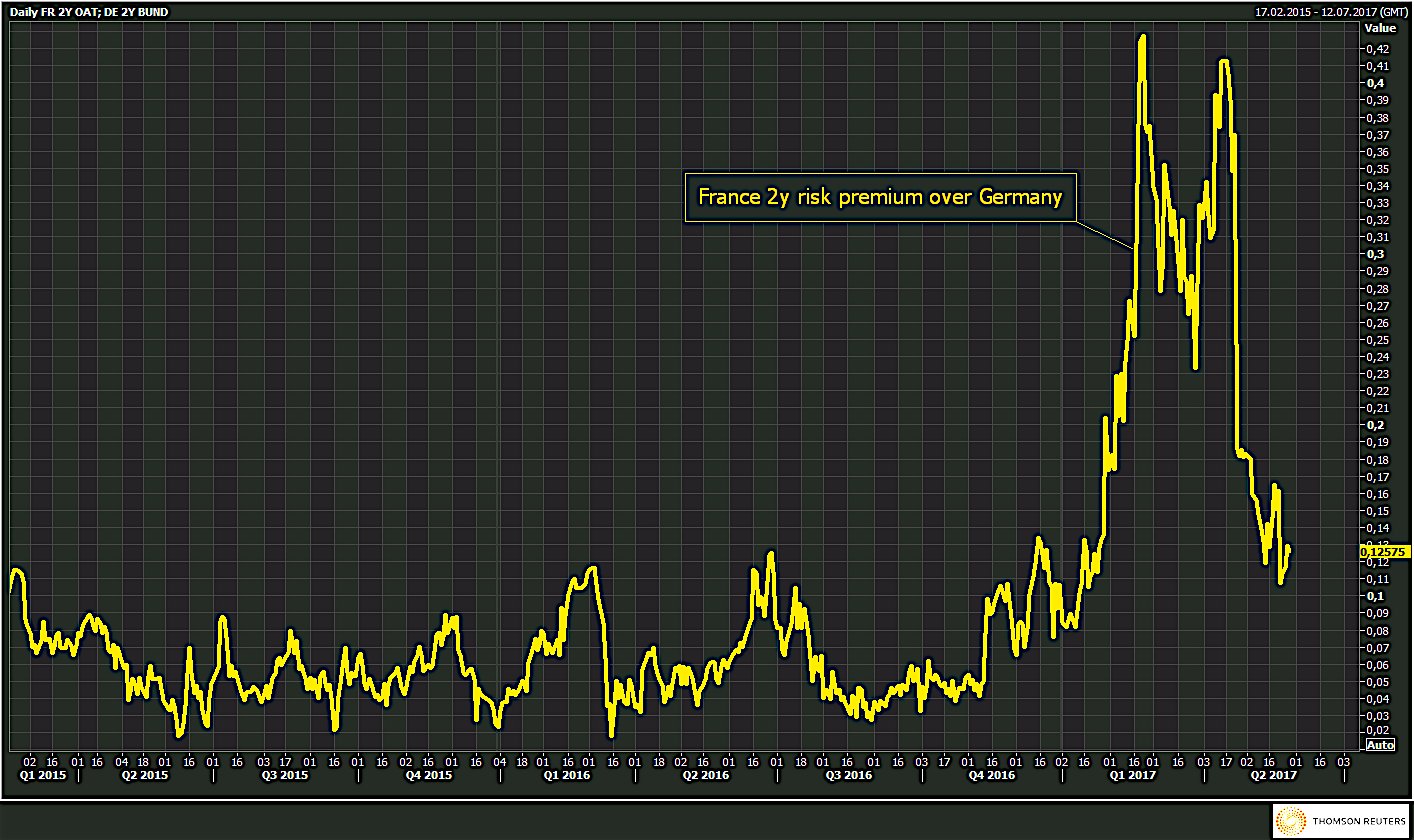 Ms Merkel comments came after Trump said during the G-7 meeting he needed more time to decide if the US would continue backing the Paris climate deal, which has frustrated European diplomats. A subseqent report by Axios, Trump privately told multiple people, including EPA Administrator Scott Pruitt, that "he plans to leave the Paris agreement on climate change" which will likely further infurate his European allies.
In the meantime,  today's only major risk event,  Mario Draghi will hold his quarterly hearing before the European Parliament, and his final scheduled appearance before next week's monetary-policy decision, in which the ECB president will be pressed about his plans for stimulus withdrawal.
DRAGHI SAYS AN EXTRAORDINARY AMOUNT OF MONETARY POLICY SUPPORT, INCLUDING THROUGH OUR FORWARD GUIDANCE, IS STILL NECESSARY
DRAGHI SAYS EURO-AREA UPSWING IS INCREASINGLY SOLID
DRAGHI SAYS DOWNSIDE RISKS TO GROWTH ARE FURTHER DIMINISHING
DRAGHI SAYS SOME OF THE TAIL RISKS HAVE RECEDED 'MEASURABLY'
DRAGHI SAYS EURO AREA STILL NEEDS VERY ACCOMODATIVE CONDITIONS
DRAGHI SAYS ECB FIRMLY CONVINCED EURO AREA STILL NEEDS SUPPORT
But the quiet start of the week will give room to a more insights as the week progresses:
Euro-area data this week may show the strongest economic confidence in a decade on Tuesday. The preliminary headline inflation rate for the region will come on Wednesday.
Fed speakers are competing to provide the last word before the FOMC's June 13-14 meeting, it seems. Lael Brainard and Robert Kaplan will be in New York on Tuesday and Wednesday, respectively.
The U.S. jobs report Friday should bolster the case for a rate hike, with a gain of 180,000 jobs expected.
Brazil's central-bank decision on Wednesday will probably see a cut of 75 to 100 basis points from the current 11.25 percent, according to economists.
China's May manufacturing PMIs on Wednesday could indicate that the nation's 2017 growth has already peaked.
The EIA is due to release its monthly supply reports Wednesday.