Euro struggles to rally as dovish Draghi adds pressure for 4th session.
Commodities slump drag US Stocks
S&P 500 dips from record high and Amazon breaks $1,000
Brent crude weaker as WTI falls below $50
Gold down but yen gains amid cautious trading.
The S&P 500 Index edged lower from an all-time high as investors returned from a three-day weekend.
Declines in shares of energy companies pulled the Dow Jones Industrial Average lower Tuesday.
Investors are feeling optimistic after positive first quarter, but areturning more cautious wondering if strong economic data and low market volatility can last.
Since the beginning of 2017, funds have started moving more of their money into Europe and emerging markets, as data has shown the U.S. is no longer alone in powering global economic growth. Some money managers are concerned that a few sectors of the U.S. economy, such as the auto industry, are flashing warning lights after years of good performance, the WSJ reports.
"Clearly we are late in the economic cycle," said Ryan Detrick, senior market strategist for LPL Financial, adding, "we've got another year or two of good potential economic growth [in the U.S.]"
Energy shares fell with oil prices. Shares of energy companies in the S&P 500 lost 1%, while U.S. crude fell 1.3% to $49.13 a barrel.
Government bonds strengthened, with the yield on the 10-year U.S. Treasury note falling to 2.227% from 2.248% Friday. Yields fall as bond prices rise.
Data for U.S. consumer confidence and personal income and spending are due this week, as is the closely watched monthly jobs report.
Strategists turned more cautious on their view on the outlook European for equities. They cut their rating on autos to "neutral" and added they now favor defensive sectors such as utilities and telecoms which have significantly lagged in the reflation trade underway since last summer.
Globally, JPMorgan continued to trim their allocation to Japanese equities saying a strengthening yen was a drag on corporate profits which were already showing signs of weakening momentum.
Arguably the greatest drag on the euro, however, are new comments from the European Central Bank president Mario Draghi who stressed the bloc still needs "an extraordinary amount of monetary support" in spite of its growing economic recovery.
The euro area loan balances continue to improve (gradually). Here are the household and business loan balances on a year-over-year basis (adjusted for sales and securitization).
The Stoxx Europe 600 fell 0.2%, led by declines in the shares of banks and insurance companies as data showed euro-area economic confidence fell for the first time this year. Italian bonds edged lower as traders digest the prospect of an earlier-than-expected election.
Potential headwinds to the global growth story remain and investor concern lingers. Elections in the U.K., Germany and Italy are looming as Brexit negotiations begin, while U.S. President Donald Trump is ratcheting up a dispute with Germany and battling to implement spending and tax-cut plans.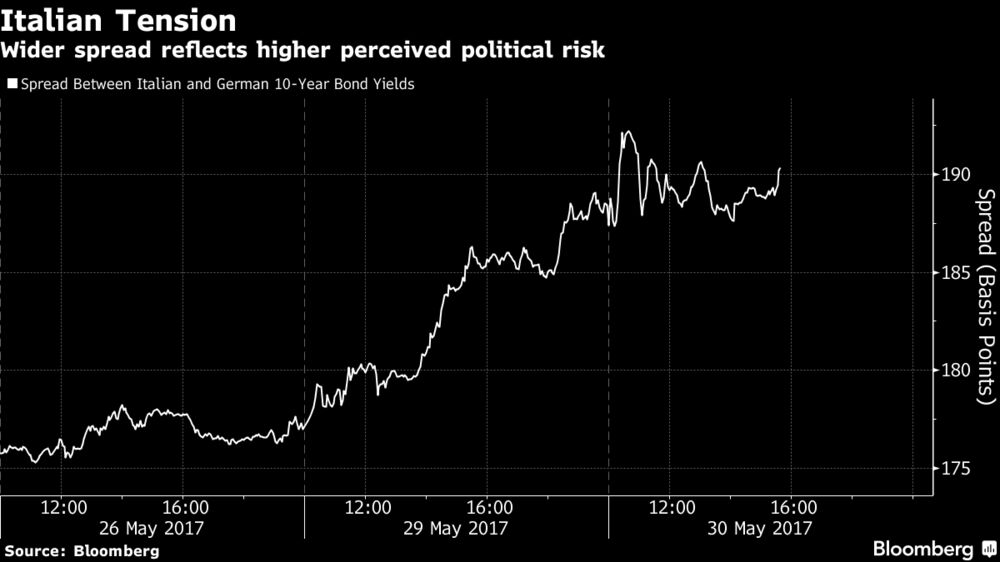 The euro is barely changed at $1.1167, having earlier traded at $1.1110, its weakest in seven sessions as a trio of factors weigh on the common currency.
The Emerging markets compound is starting to feel the pinch
Unease is starting to grip the junk-bond market: Even as yield-hungry investors buy in, many traditional buyers are selling out.
"Broadly speaking, nothing is cheap, everything is overvalued and it's very hard to find good opportunities," said Kathleen Gaffney, manager of the Eaton Vance Multisector Income Fund, which can invest in a mix of corporate and government debt as well as stocks.
Key events coming up:
The euro-area's preliminary headline inflation rate will come on Wednesday.
Fed speakers are out and about as the FOMC's June 13-14 meeting approaches. Lael Brainard and Robert Kaplan will be in New York on Tuesday and Wednesday, respectively.
The U.S. jobs report Friday may bolster the case for a rate hike, with a gain of 185,000 positions expected.
Brazil's central-bank decision on Wednesday will probably see a cut of 75 to 100 basis points from the current 11.25 percent, according to economists.
China's May manufacturing PMIs on Wednesday might indicate that the nation's 2017 growth has already peaked.
The EIA is due to release its monthly supply reports Wednesday.
Here are the main movers in markets, from Bloomberg
Stocks
The S&P 500 slipped 0.2 percent to 2,410.78 at 9:31 a.m. in New York. The index is on track for its first decline in eight days after the longest rally since February.
The Stoxx Europe 600 Index declined 0.3 percent.
Currencies
The Bloomberg Dollar Spot Index was little changed after initially rising on the consumer-spending data.
The euro rose 0.1 percent to $1.1171. The shared currency swung between gains and losses as traders weighed Germany's inflation miss against a Reuters report that the ECB will likely discuss removing its easing bias in June. It recovered early losses sparked by speculation Greece could forego its next bailout payment.
The yen strengthened 0.3 percent to 110.97 per dollar.
The rand retreated 1.4 percent, extending losses for a second session after President Jacob Zuma survived a bid by some members of his party to oust him.
Commodities
Gold was 0.4 percent lower at $1,263.50 an ounce.
West Texas oil fell 0.8 percent to $49.42 per barrel; prices swung last week following the agreement by OPEC and its allies to extend cuts by nine months.
Bonds
The yield on 10-year Treasuries declined one basis point to 2.23 percent.
Italy's benchmark bond yield gained three basis points after climbing seven basis points on Monday.
Asia
Japanese stocks ended higher despite a stronger yen, with the Topix reversing earlier losses. Data showed Japan's jobless rate stayed at the lowest in more than two decades last month, but household spending remained in a slump. Hong Kong and China markets were shut for a holiday.