Wall Street flat after opening to fresh highs
Global energy stocks struggle as oil prices relapse
Oil offsets gains in tech, healthcare
European equities erased gains.
Sterling under pressure as May may loose.
U.S. stocks fell Wednesday, but major indexes were on track for monthly gains.
The Dow Jones Industrial Average fell 71 points, or 0.3%, to 20957.                                          The S&P 500 fell 0.3% and the Nasdaq Co mposite lost 0.6%.
A decline in financial stocks dragged major stock indexes lower Wednesday. U.S. stocks fell as a decline in trading revenue at JPMorgan Chase & Co. sent bank shares into a tailspin.
European equities erased gains. Crude extended losses amid doubts prolonged output cuts will clear a global surplus.
The pound wobbled as the outcome of next week's U.K. election appeared increasingly uncertain.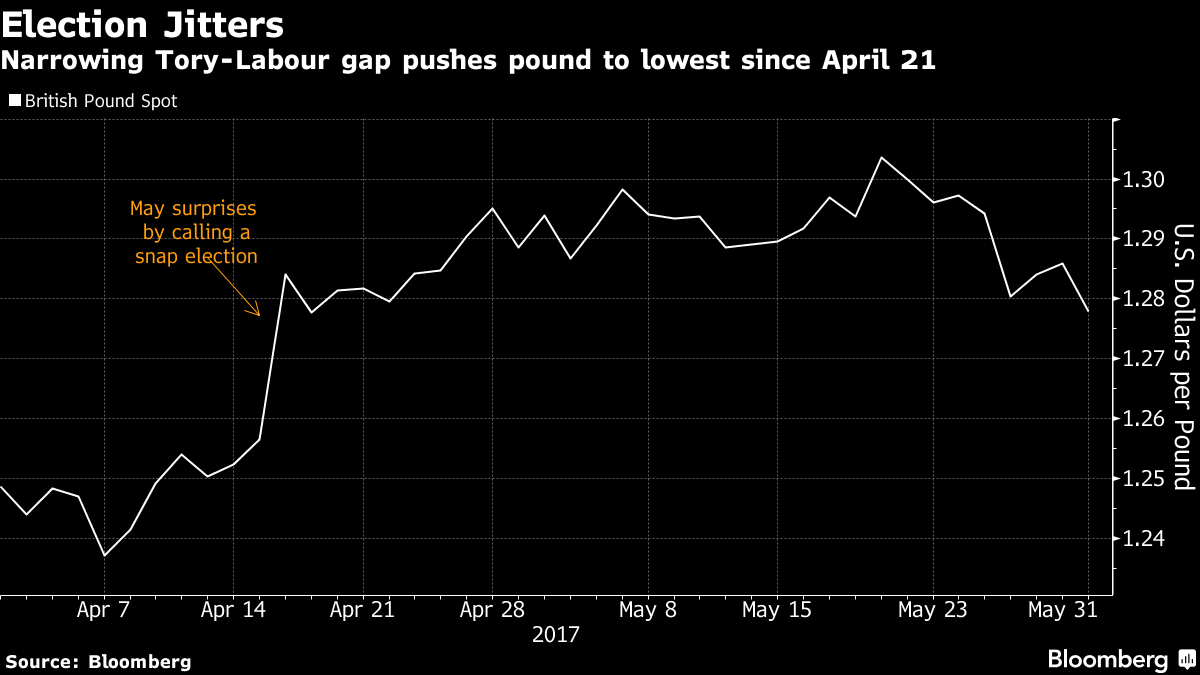 The pound is increasingly being buffeted by conflicting projections of the general election outcome, bearing the brunt of increasing market tension before next week's vote.
Euro-area inflation slowed more than economists forecast, giving ammunition for European Central Bank policy makers who say it's too early to commit to an exit from monetary stimulus.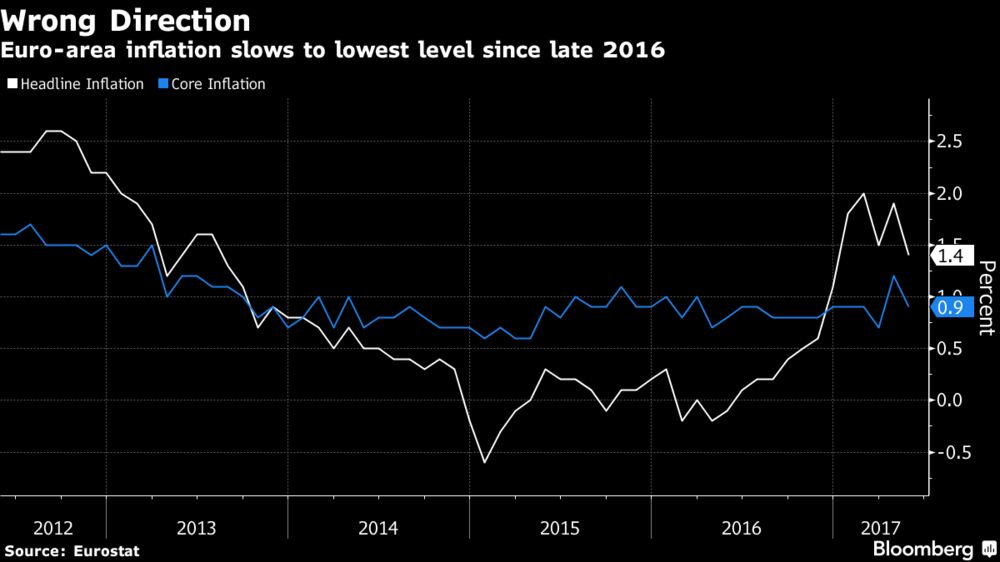 What is worrying Draghi is that the disconnect between the pace of  growth (rapid ) and the rate of inflation. The acceleration in the inflation components are not translating into a faster inflation rate, even though the fall in employment will normally translate into faster wage growth and therefor to higher inflation, but it is not happening.
ECB President Mario Draghi has tried to downplay expectations that the Governing Council will do much more than acknowledge the latest economic progress — let alone put the ECB on an exit course — at its meeting next week in Tallinn. Actual proof that price trends remain weak should help him hammer home the message that the central bank has to remain patient and quell the urge of some of his colleagues to take more decisive steps.
As this chart shows, the overall size of central bank support for asset prices remains hefty and helps explain the resilience of equities. Jack Ablin, at BMO Capital Markets notes: ''Valuations are stretched but equity markets continue to enjoy a continuous flood of liquidity from the world's central banks and sidelined investors. Central banks purchased $1.8tn over the past 12 months. The Fed is reinvesting more than $30bn each month even though they stopped growing their balance sheet in 2014.''
More News on Economy
Eurozone flash inflation increased 1.4% in April to fall just short of the consensus estimate for a 1.5% rise. Inflation decelerated from the 1.9% pace seen in April. Core prices rose 0.9% during the month vs. +1.0% expected. Eurozone unemployment fell 10 basis points to 9.3% for April.
Oil traders will be watching supply data pour in later today. The EIA is scheduled to release monthly crude oil and natural gas production numbers at mid-day to be followed shortly by petroleum supply data for May. The weekly U.S. oil inventory report from the American Petroleum Institute is also due out later in the afternoon. Analysts see oil trading in a narrow band around $50 barring any geopolitical drama. A little further out, Goldman Sachs forecasts Brent oil trading at around $55 at the end of the year and WTI close to $53. WTI crude oil futures -0.99% to $49.17/bbl at last check. Brent crude-1.04% to $51.30/bbl.
China may be pulling off a stable cooling of a hot market as it posted manufacturing and services numbers that showed steady expansion. Investment in construction and infrastructure played a part in the solid numbers. The country's manufacturing PMI was unchanged from 51.2, marking its 10th straight month of expansion (numbers over 50). Meanwhile, nonmanufacturing PMI rose to 54.5 from the prior month's 54.0.
The Bank of Japan plans to keep its bond buying activity at unchanged levels in June. The central bank is expected to accumulate ¥7.85T of notes next month based on the purchase ranges of various maturity dates. The BOJ lowered its projection for Treasury bill purchases at the end of June to a range of ¥27T yen to ¥29T.
A barnburner print of close to 4.0% is expected when Q1 Canada GDP is released later today. The economic numbers aren't expected to be strong enough to prompt the Bank of Canada to boost interest rates this year, despite the fast pace of growth in comparison to the U.S. and Europe. "These days, a quarterly pace anywhere near our 4.5 per cent projection is a rarity among developed economies, and would have the last six months advancing at a 3 1/2 per cent rate," observes CIBC Chief Economist Avery Shenfeld.
Fedspeak alert: Dallas Fed President Robert Kaplan is due to participate in some Q&A in New York City this morning, while San Francisco Fed President John Williams is scheduled to talk in Seoul at the Bank of Korea International Conference. The latest Federal Reserve Beige Book report on economic activity will also be circulated later today.
Stocks
The S&P 500 fell 0.2 percent to 2,407.73 at 11:19 a.m. in New York, trimming its gain this month to 1 percent.
The Nasdaq Composite fell 0.3 percent.
The Stoxx Europe 600 Index climbed 0.1 percent. Construction and materials shares led the advance, gaining 1 percent, while mining stocks dropped 1.6 percent.
The MSCI Emerging Market Index fell 0.6 percent, trimming its monthly rise to 3.2 percent, the most since January.
Currencies
The pound slipped 0.1 percent to $1.2845. The euro jumped 0.3 percent.
The yen was little changed at 110.85 per dollar after rising 0.4 percent Tuesday.
The Bloomberg Dollar Spot Index fell 0.1 percent.
Commodities
Gold rose 0.3 percent to $1,266.83 an ounce after a 0.4 percent loss Tuesday.
West Texas Intermediate oil dropped 2.3 percent to $48.54 a barrel after retreating 0.3 percent in the previous session.
Bonds
The yield on 10-year Treasuries climbed one basis point to 2.22 percent after declining four basis points in the previous session.
Benchmark yields in the U.K. rose one basis point after a drop of two basis points Tuesday.
Asia
China's offshore yuan jumped the most in four months as funding costs surged amid speculation policy makers were supporting the currency in the wake of a surprise sovereign rating downgrade.
The MSCI Asia Pacific Index dropped 0.1 percent, paring its advance for May to 2.6 percent.
The Shanghai Composite rose 0.2 percent, after an earlier gain of 1.1 percent on better-than-expected Chinese factory data.