Stocks Drop, Oil Falls as Qatar crisis Threatens OPEC Deal.
Qatar stock market tumbles after Gulf states cut ties over 
Global stocks edged lower Monday as investors paused following the record highs many major benchmarks hit Friday and ahead of a week that contains several political and economic events that could jostle markets.
Wall Street edges lower, After hitting another record high on Friday, the Dow Jones Industrial Average is currently down 17 points of 0.08%. while the S&P 500 opened down a similar amount and the Nasdaq Composite dipped 0.01%.
Today's Markets
In Asia, Japan flat. Hong Kong -0.2%. China -0.5%. India +0.1%.
In Europe, at midday, London -0.3%. Paris -0.6%. Frankfurt +1.3%.
Futures at 6:20, Dow flat. S&P -0.1%. Nasdaq -0.1%. Crude +0.1% to $47.69. Gold +0.2% to $1282.90.
Ten-year Treasury Yield +2 bps to 2.18%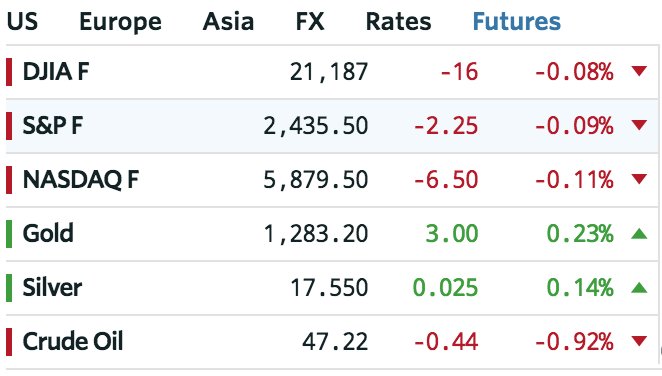 Oil price has lost its early gains, which were made on the back of the Qatar news. Strength in the dollar – which makes oil less affordable for international buyers – seems to be outweighing the prospect of supply shortages following the Gulf dispute. In any case, Qatar is not a major producer of oil, rather it specialises in liquefied natural gas (LNG)
Qatar stocks on pace for biggest 1-day drop since 2014 after Mideast diplomatic rift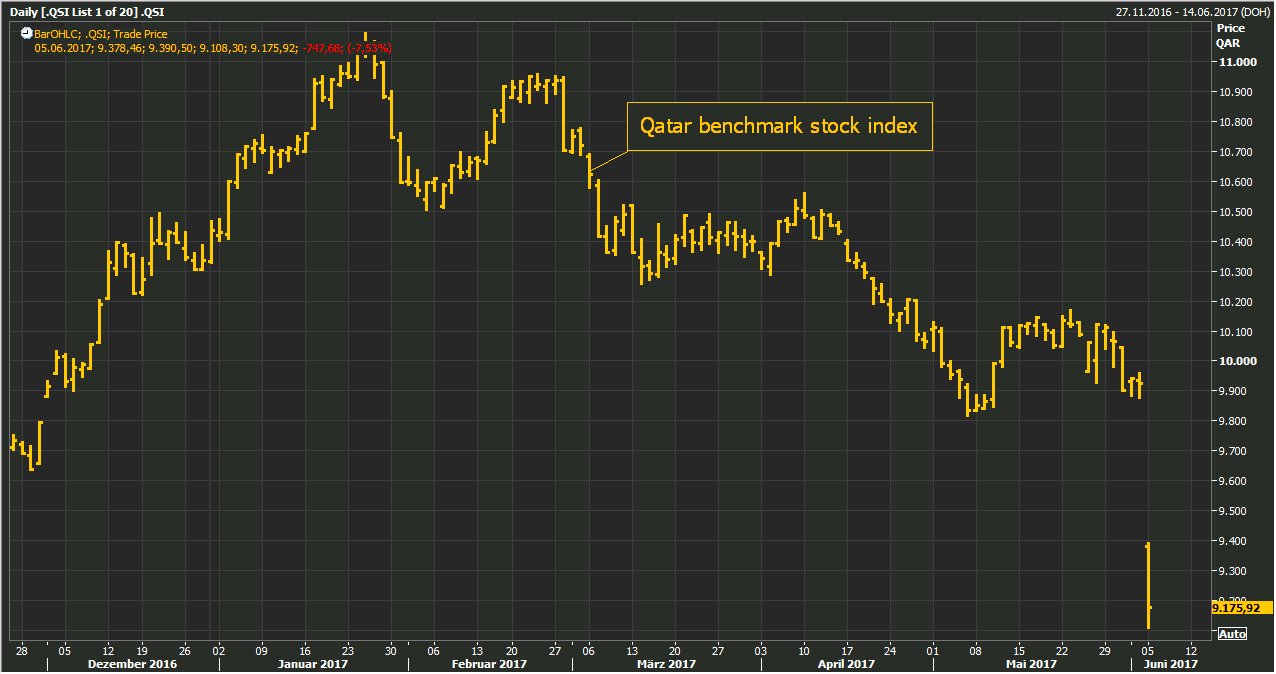 The small nation, which lies on the eastern side of the Arabian peninsula, is a vital player in gas markets, as the world's largest exporter of liquefied natural gas. In 2016 it shipped out around 77.2 million tons of the super-chilled gas, equivalent to about one-third of global supply, according to International Gas Union.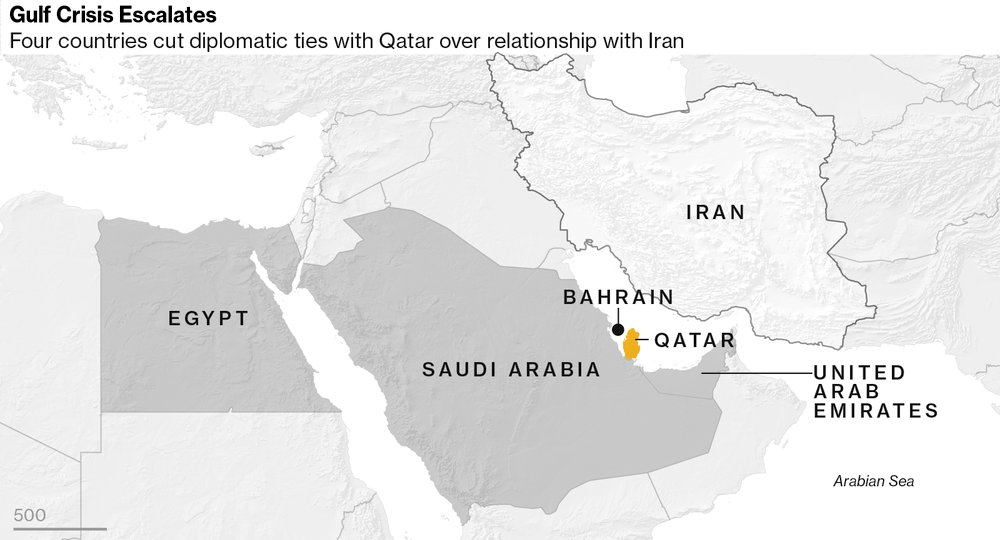 Indeed, it's the world's largest LNG producer, supplying almost 30% of global production. By land, Qatar is completely blocked by Saudi Arabia. By sea, its exporting tankers have to pass through the Strait of Hormuz, situated between Iran and the UAE, putting it in a precarious situation any way it turns. Asian customers such as Japan, India, and South Korea would be the most affected by a disruption in NG service, since they are the major importers of Qatari gas…says  Clement Thibault, senior market analyst at Investing.com
The Qatari sovereign wealth fund is one of the largest in the world…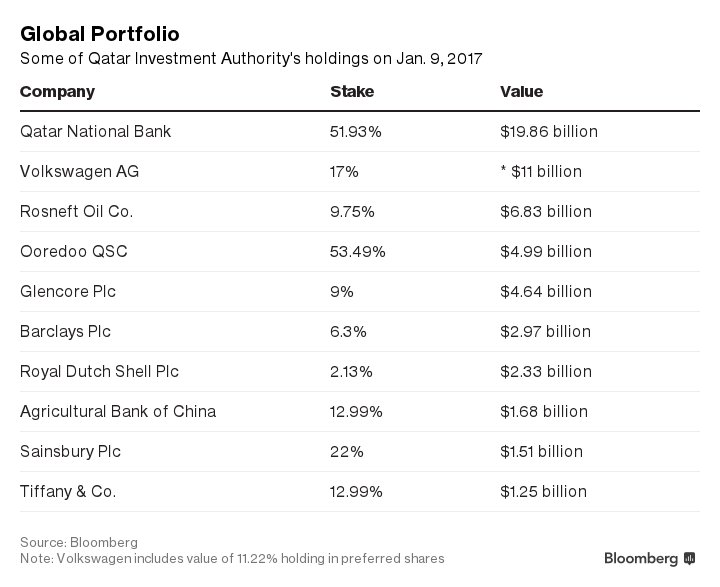 UK services sector hit by election worries and inflation
Breaking: Growth across Britain's service sector slowed last month, which could reinforce worries about the state of the UK economy.Markit's UK service sector PMI has fallen to 53.8 for May, down from April's 55.8 (a four-month high).
U.K. voters go to the polls Thursday. Surveys of voters over the past few weeks have indicated a tightening race, increasing the chance that Prime Minister Theresa May might not get an increased majority.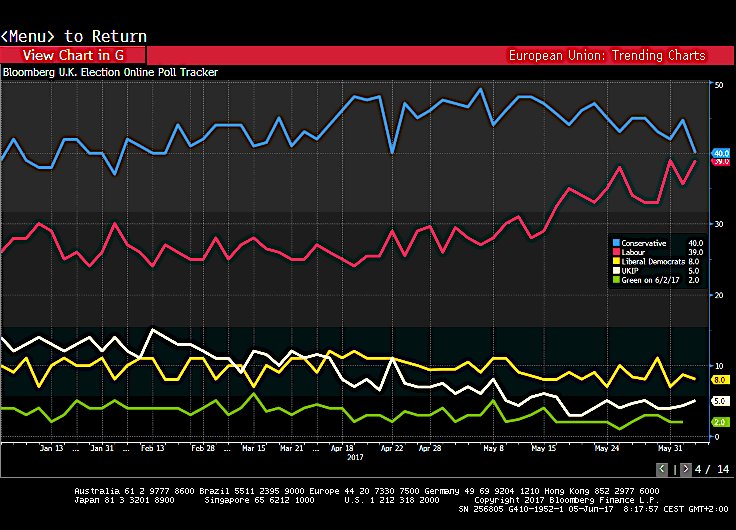 In the Asia-Pacific region, Australia's S&P ASX 200 fell 0.6%, while Japan's Nikkei Stock Average was roughly flat.
The Stoxx 600's travel and leisure subindex fell 0.6% following the London attack. Shares in EasyJet dropped 2.5%, while British Airways parent company International Consolidated Airlines Group fell 1.7%.
Brent crude prices had risen as high as $50.74 earlier in the day following a sharp drop last week. The Qatar stock market shed 7.3%, while Qatari government bond prices fell.
Moves in markets:
Commodities
West Texas Intermediate crude declined 0.9 percent to $47.26 a barrel as of 8:37 a.m. in New York, after dropping 1.5 percent on Friday.
Gold rose 0.2 percent to $1,282.10 an ounce.
Copper fell 0.5 percent to $5,636 a ton and zinc traded 1.4 percent lower at $2,492 a ton on the London Metal Exchange.
Currencies 
The Bloomberg Dollar Spot Index dropped 0.1 percent, adding to a 0.4 percent decline on Friday. The yen fell 0.2 percent to 110.58 per dollar. Japan's currency climbed 0.9 percent Friday after the U.S. data.
The Mexican peso jumped 1.8 percent. President Enrique Pena Nieto's party is ahead in the election for governor of Mexico's largest state. Follow more on the vote here.
The pound climbed 0.1 percent after erasing an earlier loss. The euro fell 0.3 percent to $1.1248.
Bonds
The yield on 10-year Treasury notes rose two basis points to 2.18 percent after dropping five basis points on Friday.
U.K. benchmark yields climbed one basis point.
Stocks 
The Stoxx Europe 600 Index declined 0.2 percent with basic resources producers down 0.6 percent.
Futures on the S&P 500 Index fell 0.1 percent. The benchmark index gained 0.4 percent to a record on Friday.
Stock news:
Apple's Worldwide Developer Conference is only hours away, with the traditional keynote address from Tim Cook beginning at 10 a.m. PT. For the first time in years, Apple (NASDAQ:AAPL) will use the event to tout not just its software, but hardware too. It's expected to show off the latest iPads and Mac laptops and may even lift the cover on a smart speaker based off of Siri.
The successful opening of Wonder Woman this weekend could fuel shares of Time Warner (NYSE:TWX) to a 20% stock return over the coming year, according to Barron's. The film topped the U.S. box office with $100.5M, exceeding expectations and making it the best American debut for a female-directed movie. Barron's also believes Warner Bros. is in good shape with its upcoming schedule of releases.
Brace for the first major court challenge against a media company in the era of "fake news." Beef Products claims ABC (NYSE:DIS) slandered the company in 2012 by calling its ground-beef product "pink slime," leading to its removal from groceries, restaurants and cafeterias. The $5.7B suit, which opens today, also alleges that BPI had to close three of its plants and saw revenues drop 80% as a result of the defamation.
Now that Sinclair Broadcast Group has reached a deal to acquire Tribune Media (NYSE:TRCO) and create a local television giant, it's talking to one of Hollywood's most seasoned small-screen executives about joining the company. Steve Mosko, the former chairman of Sony (NYSE:SNE) Pictures Television, is in preliminary discussions with Sinclair (NASDAQ:SBGI) about a senior position that would expand its programming.
Amazon's stock closed at $1,006.73 on Friday, while Alphabet's Class A shares (NASDAQ:GOOGL) came within cents of the thousand mark last week, ending Friday at $996.12. Another race? Just a few dollars more on Amazon's (NASDAQ:AMZN) share price and the world will have a new richest man. Jeff Bezos, the company's founder, is on the brink of overtaking Bill Gates to become the wealthiest person on the planet.
The annual auction for a lunch with Warren Buffett began Sunday evening and runs through Friday, with bids starting at $25K. The CEO of Berkshire Hathaway (BRK.A, BRK.B) has raised nearly $24M for the Glide Foundation, a nonprofit group that runs antipoverty programs in San Francisco, over the past 17 years. Last year's winner paid almost $3.5M, which tied the record set in 2012.
Ethereum, an alternative to bitcoin, hit a fresh record high on Sunday, amid continued interest in the digital asset space and increased trade from Asia. There's also been a surge in "initial coin offerings," which is a new way for cryptocurrency start-ups to raise money. According to CoinDesk, ethereum traded at $250.41, up 2,839% from the $8.52 handle it had on Jan. 1.
Quoting Chairman Terry Gou, the Nikkei said that Apple (AAPL) and Amazon (AMZN) will join Foxconn's (OTC:FXCOF) bid for Toshiba's (OTCPK:TOSBF) semiconductor business, which is valued at about $18B. The two U.S. technology giants plan to "chip in funds", but it was not immediately clear if that means a direct investment or financing for the transaction.
Another big deal? Blackstone (NYSE:BX) has offered to buy all shares in Finnish real estate investment company Sponda (OTC:SPOYY) for about €1.8B, as it seeks to expand its business in the Nordic region. On Friday, Blackstone agreed to sell European warehouse firm Logicor to China Investment Corp. for more than €12B in the biggest-ever private equity real estate deal in Europe.
Herbalife has raised its current-quarter adjusted profit forecast, expecting $0.95-$1.15 per share, compared with a previous forecast of $0.88-$1.08. However, the firm now expects revenues to be 1.5% lower than earlier estimates due to its transition to new FTC rules, which require it to make 80% of sales outside its distributor network, along with softness in Mexico. HLF -4.2% premarket.
The war against the U.S. sugar industry is coming to a head. Representatives from Coca-Cola (NYSE:KO), Archer Daniels Midland (NYSE:ADM) and Cargill met with White House official Ray Starling last month, warning against potential fallout if the U.S. and Mexico cannot agree to a new trade pact and avert large duties on American sugar imports from Mexico. The deadline for an agreement is today.
National insurer AAA is raising its rates on Tesla (NASDAQ:TSLA) vehicles by around 30% based on data showing that the Model S and X had abnormally high claim frequencies and costs of insurance claims compared with other cars in the same classes. "This analysis is severely flawed and is not reflective of reality," the EV automaker declared. "Among other things, it compares models that are not remotely peers."
Audi CEO Rupert Stadler only got a five-year contract extension last month because of an agreement among supervisory board members that he would not serve out his full term, Reuters reports. Munich prosecutors have been investigating Audi (OTCPK:AUDVF) on suspicion of fraud and criminal advertising in the U.S., where parent Volkswagen's (OTCPK:VLKAY) emissions scandal broke in September 2015.
Following the exit of many major airlines in recent years, United Airlines (NYSE:UAL) will end flights to Venezuela next month, further isolating the crisis-hit country from international travel. In addition to currency disputes and low occupancy on flights, carriers also fret about security for their crews on the ground due to violent political protests and economic chaos.