Stocks slips worried about Geopolitic Risks
Conflicting signals on the economy sends Investors to Caution-Land.
Yen climbs to highest in a month, gold extends advance 3rd day
European bonds advance; stocks decline as Roche slumps
Oil Prices tremble as Traders Fear Hit From Qatar Feud, U.S. Shale
From  growing tension in the Middle East to the ECB's policy meeting and Britain's increasingly uncertain election have sent investors to safe land ahead of eventful Thursday where a combination of risk events will take place.
As a result, European and Asian stocks as well as S&P futures all fell, while gold, yen and Treasuries gained.
Today's Markets
In Asia, Japan -1%. Hong Kong +0.5%. China +0.4%. India -0.4%.
In Europe, at midday, London flat. Paris -0.5%. Frankfurt -0.8%.
Futures at 6:20, Dow -0.2%. S&P -0.2%. Nasdaq -0.1%. Crude -0.4% to $47.21. Gold +0.9% to $1294.50.
Ten-year Treasury Yield -3 bps to 2.15%
The Stoxx Europe 600 was down 0.7% recently, dragged lower by auto, insurance and health care shares. Futures pointed to a second straight day of losses on Wall Street, with S&P 500 futures falling 0.3%. Shares in Asia were mostly lower.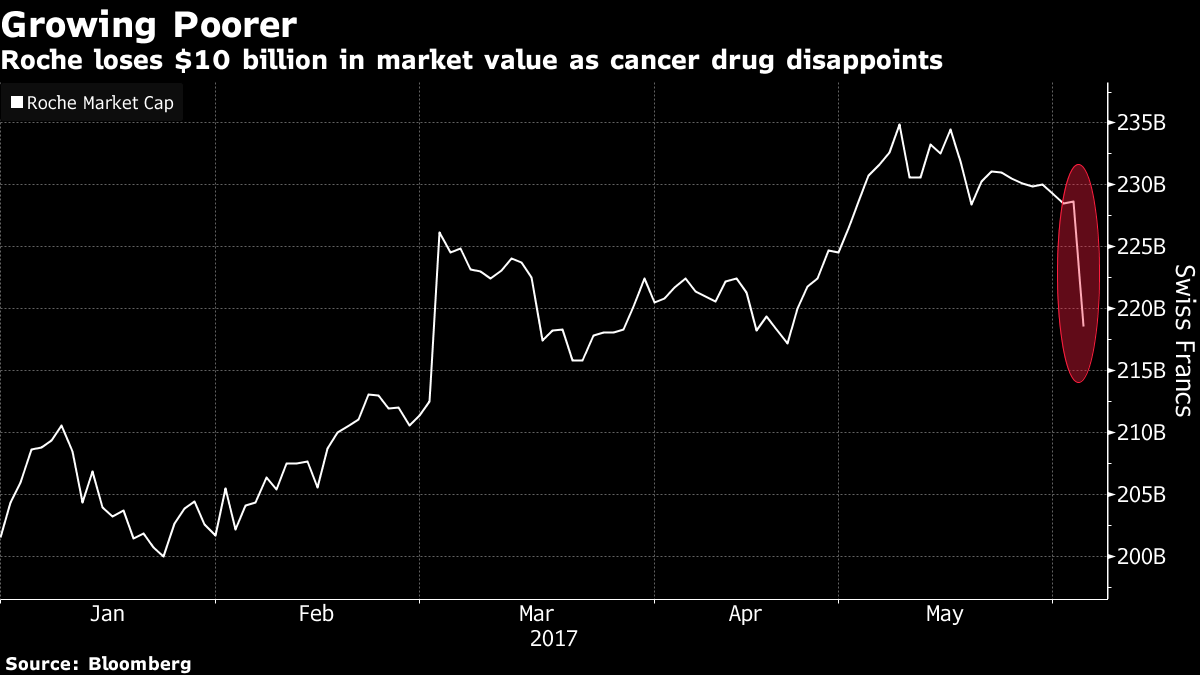 Investors sought refuge in gold, the Japanese yen and Treasury bonds, whose prices all rose. Meanwhile, the WSJ Dollar Index, a measure of the dollar against 16 other currencies, was down 0.2%, close to where it was on Nov. 8, before President Donald Trump's election victory sent the buck soaring as pointed by The WSJ.
"There is not much scheduled today that could potentially inspire the markets as the main focus this week is on 'Super Thursday,"' Piotr Matys, a London-based currency strategist at Rabobank, wrote in a client note. "Essentially, we brace for a volatile session on Thursday and Friday as at least one of those crucial events could trigger sharp moves in the markets."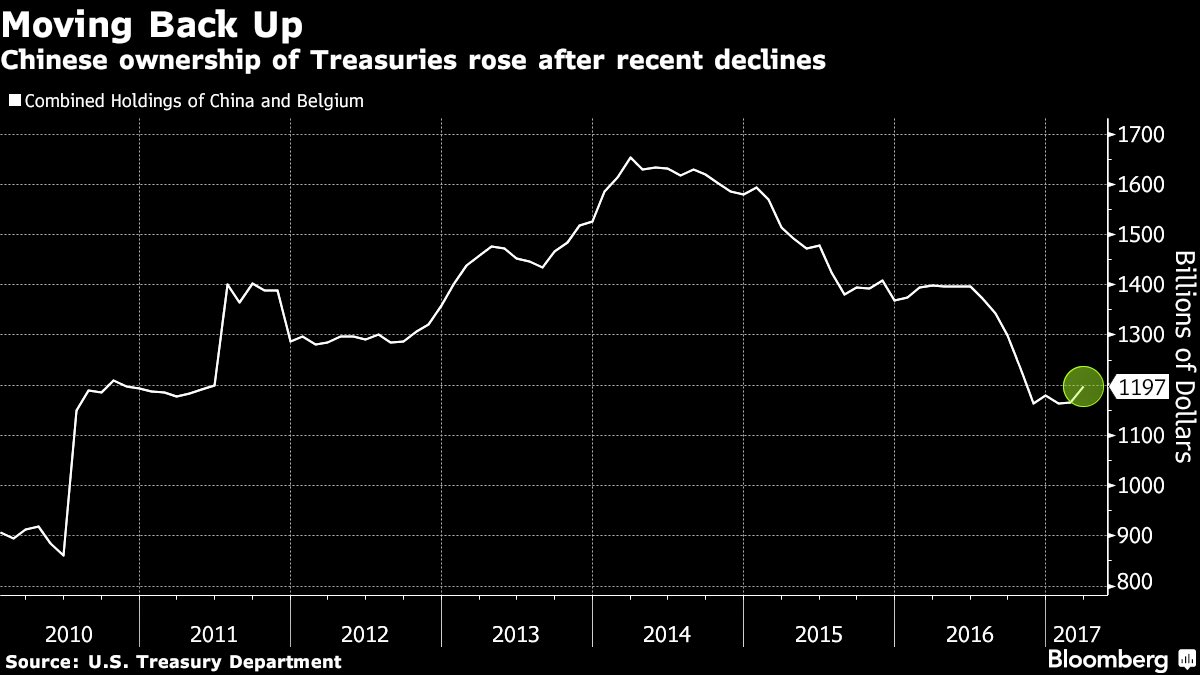 As the WSJ observes, China's foreign reserves slid more than $500 billion between August 2015—when China shocked the world with a one-time devaluation of the yuan—and December 2016. The reserves have since rebounded from $3.01 trillion in December to $3.03 trillion in April. The slowdown in reserve outflows has also afforded the Chinese Yuan with a period of surprising stability, which has been cited by some as the reason why emerging markets have remained very stable in light of the recent geopolitical and commodity volatility.
WTI Crude has sunk back to a $47 handle, ignoring dollar weakness as the Qatar affaire,     raises more doubts about OPEC coordination.
UK: Investors rush for protection against a drop in the British currency as vote nears.
As election day approaches, risk is neatly seen in the form of sterling hedging, as Theresa May´s  Tory party is being chased by  Labour Jeremy Corbyn, considered "the party's most left-wing leader in a generation.". It means stocks will be hit as that´s no good for business.
So some currency traders aren't taking any chances. One-week risk reversals on the
sterling-dollar exchange rate sank to minus 3.85 points on Monday, according to
Thomson Reuters, their lowest level since just after the Brexit vote. It was last at minus
3.71 points.
The measure compares the cost of currency derivatives betting on a rise or decline in
the pound, with a deeply negative figure indicating traders are willing to pay more to
shield themselves against a drop in the currency.
Market summary from Bloomberg :
Currencies
The yen rose 0.9 percent to 109.44 per dollar as of 8:47 a.m. in New York, the strongest level since April 21 on a closing basis.
The Bloomberg Dollar Spot Index fell 0.1 percent and was trading at the lowest since October.
The euro was little changed at $1.1251 and the British pound weakened 0.2 percent to $1.2877.
South Africa's rand weakened 1.1 percent after a report showed the economy contracted for a second successive quarter in the first three months of the year.
Stocks
The Stoxx Europe 600 Index declined 0.7 percent and the FTSE 100 slipped 0.1 percent.
Futures on the S&P 500 Index dropped 0.2 percent after the underlying gauge slid 0.1 percent Monday.
Qatari stocks fell another 1.6 percent after plunging the most since 2009 on Monday. Saudi Arabia and three other Arab countries severed most diplomatic and economic ties to the country.
Commodities
Gold climbed 0.9 percent to $1,291.72 an ounce, advancing for a third day to the highest since November on a closing basis.
WTI crude dropped 0.5 percent to $47.17 a barrel, after retreating as much as 1 percent and rising as much as 0.7 percent earlier.
Bonds
The yield on 10-year Treasuries declined three basis points to 2.15 percent, after climbing two basis points in the previous session.
Ten-year yields in France and the U.K. fell four basis points while those in Germany dropped two basis points.
Asia
Japan's Topix index fell 0.8 percent after the yen strengthened. Australia's S&P/ASX 200 tumbled 1.5 percent, the most in more than two months and reaching the lowest since February.
The Aussie dollar swung between gains and losses after the central bank left its benchmark interest rate unchanged.