Stock Markets up  on ECB Easing for Longer.
Caution ahead of Thursday major Events
European Banking stocks higher on swift Banco Popular execution.
Euro falls as a result of ECB monetary policy.
Qatar Shares Are Most Volatile Globally as Tension Escalates
Stock markets rallied Wednesday and the euro fell on the prospect that the European Central Bank will leave monetary policy loose for longer than expected.
The Stoxx Europe 600 rose 0.5% after media reports that the ECB will lower its inflation forecast for 2019. Investors took stock of theECB dovish tone in their long-awaited policy decision Thursday, pushing investors  into riskier assets like equities.
Today's Markets
In Asia, Japan flat. Hong Kong -0.1%. China +1.2%. India +0.3%.
In Europe, at midday, London +0.1%. Paris +0.9%. Frankfurt +0.3%.
Futures at 6:20, Dow flat. S&P +0.1%. Nasdaq +0.1%. Crude -0.5% to $47.93. Gold -0.5% to $1291.30.
Ten-year Treasury Yield flat at 2.15%
Banco Santander has agreed to buy troubled  domestic rival Banco Popular for the symbolic price of €1 after EU authorities declared the Madrid-based lender "failing or likely to fail". It´s  also  taking over the 37 billion euros of real estate linked lending non- performing assets.
Santander said in a statement to the Spanish regulator that it was planning to raise €7bn in fresh capital to rebuild the balance sheet of Popular, which is saddled with €37bn in toxic real estate loans.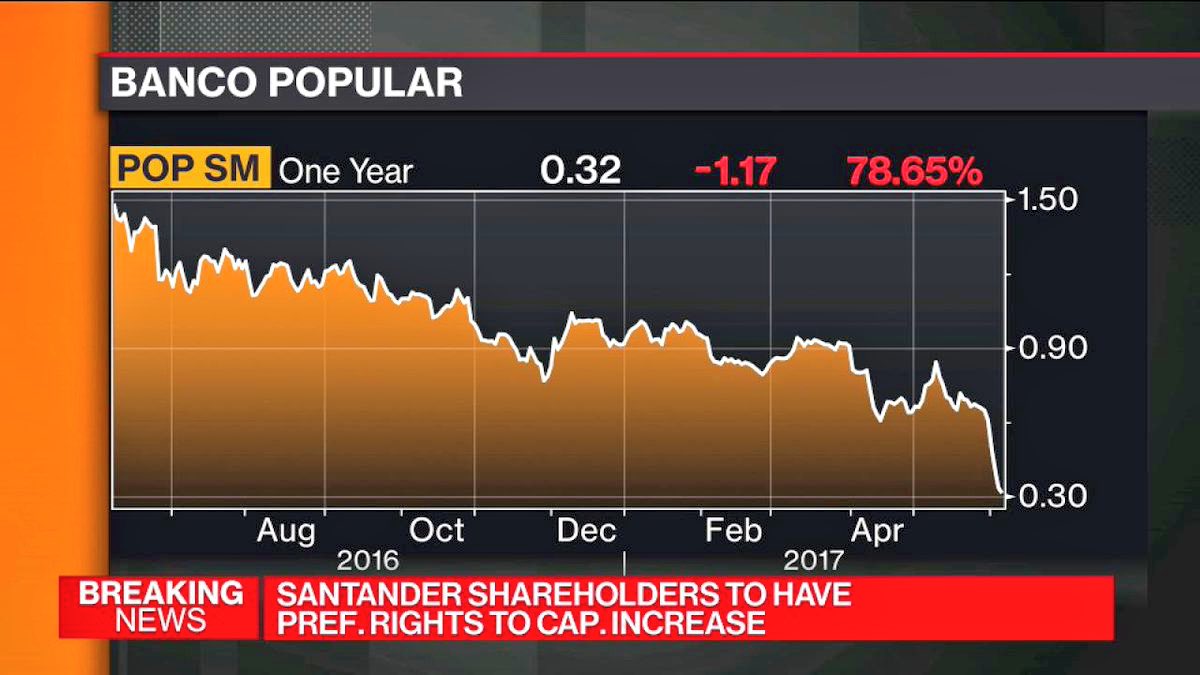 Stocks, Bonds, Gold and Bitcoin risingin unison,  Unnerves Investors:
Major U.S. stock indexes have soared to records this month, reflecting some investors' confidence in the continued U.S. economic recovery.
The simultaneous gains have begun to concern some investors. Many point to a wave of money that is driving up asset prices, tied in part to lower bond yields and a lower dollar—a confluence of events they say feels good while it lasts but can't go on forever the WSJ reports.
Gold has gained following terror attacks in the U.K., and turmoil in U.S. politics
Bitcoin has tripled this year, hitting a record high Tuesday.
At the same time, U.S. bond yields on Tuesday sank to their 2017 low at 2.147%
In the Middle East, Qatar Calls for Talks to End Diplomatic Crisis in Persian Gulf
As efforts began to end the country's political isolation, authorities look to ease concerns of food shortages.as  regional diplomats began efforts to solve one of the biggest crises in the Persian Gulf in decades.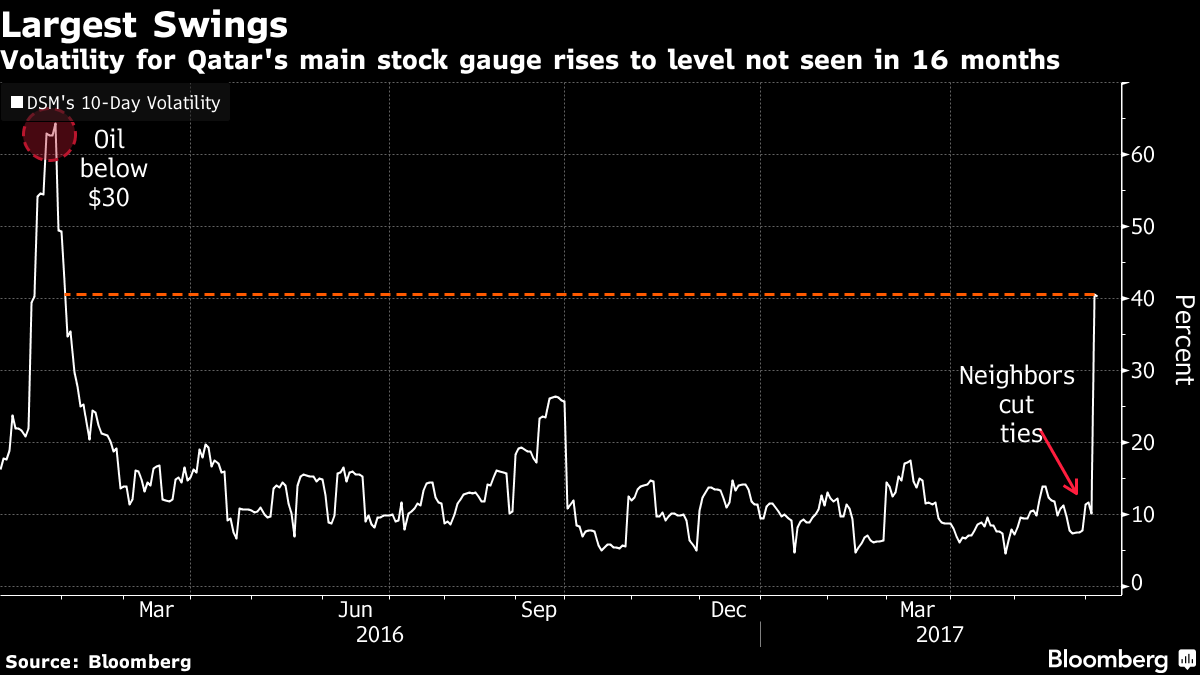 Stocks News
Santander is taking over Banco Popular (OTCPK:BPESY). The Spanish bank is buying all shares of its distressed peer for the symbolic price of one euro and plans to carry out a €7B capital raise as part of the deal. Santander's (NYSE:SAN) acquisition will not affect deposit holders or imply any cost to taxpayers, according to Spain's economy minister, and implies no contagion for sovereign or banking sector risk.
Fresh woes for Wells Fargo (NYSE:WFC) as the Justice Department filed a friend-of-the-court brief in a lawsuit brought against the bank by two former employees, who were fired after they tried to report lending misdeeds to their supervisors. The DOJ remained neutral on the whistleblowers' claims, but urged the court to revise the legal analysis it made in dismissing the case last year.
HSBC is also facing a fresh lawsuit over allegations of foreign exchange manipulation. According to the FT, the bank's traders are being accused of cheating markets for their own profit more than a decade ago. HSBC and several other global banks were already fined $4.3B for systematic rigging in 2014.
Looking to make further inroads into lending, Goldman Sachs Bank USA (NYSE:GS) plans to raise the rate it offers customers on deposits to 1.2%, making it the highest interest paying bank, according to Bankrate.com. Its old rate was still pretty good. The Wall Street lender's consumer arm had previously offered savers 1.05%, compared to the national average of 0.06%.
Sears is shuttering 72 more stores, in addition to the more than 180 that have already been announced this year. The company released a list internally detailing the closures, which includes 16 Sears (NASDAQ:SHLD) outlets, 49 Kmart shops and seven auto centers. Most of the stores will close in September.
Moving things along… TerraForm Global (NASDAQ:GLBL) and TerraForm Power (NASDAQ:TERP) have announced court approval regarding their settlement of intercompany claims with SunEdison (OTCPK:SUNEQ). "Bankruptcy Court approval is a key condition to the closing of the sponsorship transaction with Brookfield (NYSE:BAM)," said CEO Peter Blackmore.
Anthem is pulling out of the health-insurance exchange in Ohio next year, leaving a second region of the country poised to have no marketplace options under the Affordable Care Act. According to Anthem (NYSE:ANTM), "decisions on ACA have become increasingly difficult due to the shrinking individual market as well as continual changes in federal operations, rules and guidance."
Stop challenging the chip sale process! "Toshiba (OTCPK:TOSYY) encourages Western Digital (NYSE:WDC) to redirect the considerable efforts that it has put into disrupting Toshiba's sale process into more productive channels that benefit both Toshiba and SanDisk," Toshiba lawyers said in a letter dated June 7. SanDisk, which was acquired by WDC last year, owns a 49.9% stake in a joint venture with Toshiba.
Bombardier is confident of winning a trade dispute with Boeing (NYSE:BA) in the U.S. and dismissed suggestions that the row could slow efforts to accelerate CSeries sales. The International Trade Commission is expected to make a preliminary ruling by June 12 on Boeing's complaint that Bombardier (OTCQX:BDRAF, OTCQX:BDRBF) dumped the jet below cost in the U.S. market while benefiting from unfair Canadian subsidies.
Blastoff! SpaceX (Private:SPACE) will fly its first mission for the U.S. Air Force in August when it launches the military's X-37B miniature spaceplane, said Air Force Secretary Heather Wilson. Four previous X-37B missions were launched by United Launch Alliance Atlas 5 rockets. ULA is a joint venture of Lockheed Martin (NYSE:LMT) and Boeing (BA).
Tesla is "definitely" on track to begin Model 3 production next month, according to Elon Musk. The automaker will also begin letting customers customize their orders, but initially will only offer a choice of color and wheel size. Other news? The Model Y crossover will be built on a new platform, while Tesla (NASDAQ:TSLA) is working with its "biggest customers" on the design of the semi truck.
Renault-Nissan boss Carlos Ghosn is recruiting a new operational second-in-command for the carmaking alliance, in a move designed to prepare his own succession and advance the companies' integration. Under the plan, the currently separate chief competitive officer roles at Renault (OTCPK:RNLSY) and Nissan (OTCPK:NSANY) would be fused into a single position. The role is expected to be filled later this year.
The housecleaning at Uber is just getting underway after more than 20 people were fired following a company-wide investigation into harassment claims. The ride-hailing firm is now thinking new strategy and branding. Bozoma Saint John – an Apple executive who has played a prominent role in recent product launches – is leaving to become chief brand officer at UBER.
Main moves in markets from Bloomberg.
Currencies
The euro weakened 0.4 percent to $1.1227 as of 8:33 a.m. in New York while the pound was little changed.
The Bloomberg Dollar Spot Index added 0.1 percent after sliding 0.4 percent in the previous session to the lowest level since October.
The yen was little changed at 109.44 per dollar, after climbing 0.9 percent on Tuesday.
Stocks
The Stoxx Europe 600 Index rose 0.4 percent. Banks added 1.2 percent.
Futures on the S&P 500 edged higher after the underlying gauge lost 0.3 percent on Tuesday.
Commodities
Gold fell 0.2 percent to $1,291.35 an ounce after surging 1.1 percent in the previous session.
WTI crude oil lost 0.8 percent to $47.81 a barrel, following its 1.7 percent surge on Tuesday.
Bonds
The yield on 10-year Treasuries rose less than one basis points to 2.15 percent, after dropping four basis points on Tuesday.
French and German benchmark yields were little changed after losing at least four basis points in the previous session.
Asia
While the MSCI Asia Pacific Index edged lower by less than 0.1 percent, the Shanghai Composite jumped 1.2 percent to the highest in a month.
The Aussie dollar climbed to the highest since May 2 after quarterly economic growth met expectations, soothing concerns of a deeper slowdown